This year's Houston Arcade Expo was bigger and better in most every way. Moving the show to the Houston Marriott Weschase was a welcome change from the old construction plagued Crown Plaza on 290. Not only was the hotel much nicer, but the convention facilities were almost twice the size. As I've done for the past few years, I brought a game to the show. This year, I brought my 1979 Gottlieb Genie to be used in the tournament area. There's a lot of good reasons to bring a game. For me, it's the enjoyment I get from seeing others play and enjoy it. It's also the 'good mojo' of helping out - contributing and being even a small part of what makes the Houston Arcade Expo one of the best parties of the year. And finally, it allows you to get in on Thursday - which is a super fun party night with all the folks you know and zero crowds. So without further adieu - on with the pics!
THURSDAY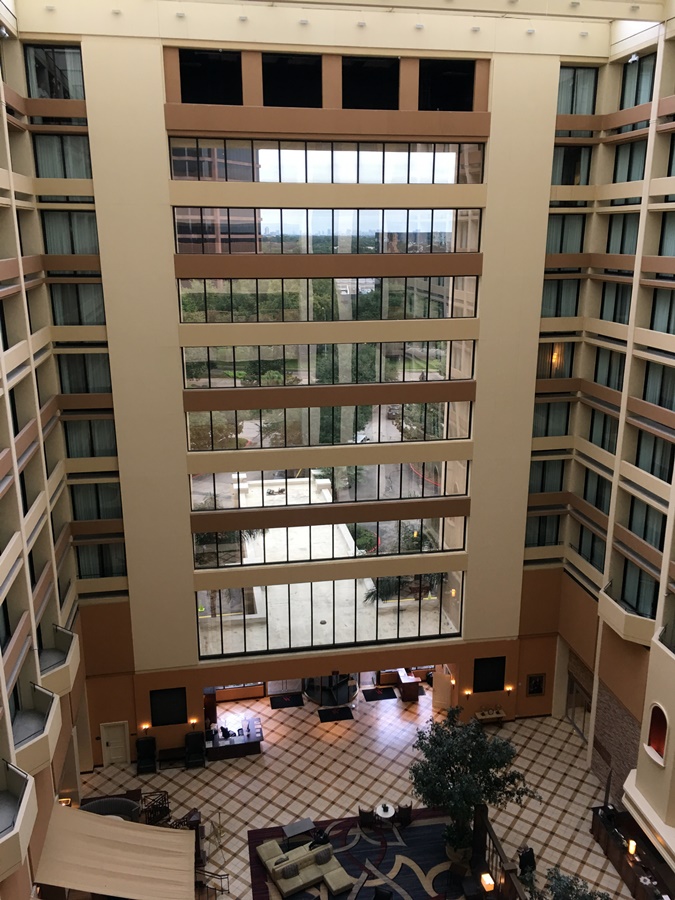 As I check in Thursday, I snap a pic from the 8th floor.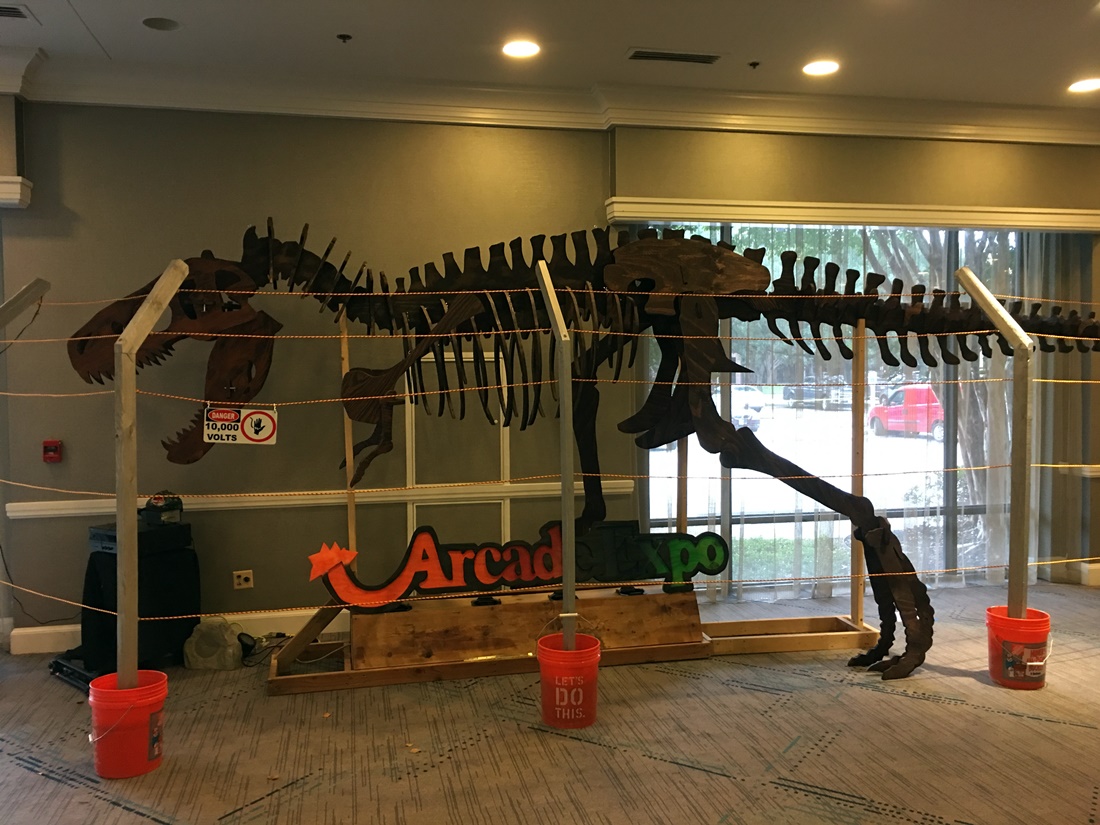 Before unloading, I grabbed this pic of the unofficial Expo mascot.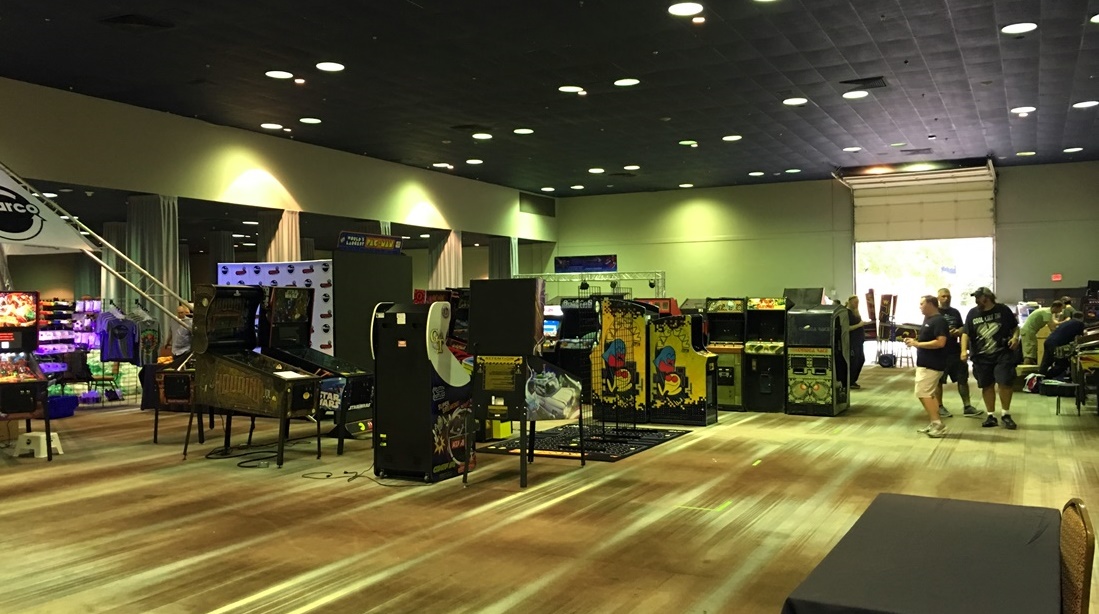 Where do I put my game?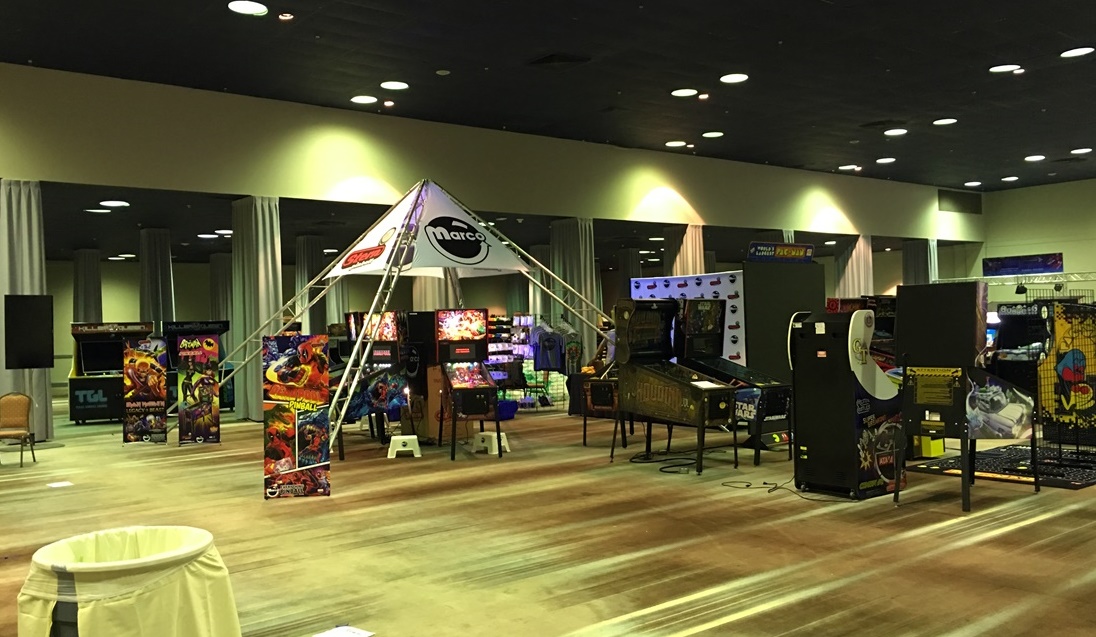 Plenty of space at the Marco booth....for now.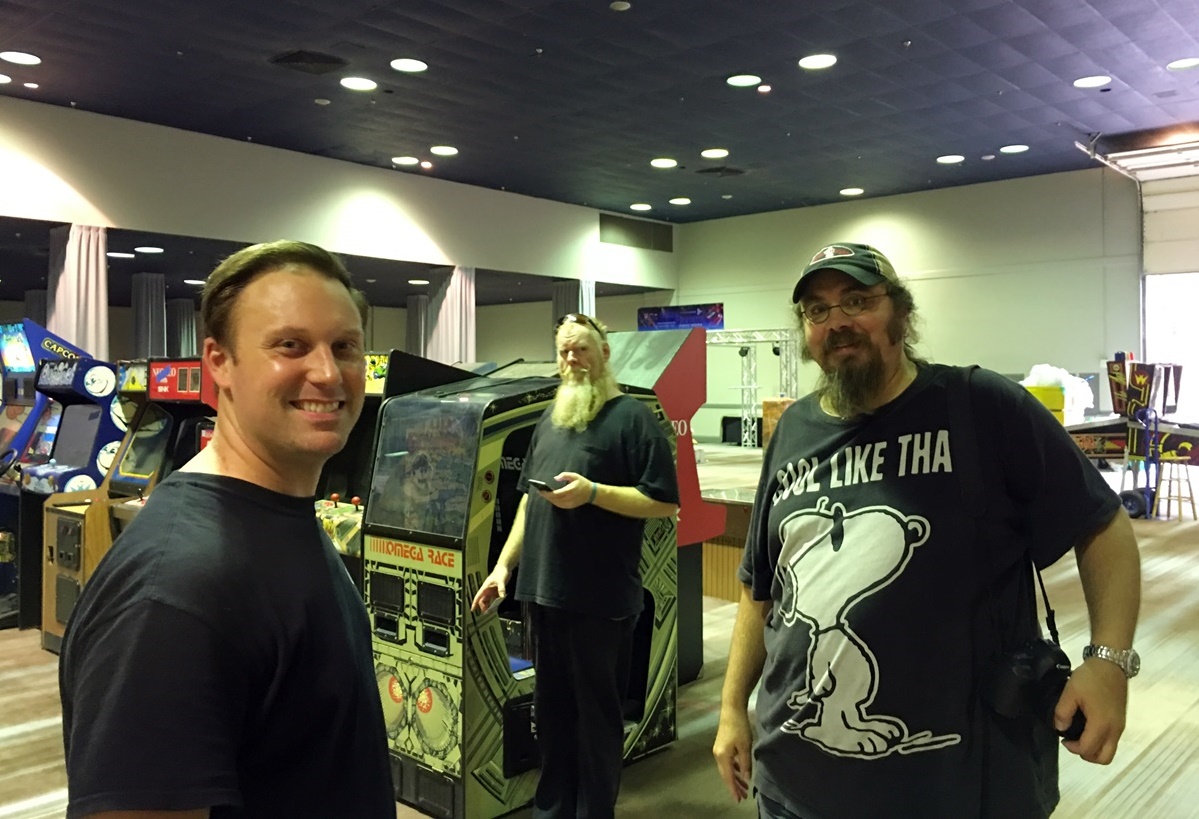 Maybe one of these guys can give me a hand?
Blake and Keith get photo-bombed.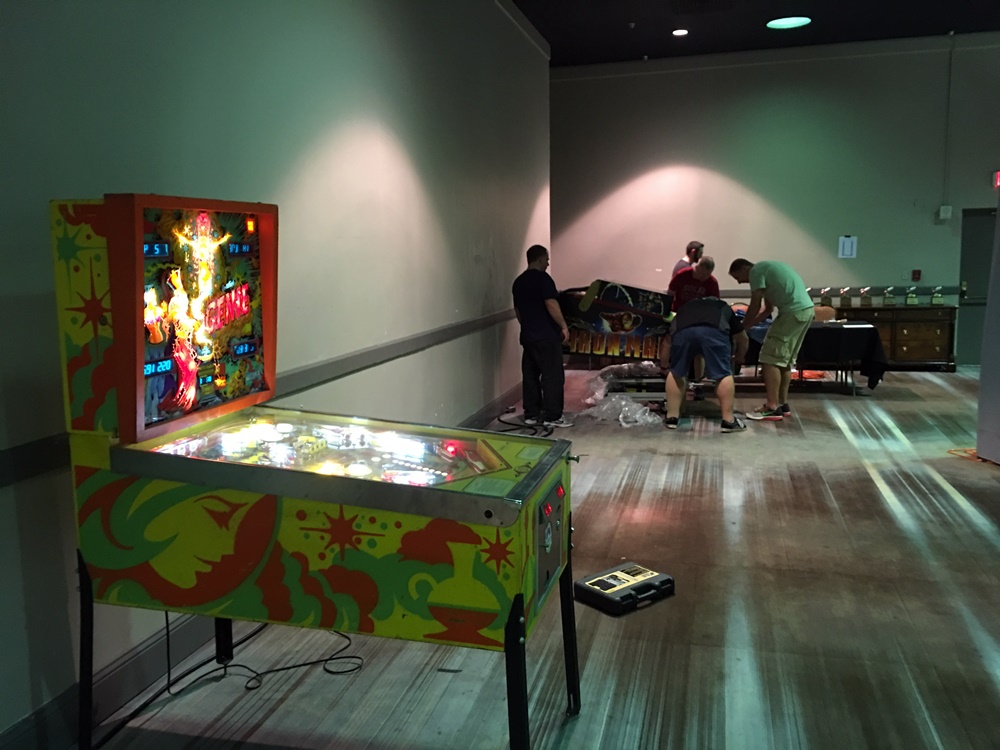 I found Phil, who was this years Tournament Organizer, and we got Genie all set up and ready to go.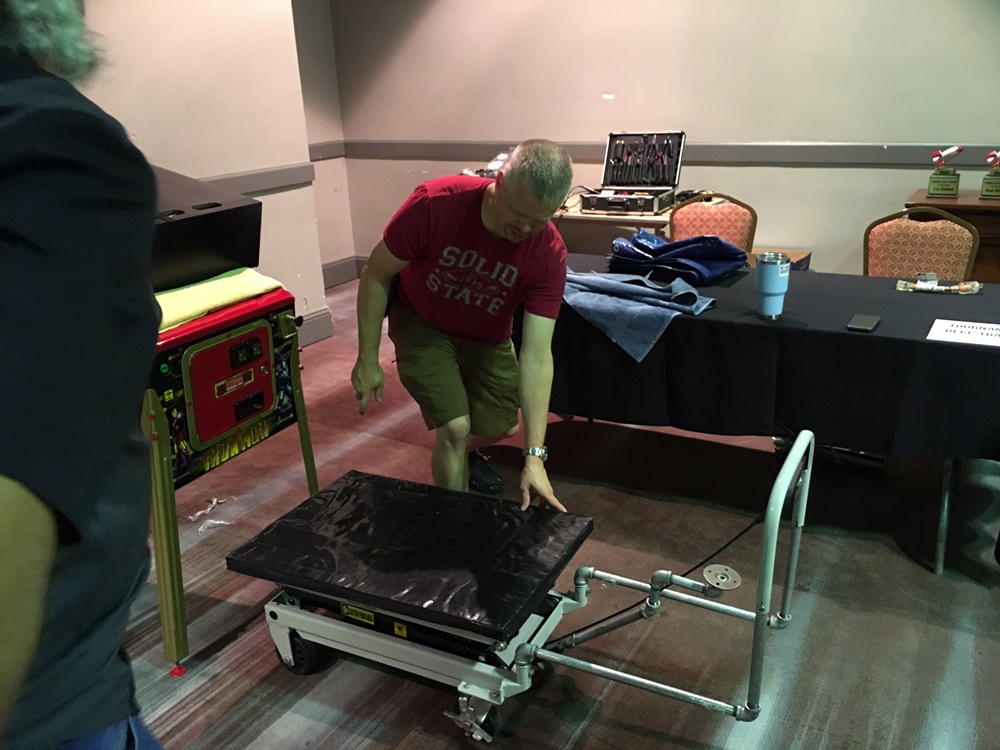 Erich is also hard at work setting up machines.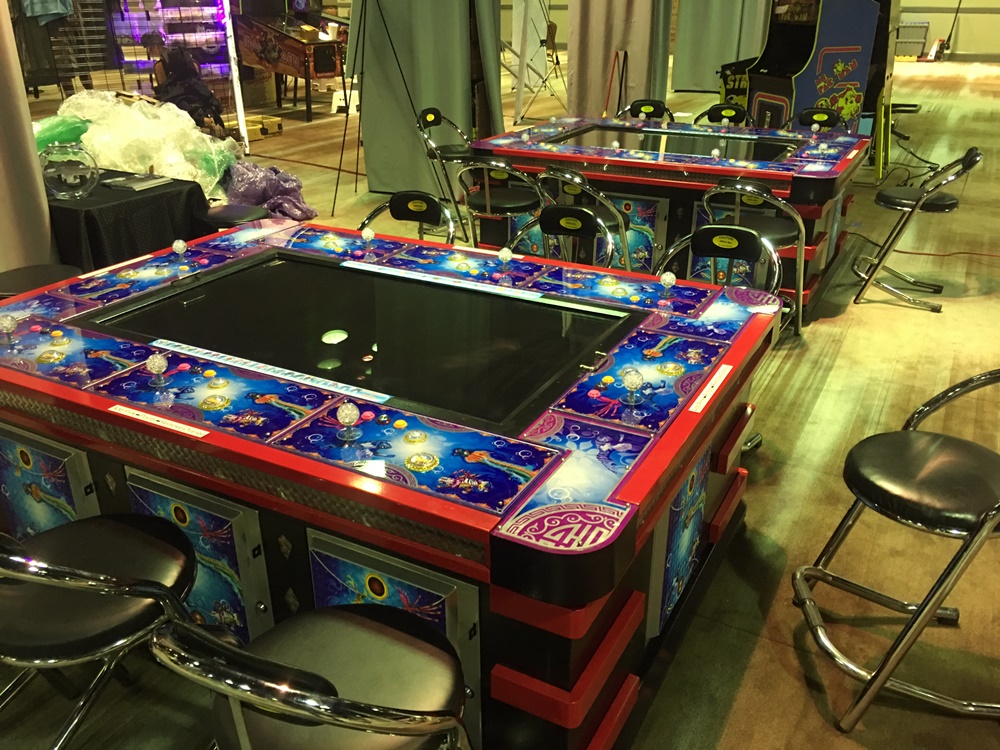 After helping out a bit - mostly getting in peoples way, I decided it was time to fill up my beverage and stroll around.
Hmmmmm, I've never seen these games before.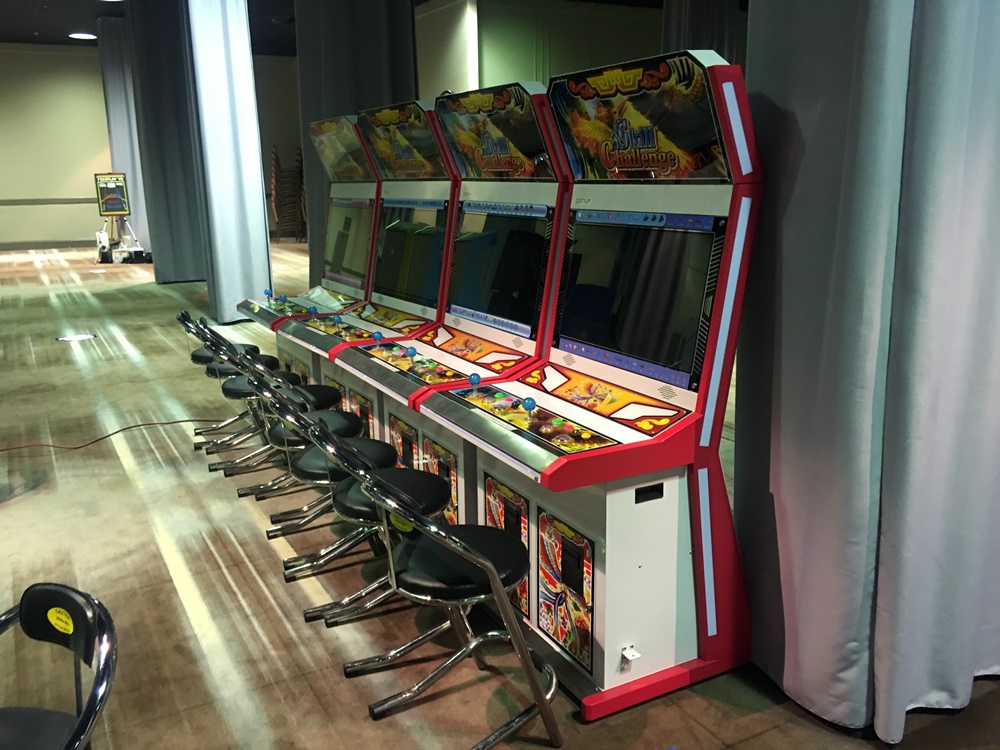 Or these - never seen 'em before either. Cool~!.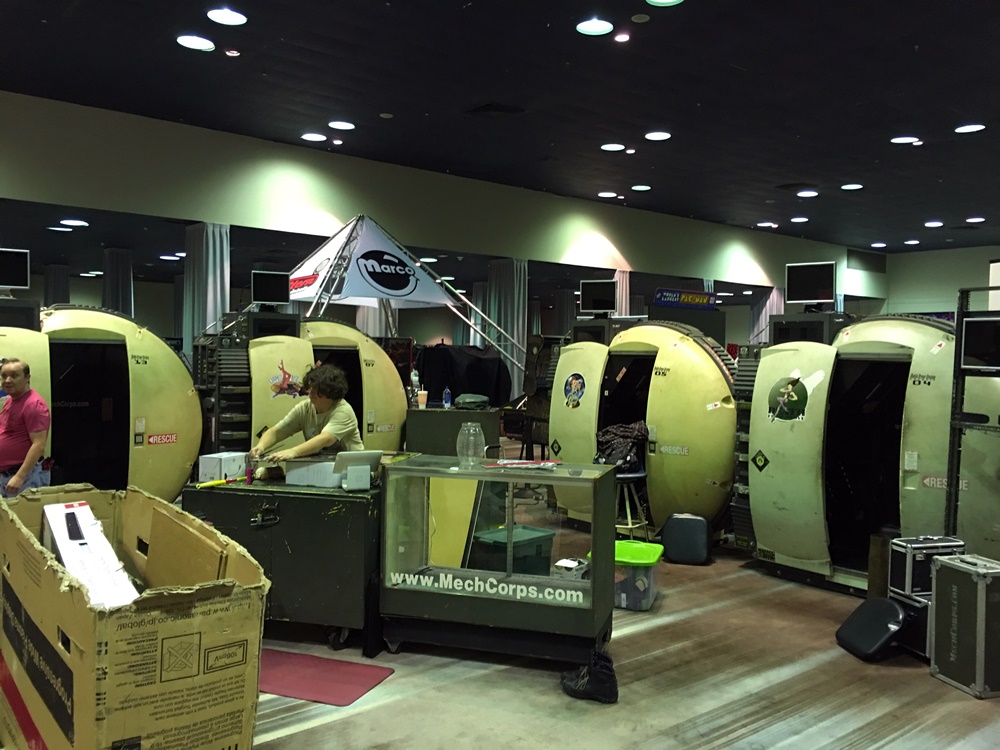 These are linked 'mech'pods where you play against other players in virtual mech warrior battles.
It cost $$ so I never played....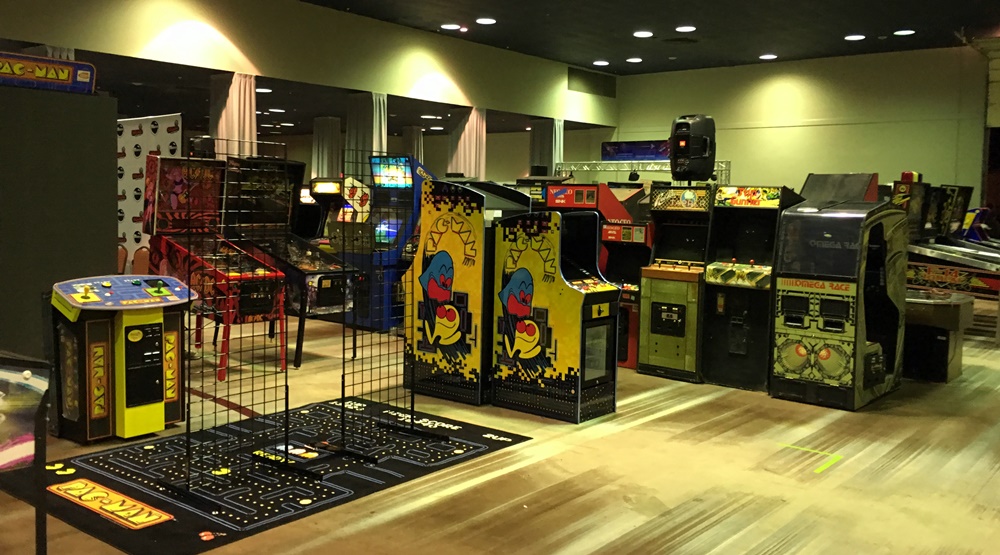 See that smaller pacman? It has a BEVERAGE COOLER built in. See it? I thought that was so coool - AHAHAH - Get it?? ..ok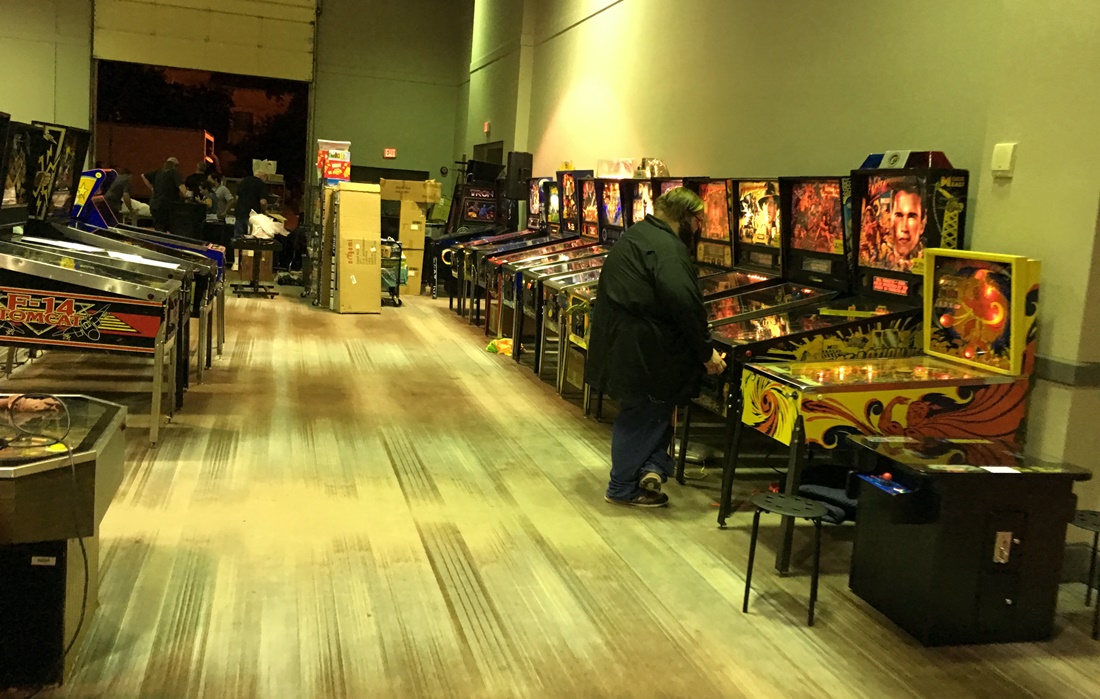 It's Thursday evening, and the games are filling up - perfect time to play test a few.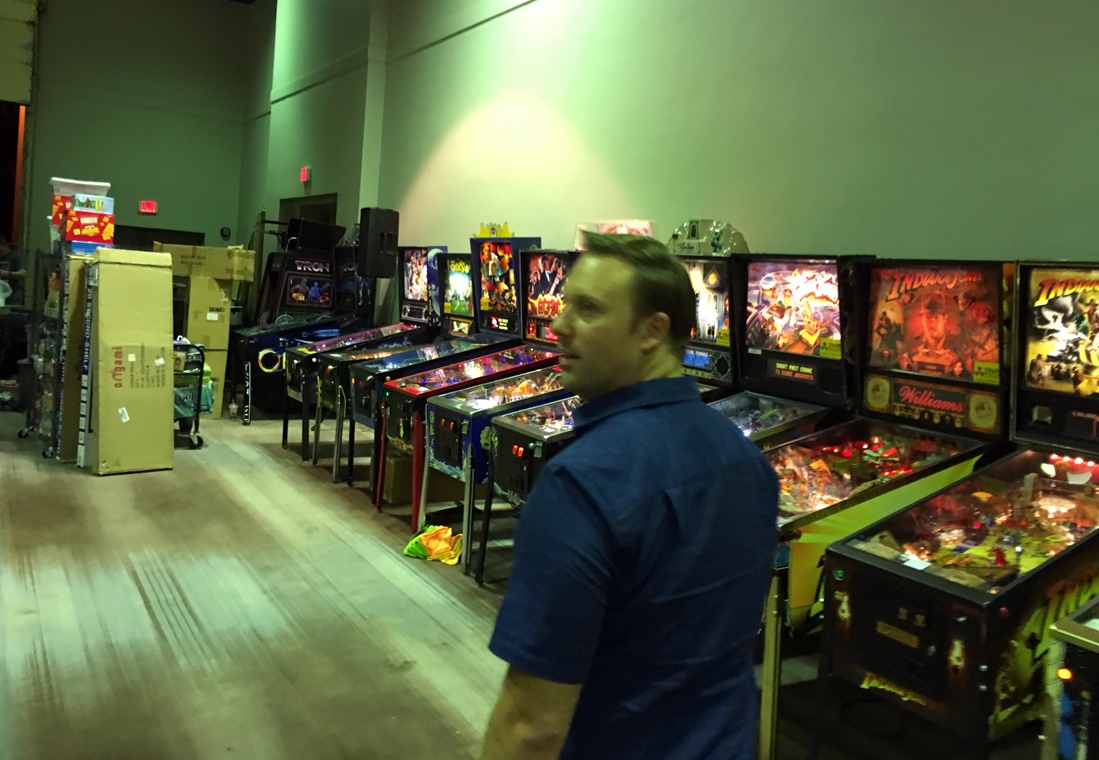 Blake stays busy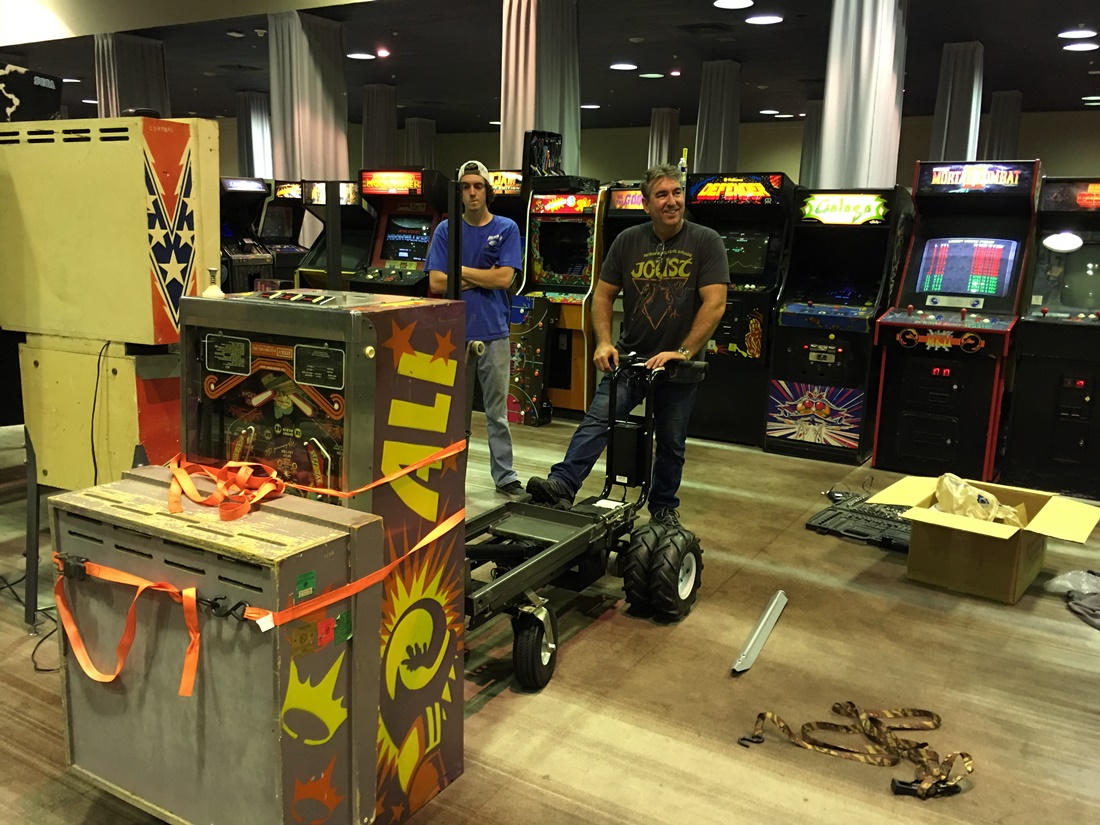 And here comes John with his monster truck madness pinball hauler.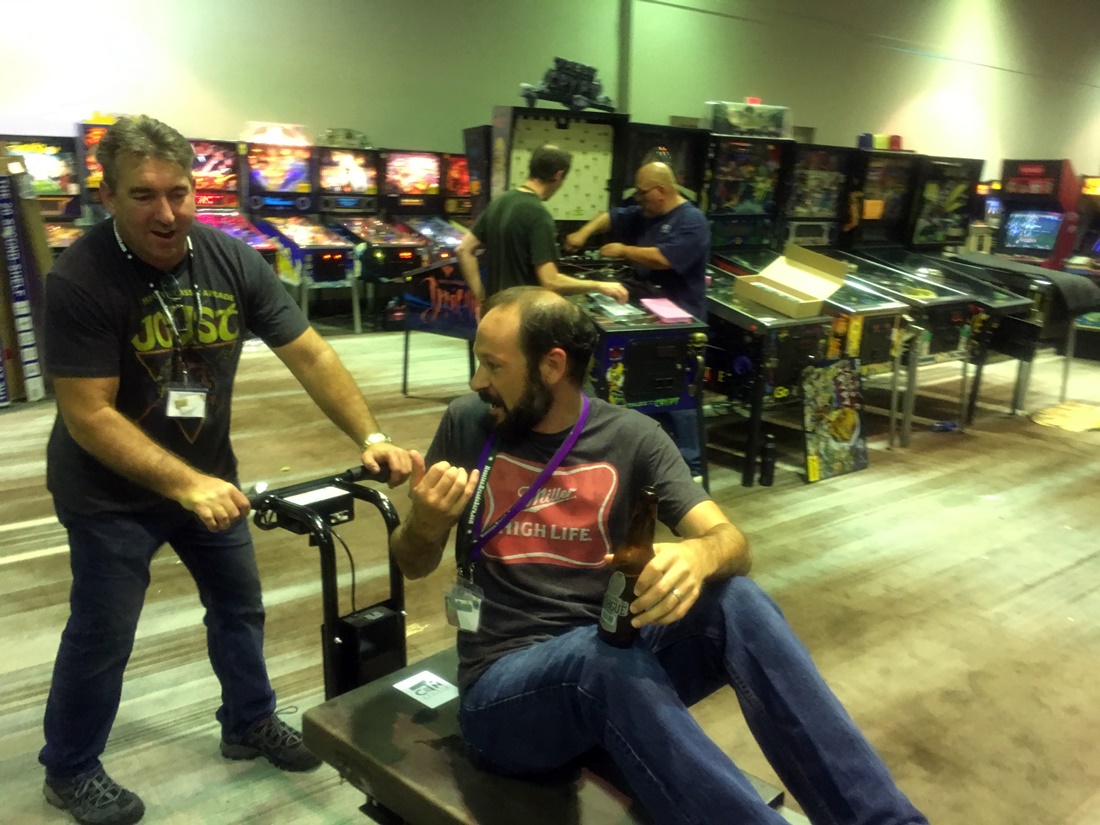 LOOK OUT!!!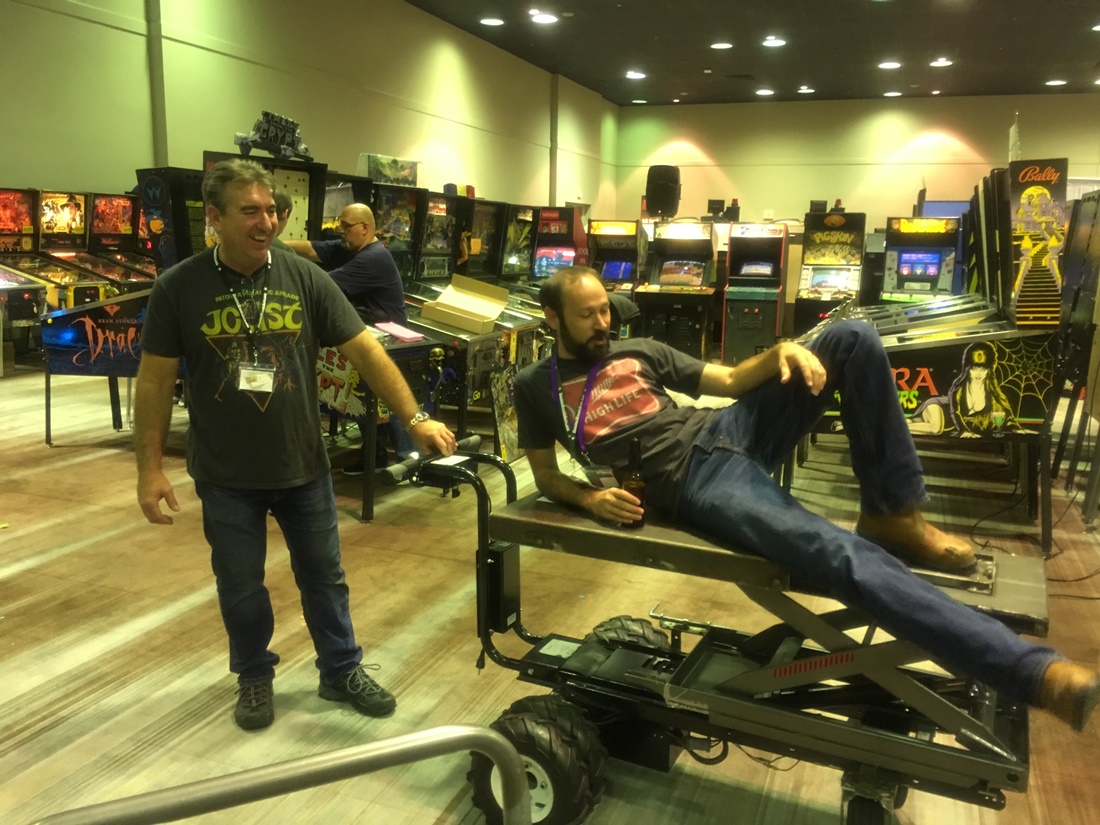 Such a sexy machine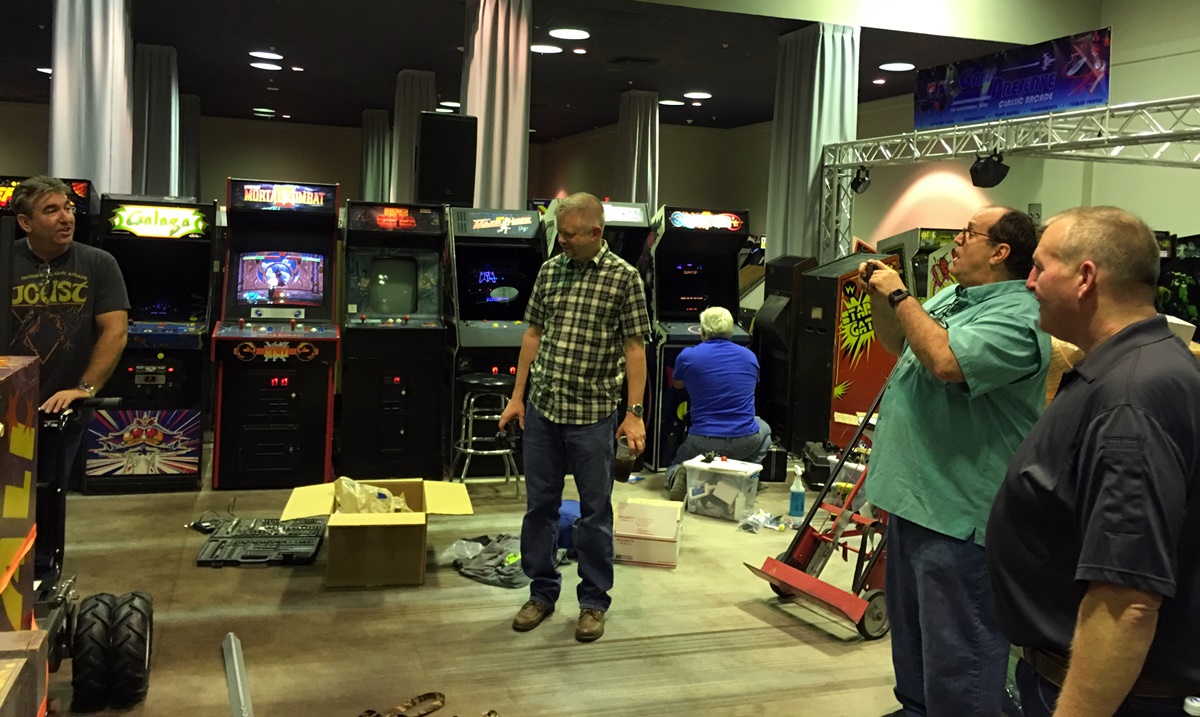 The crowd was impressed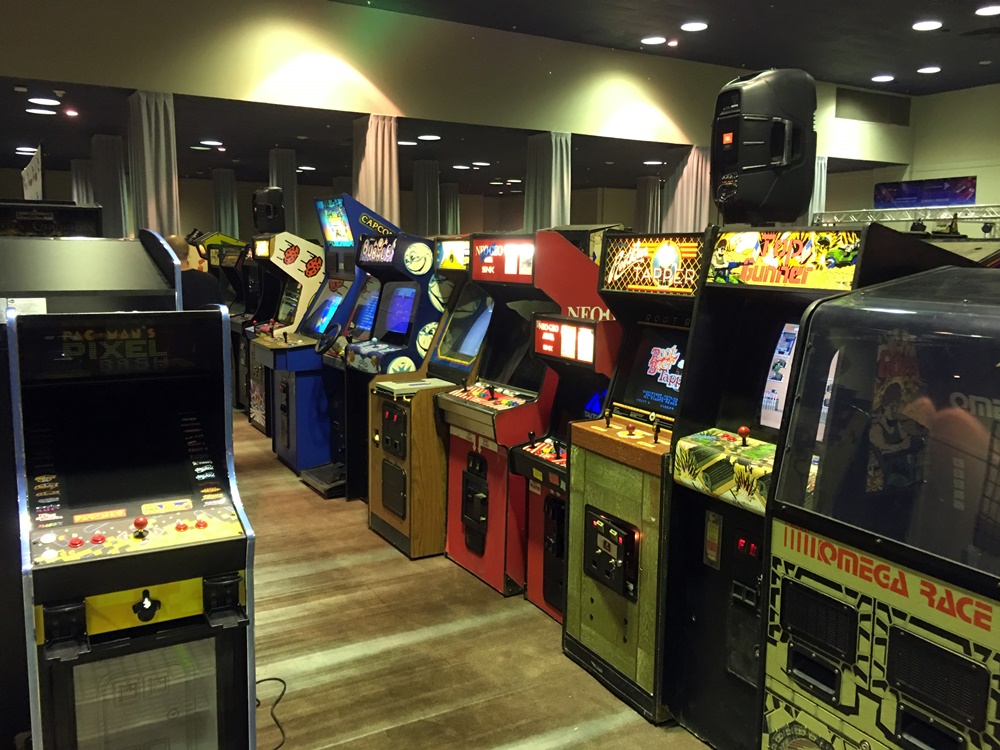 Rows and rows of video games.....that I probably won't play. Yeah, I'm a pinball kinda guy.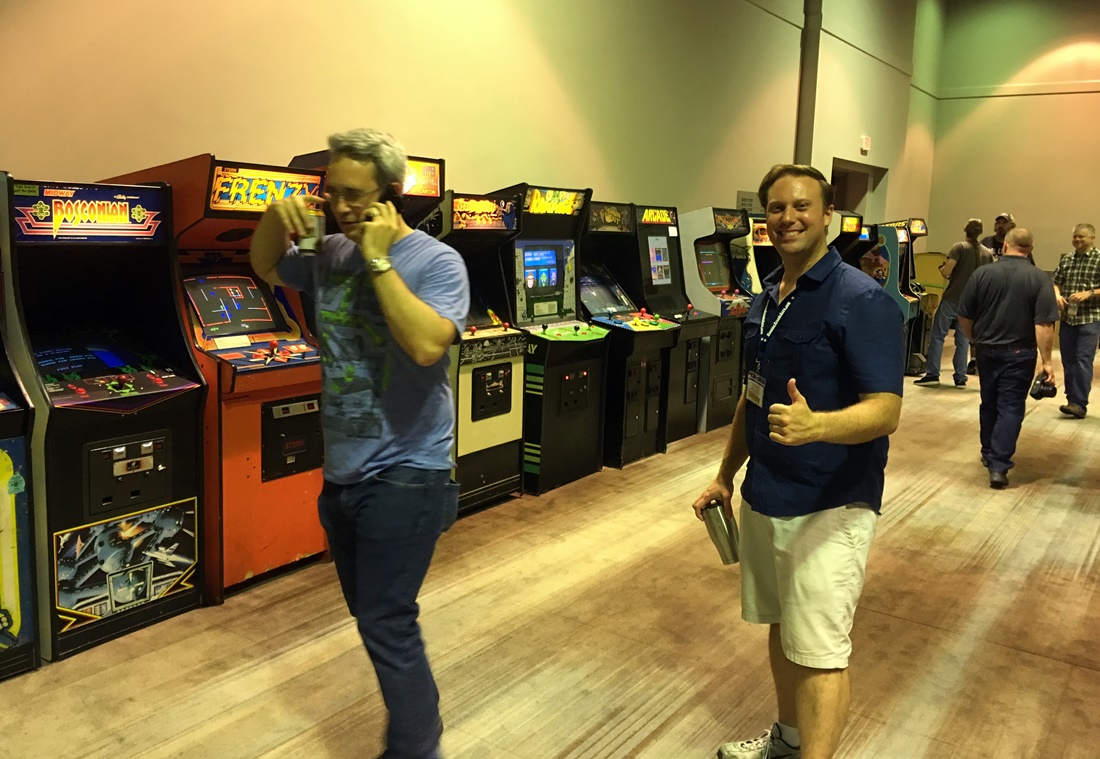 These guys are trouble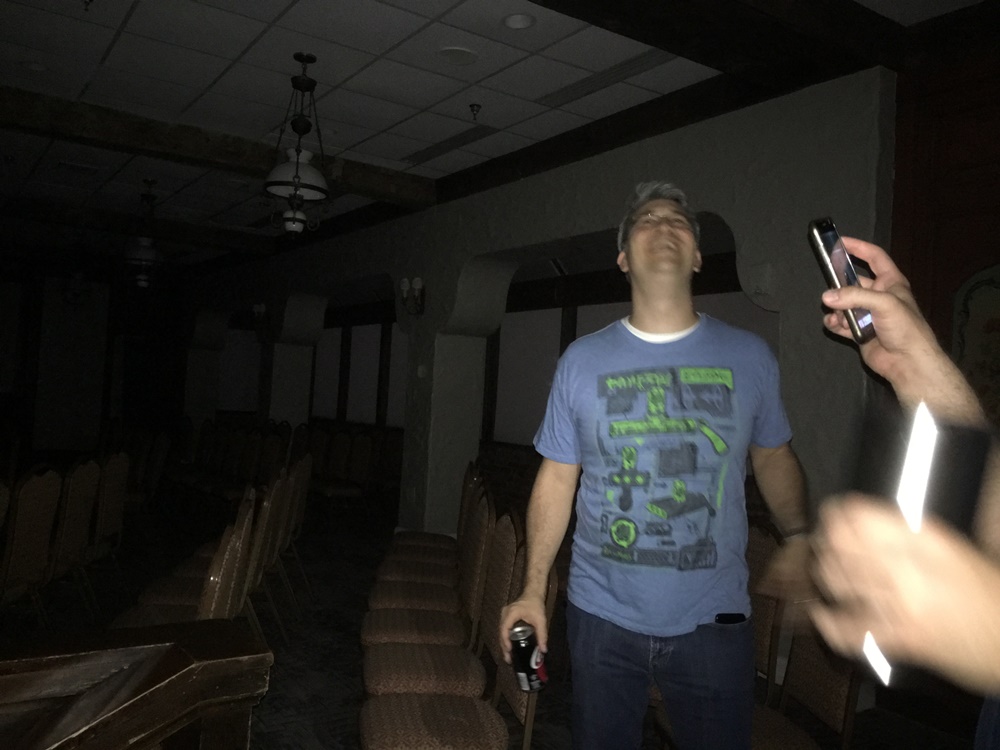 Where the hell are we?!?!?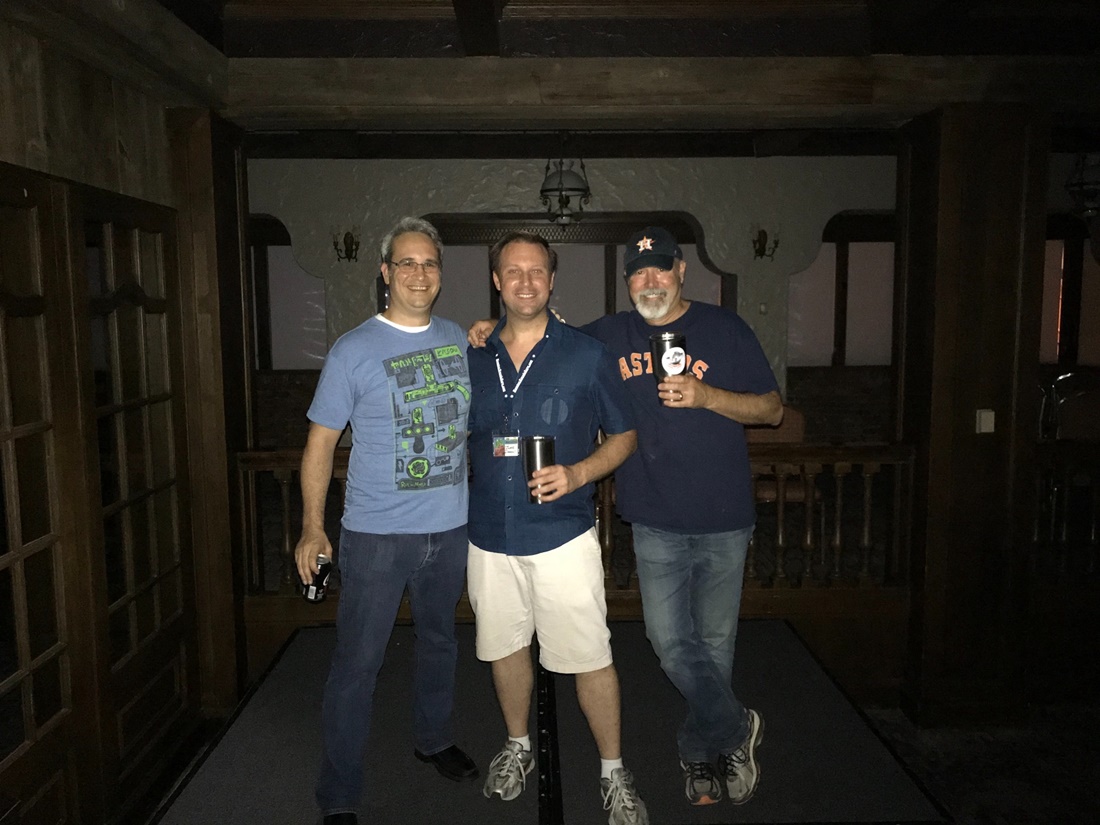 Edwin, Blake and I ended Thursday with a VIP, super secret, through the kitchen tour of the haunted 70's style place where the Harp Twins were scheduled to perform.
It was super creepy...and we were all pretty lit.
FRIDAY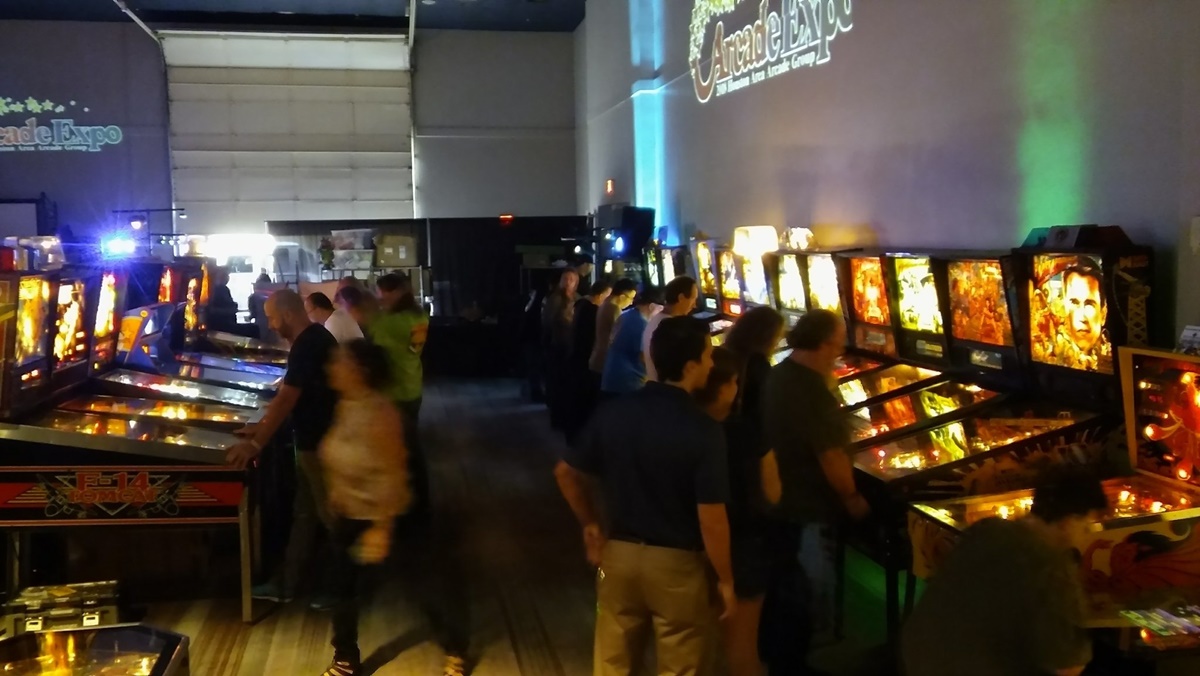 The show opens to the public at noon on Friday.
Damn, it sure is bright outside.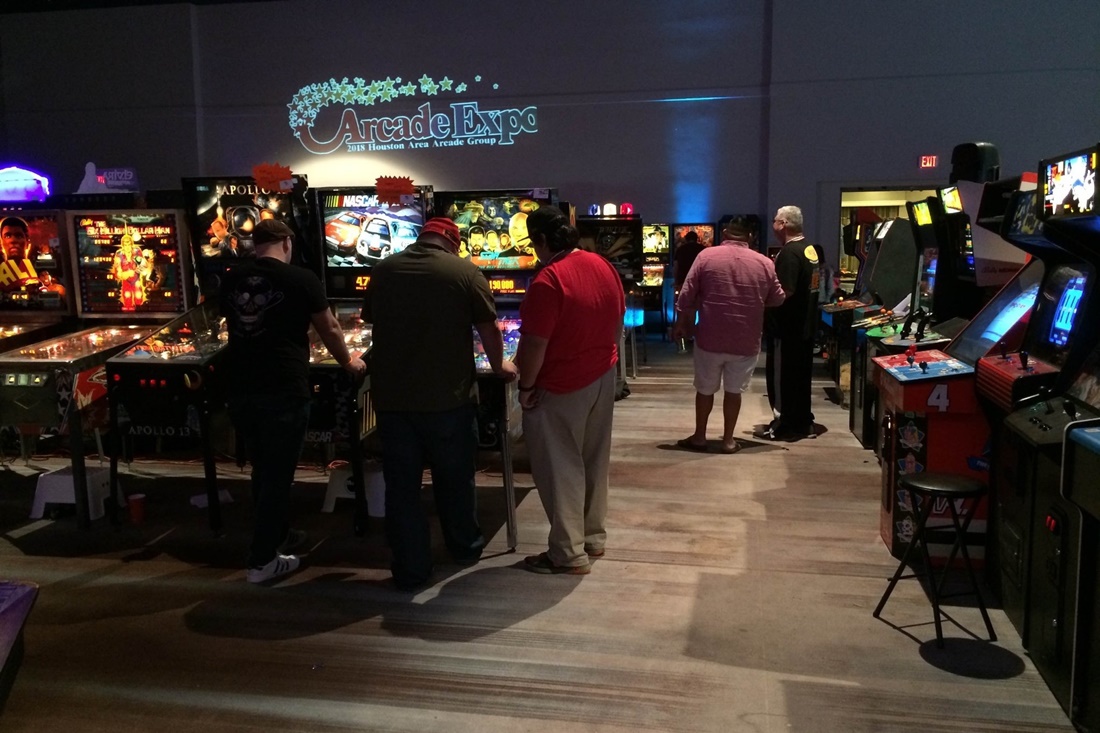 Early Friday is the best time for the public to play most of the games without any wait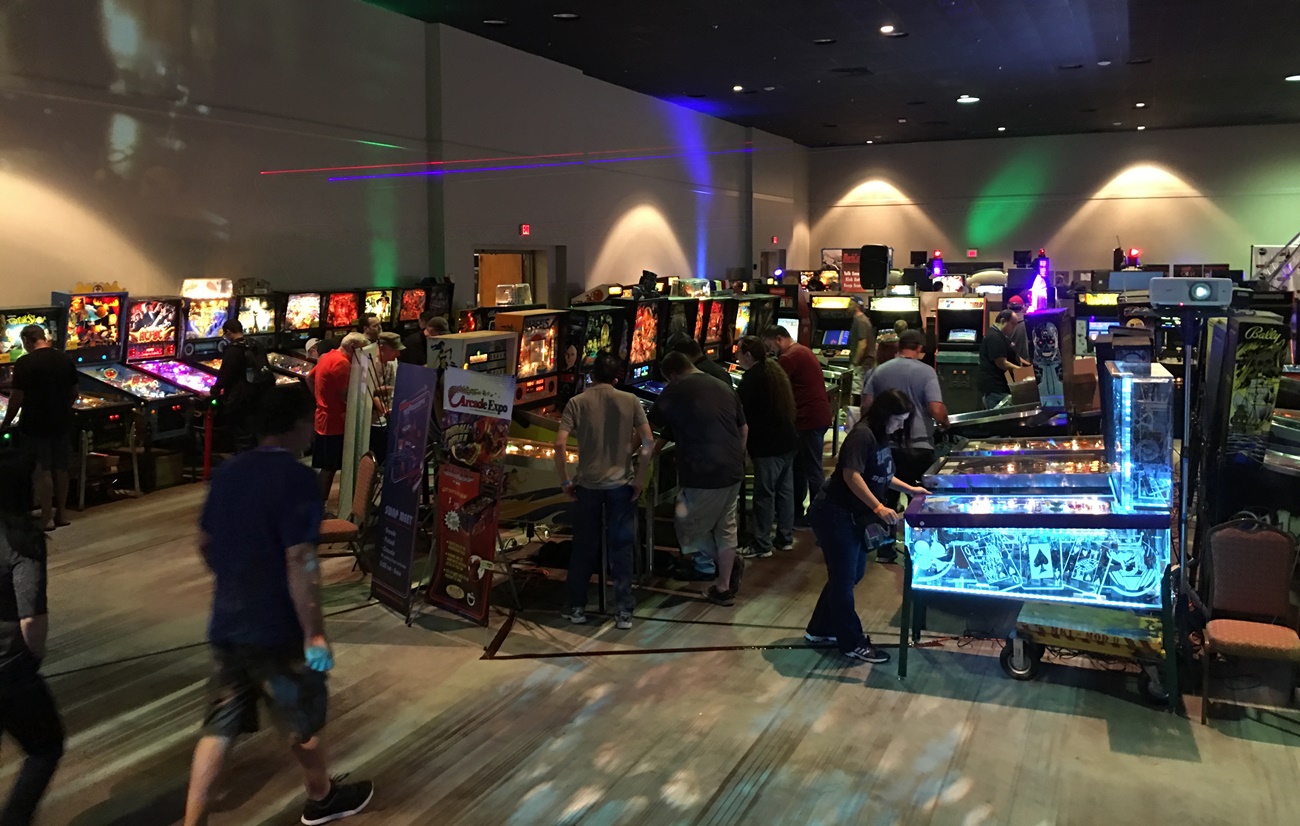 Starting to fill up...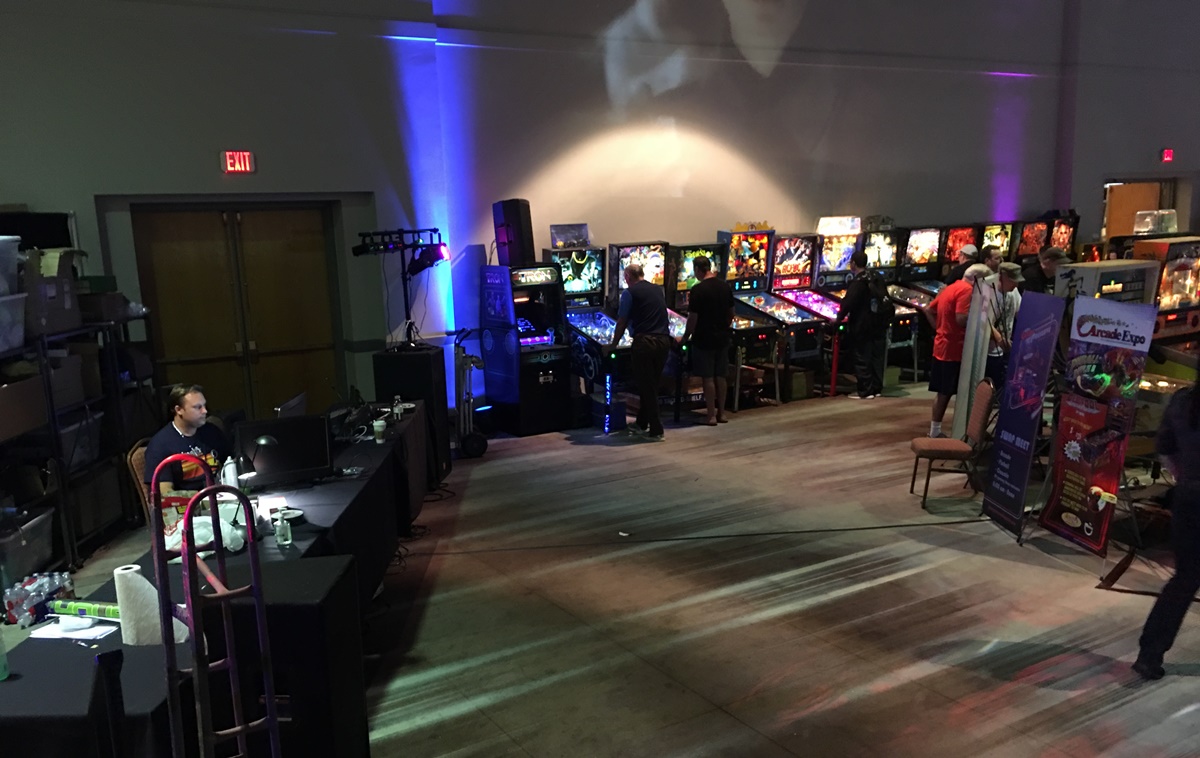 DJ Jazzy Blake spins some disks in the early hours...
...while I jump on stage for this shot to the left...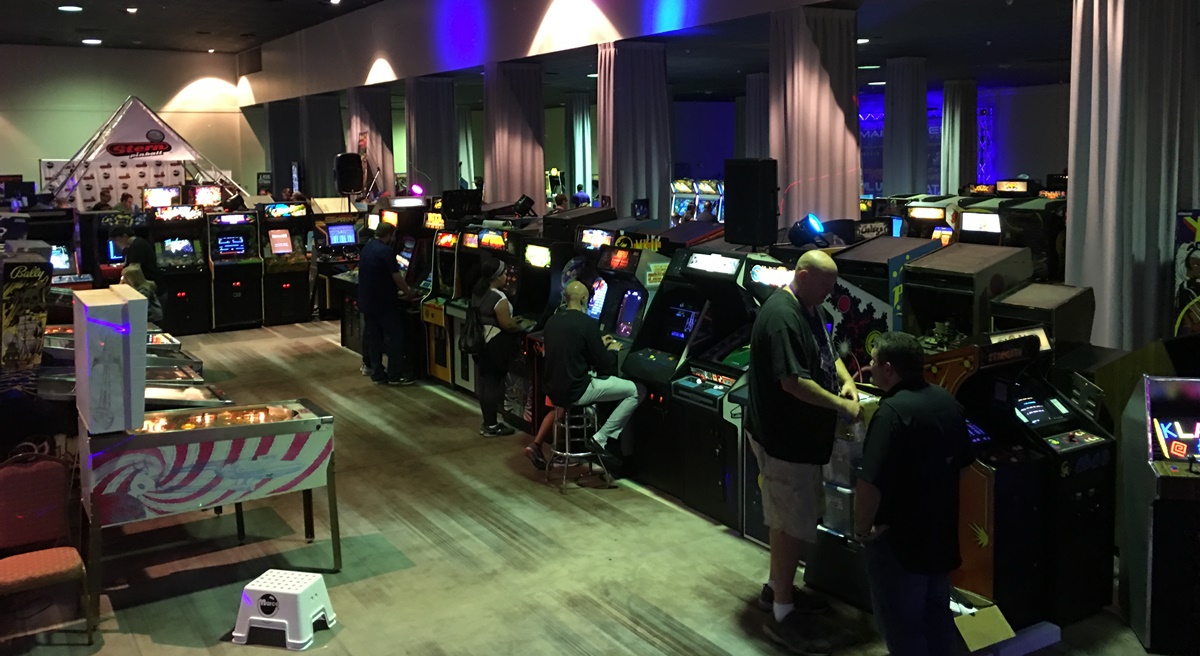 ....and the right...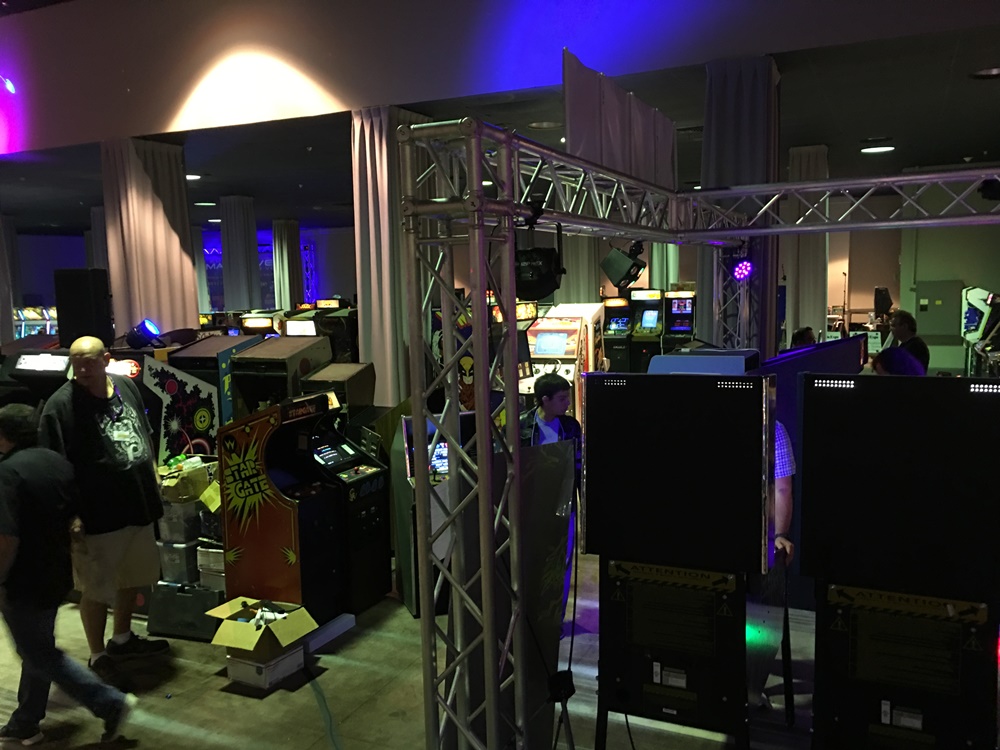 ..and even more right.
All the way against he back wall is the tournament area.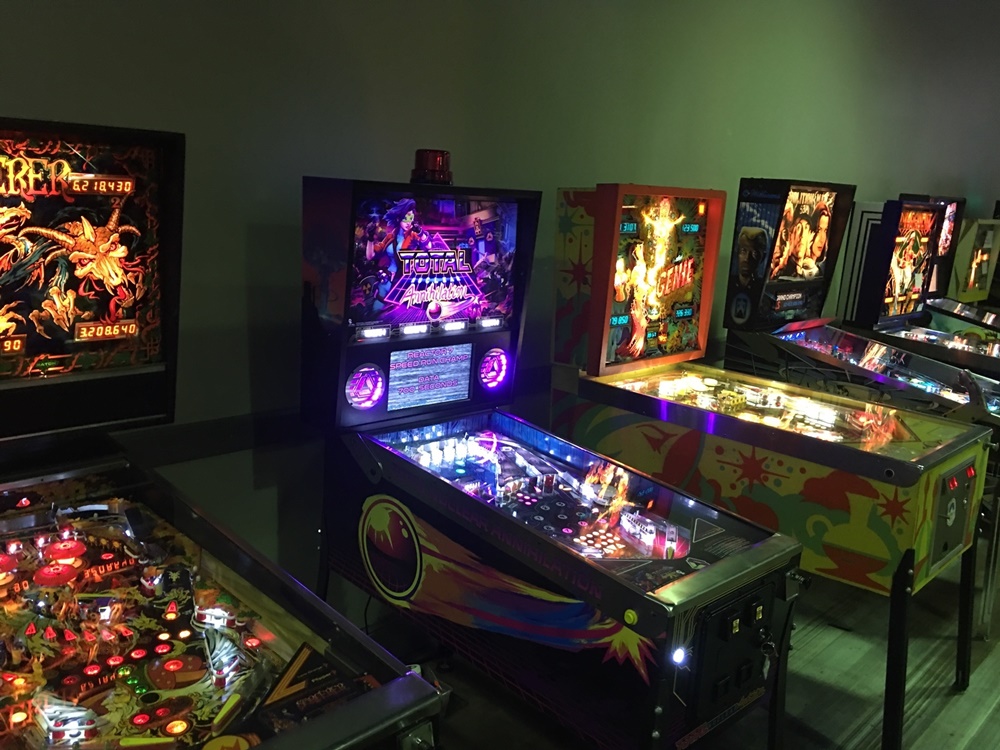 My '79 Genie next to Chris' 2018 Total Nuclear Annihilation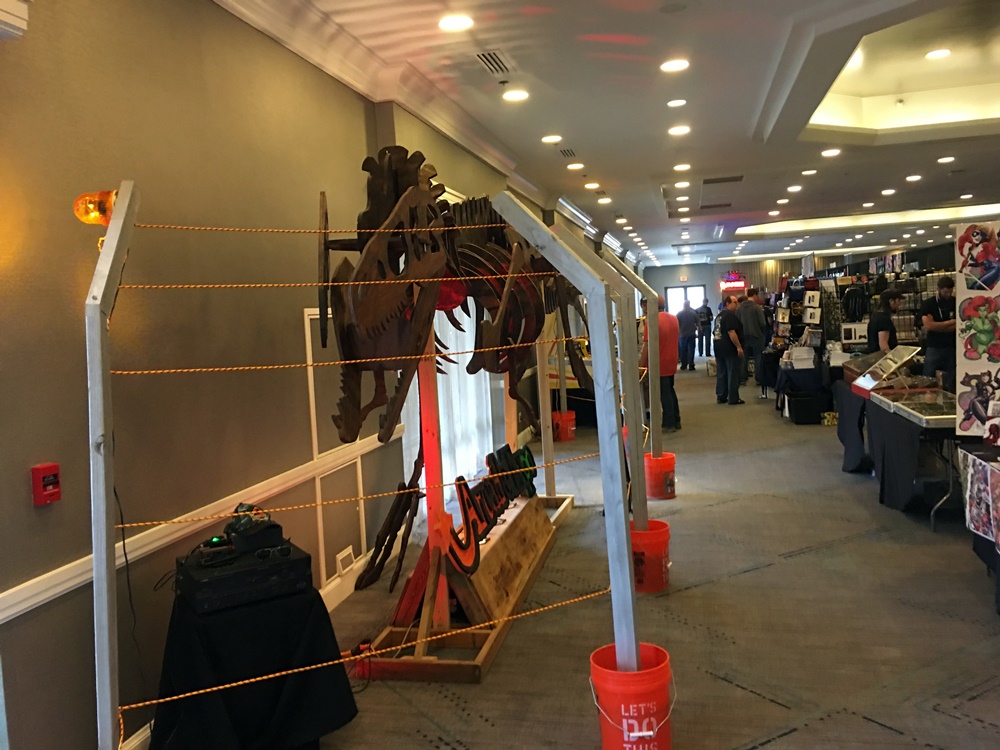 The vendor hall was pretty full by Friday evening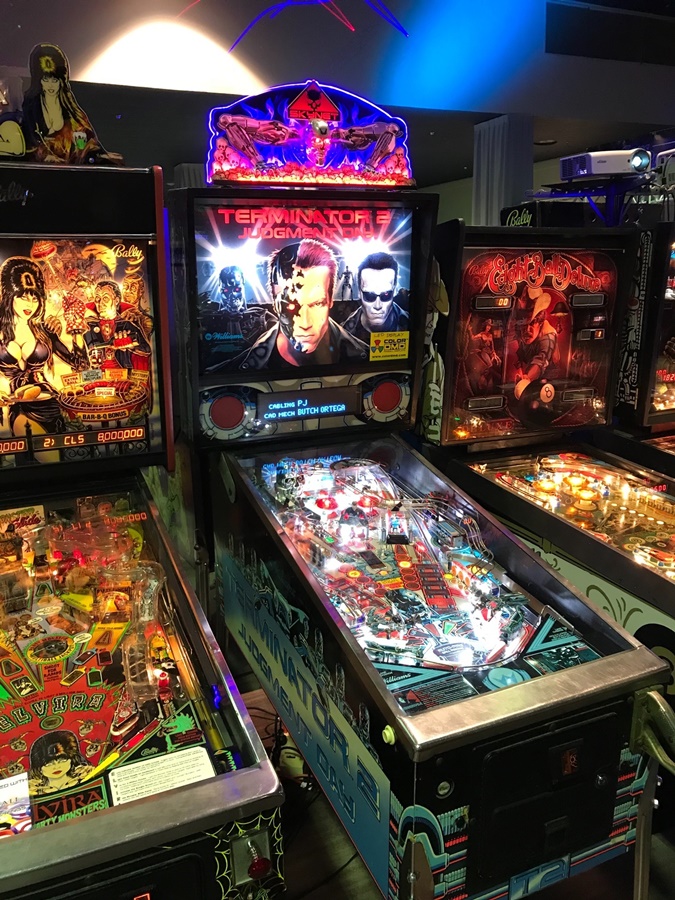 Of course, there were some awesome pinball games there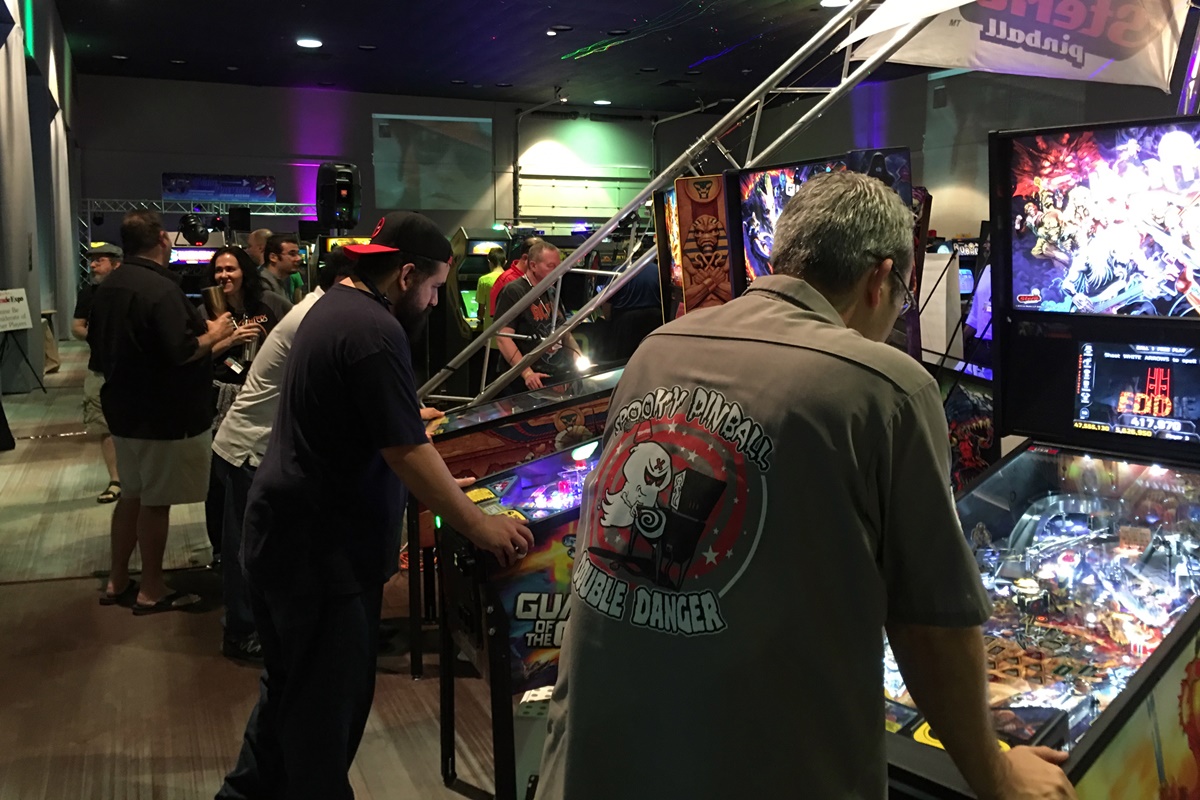 Let's start the Friday night party!!!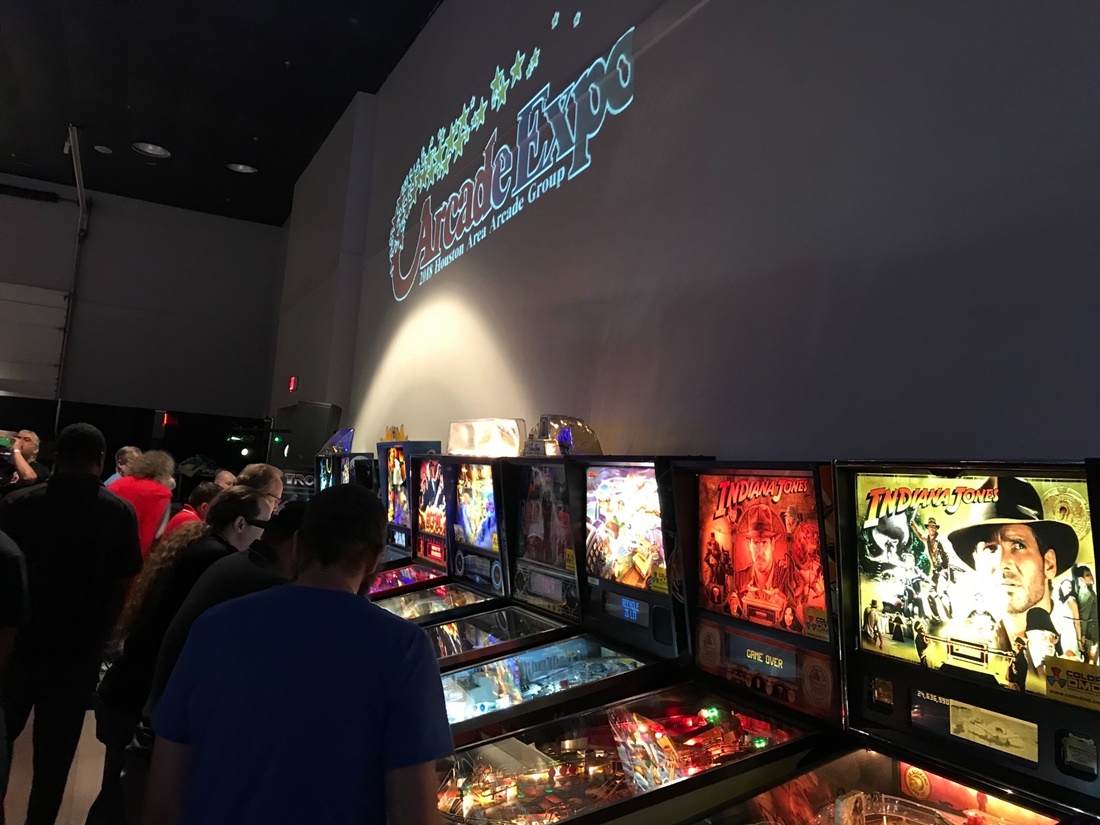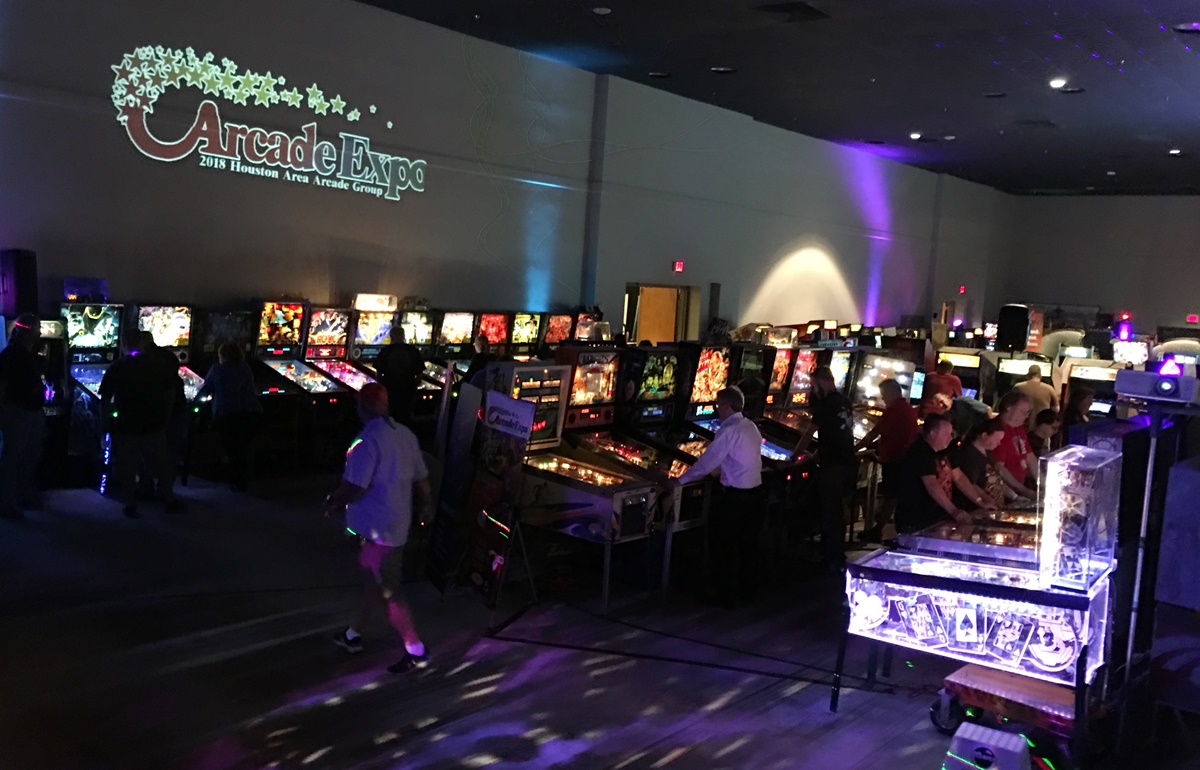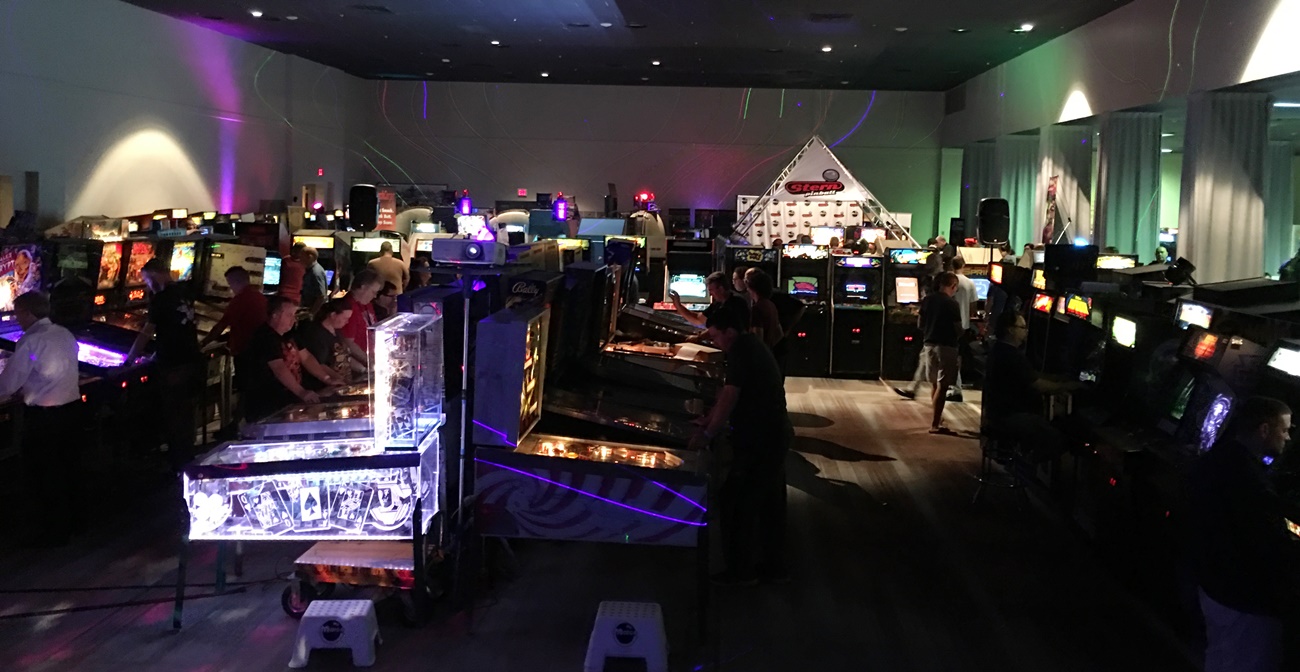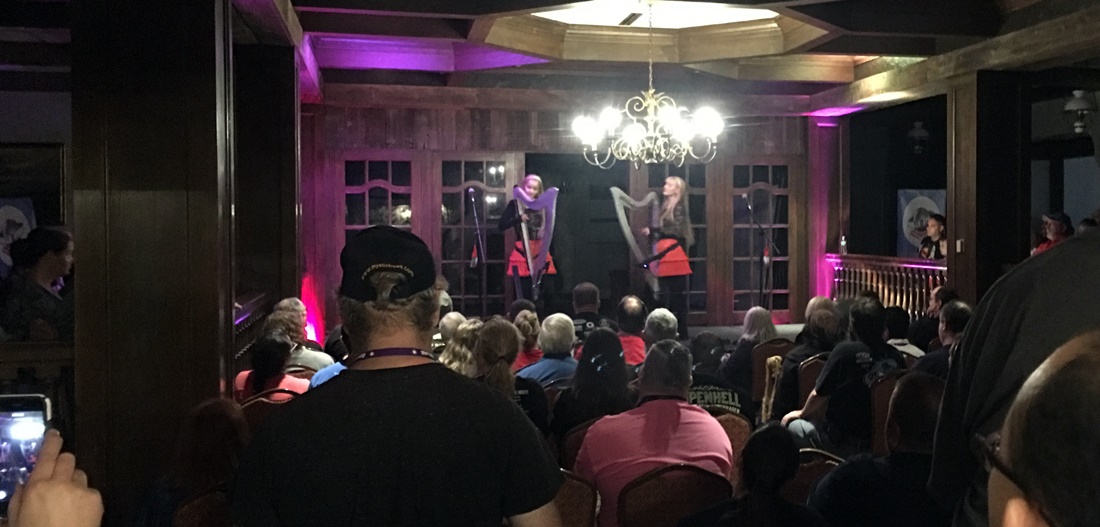 The Harp Twins were surprisingly good and very well received!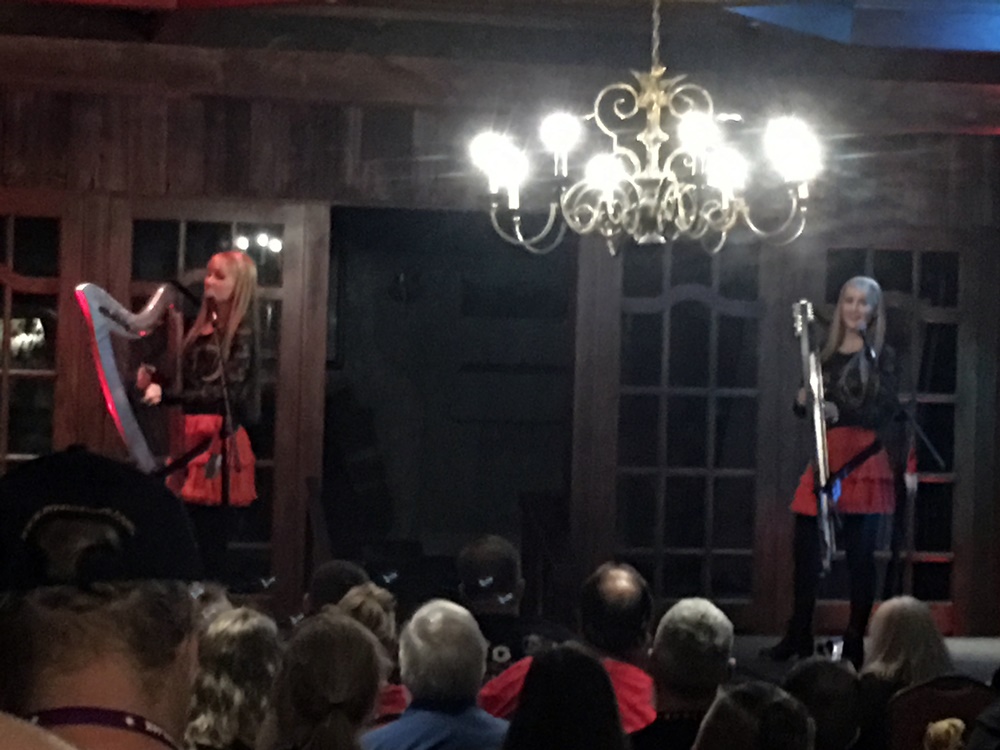 Sure, it doesn't hurt that they are cute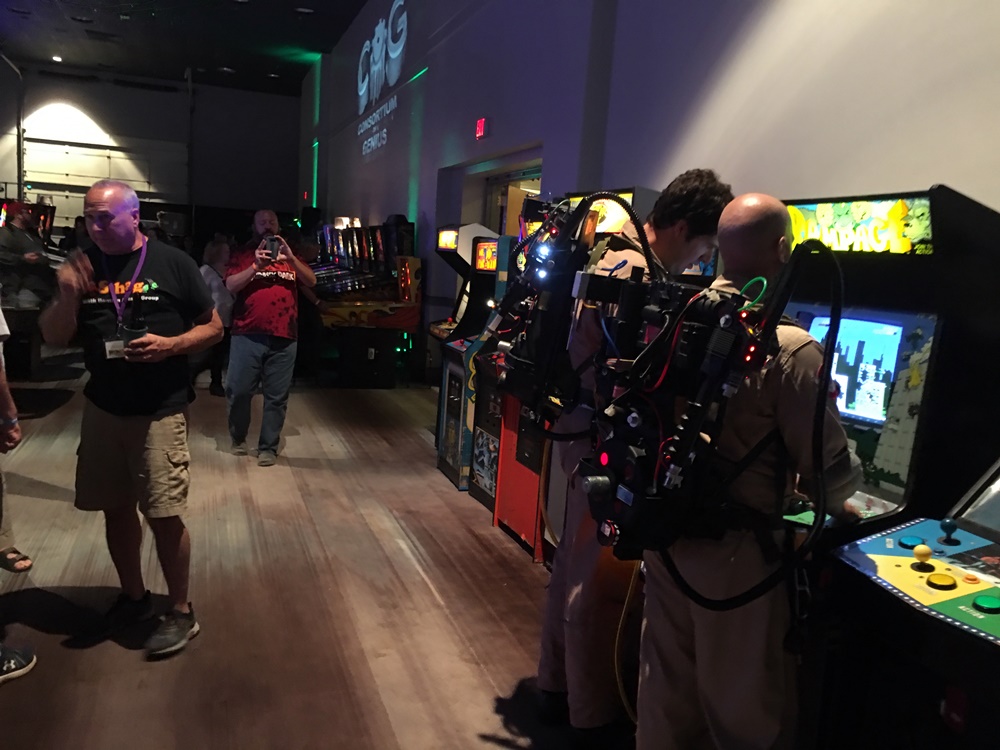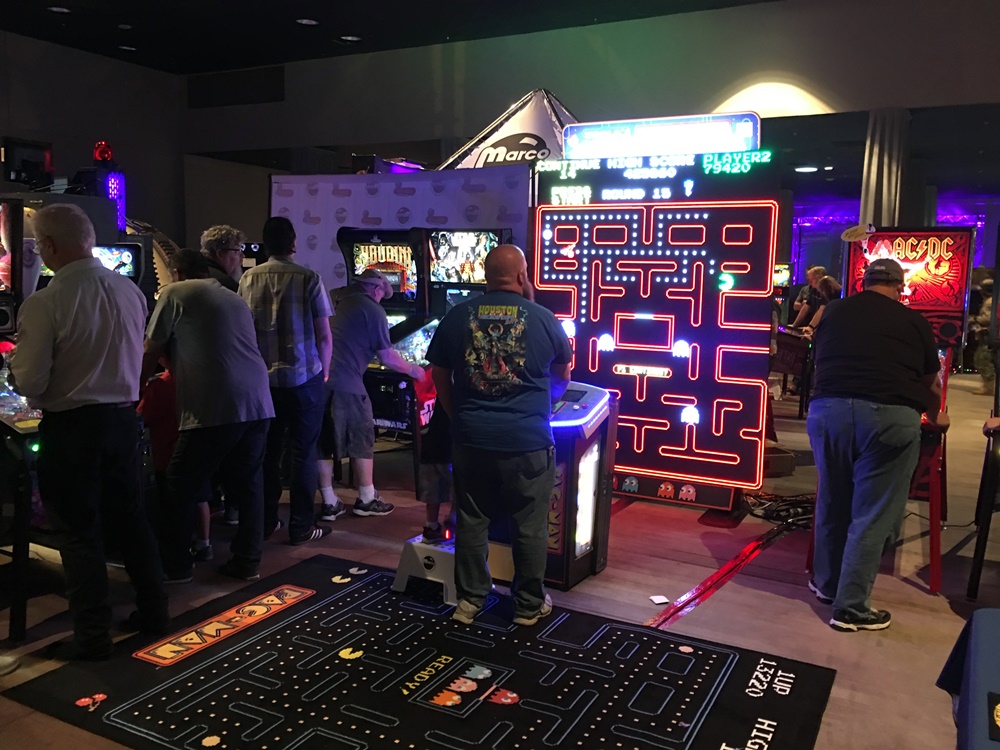 Now THAT is a big pac-man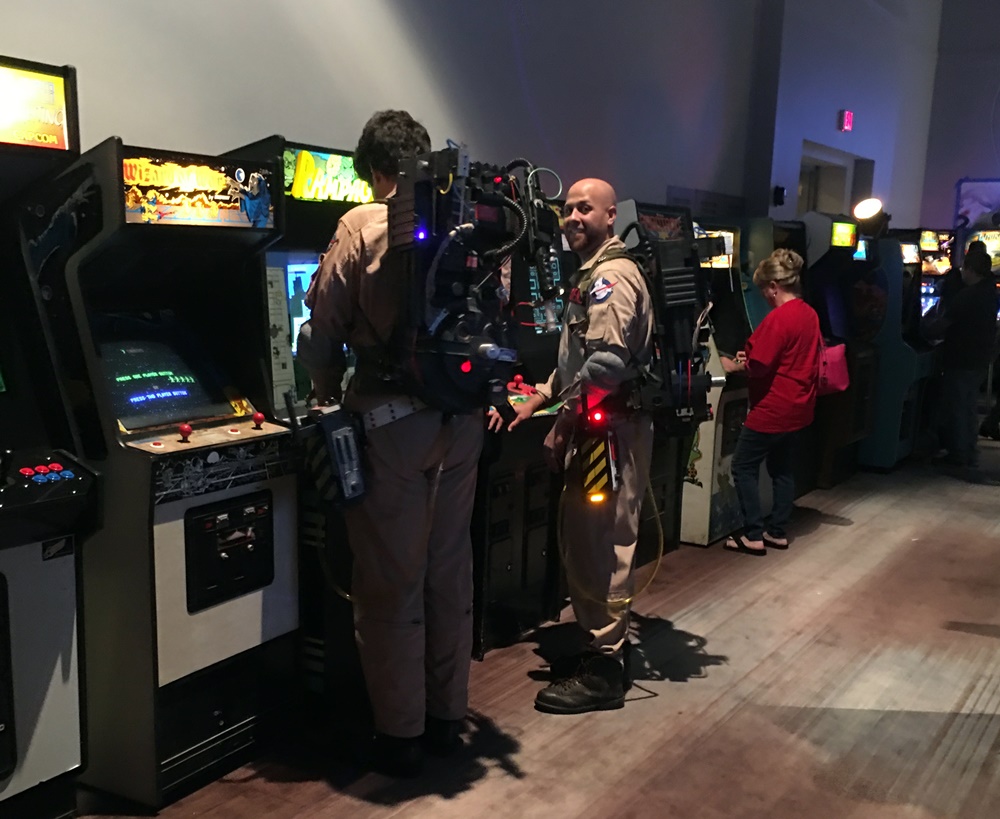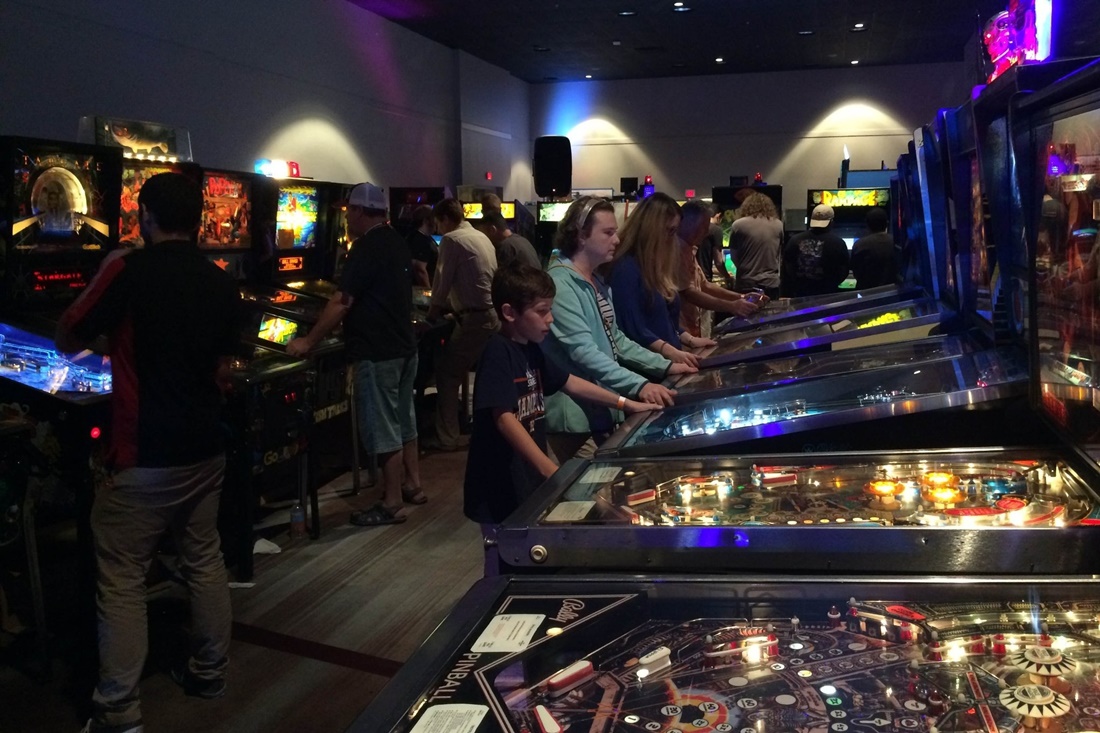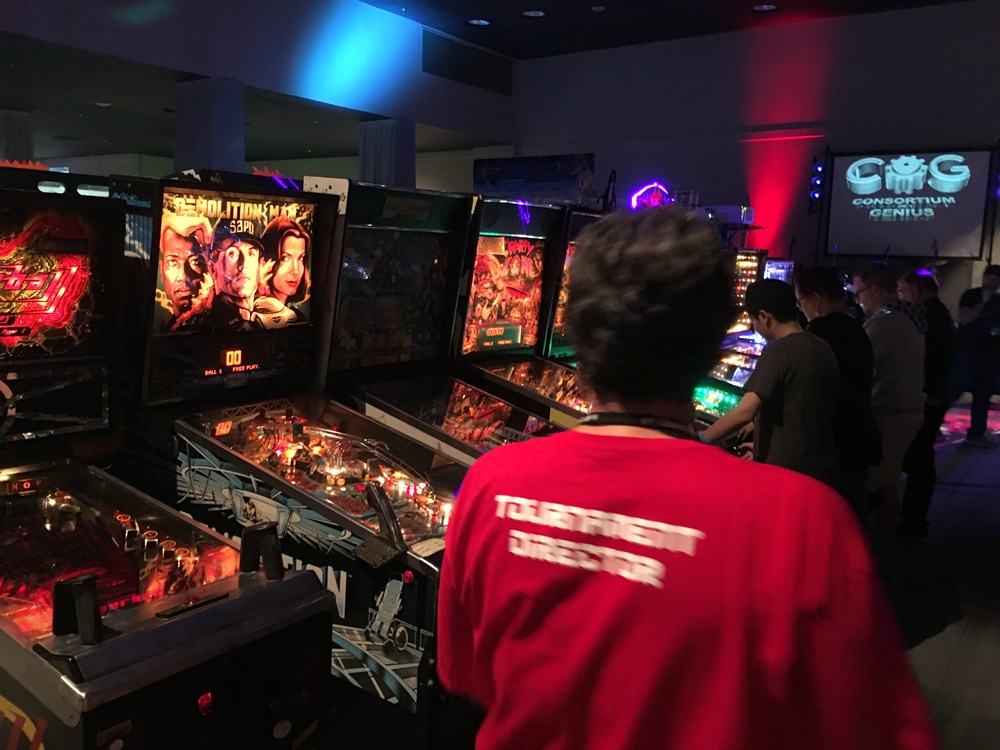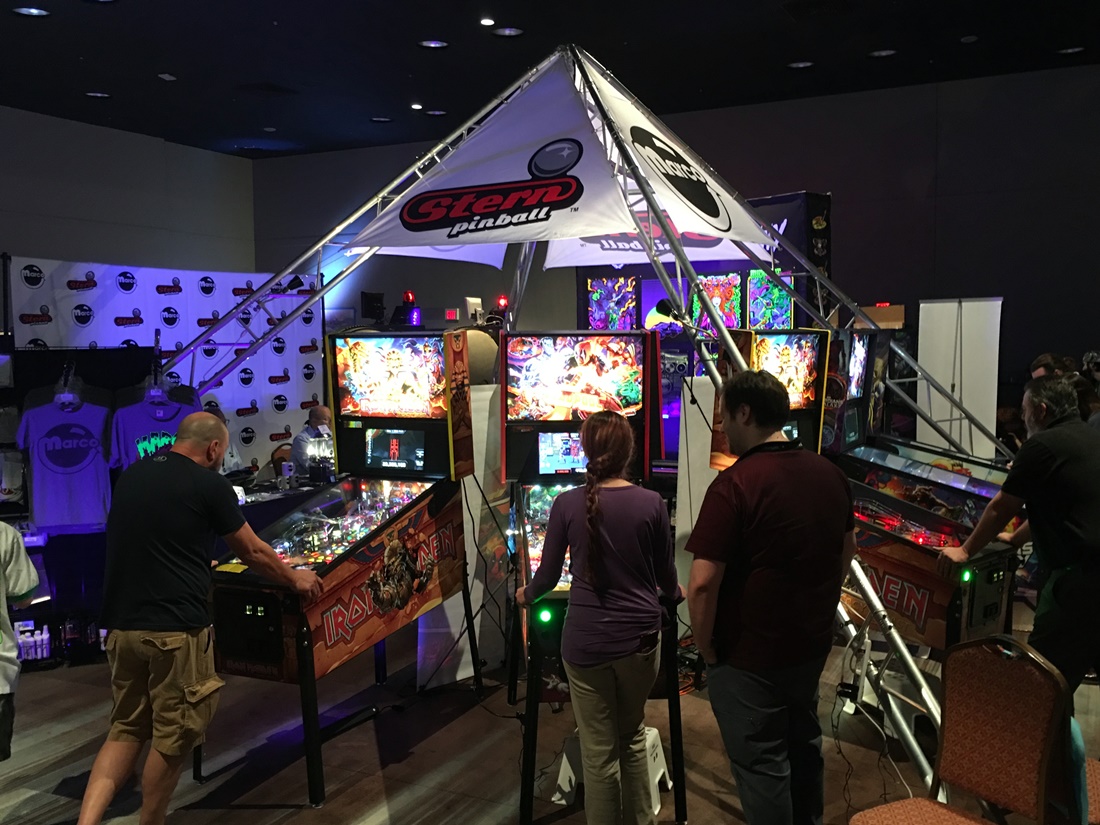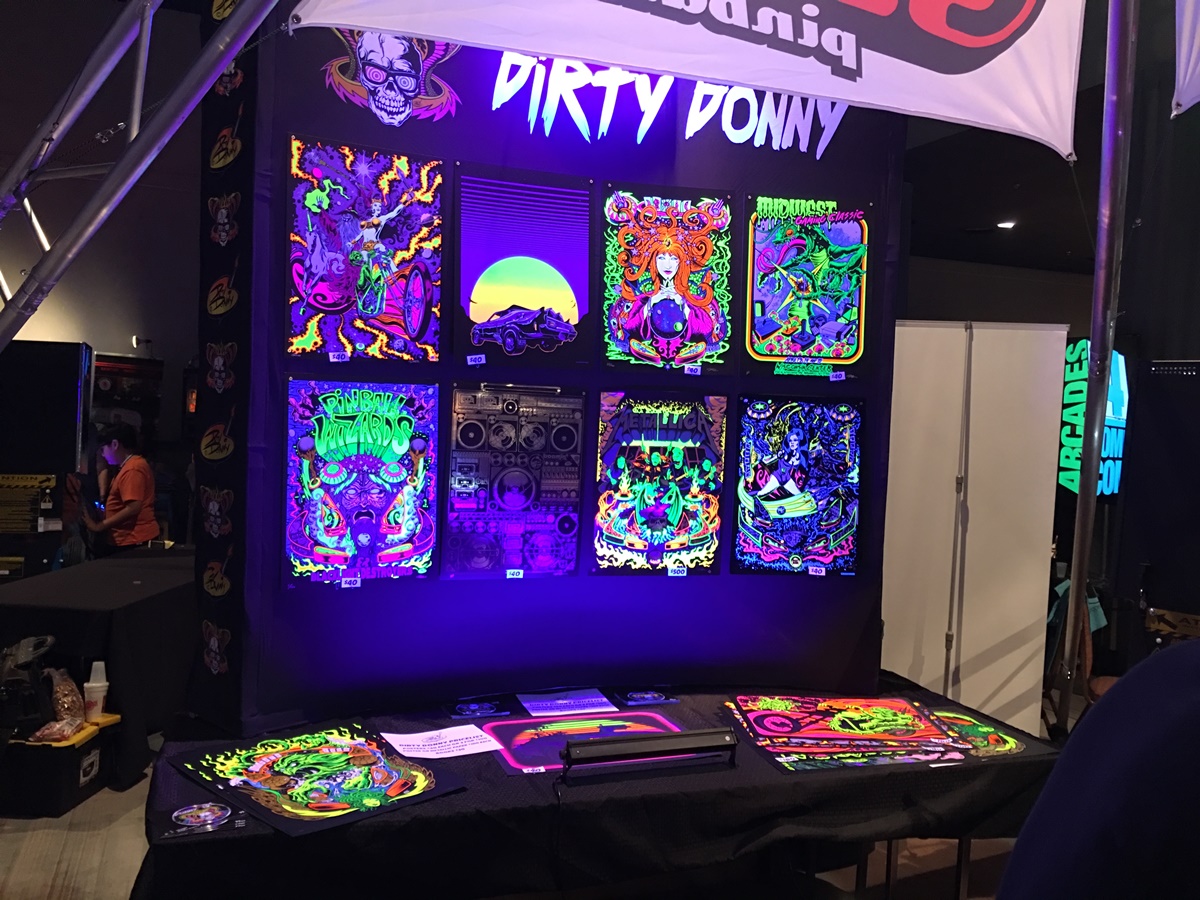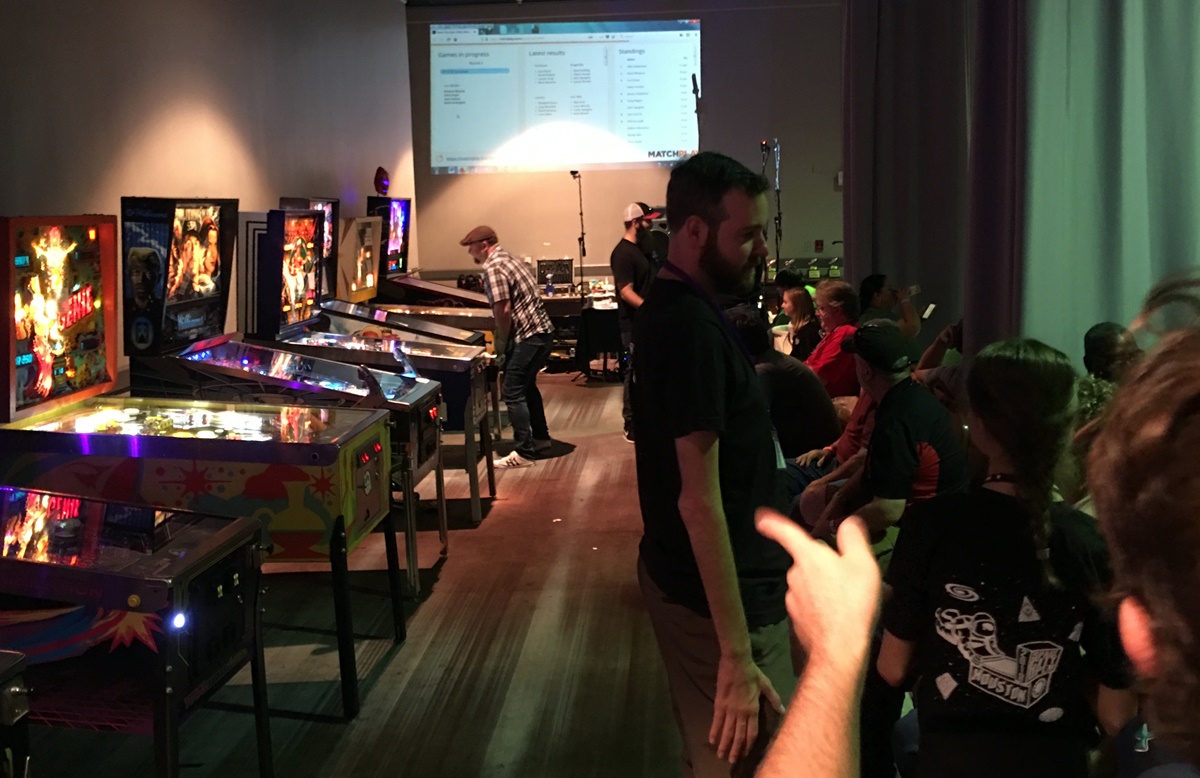 The tournament is in full swing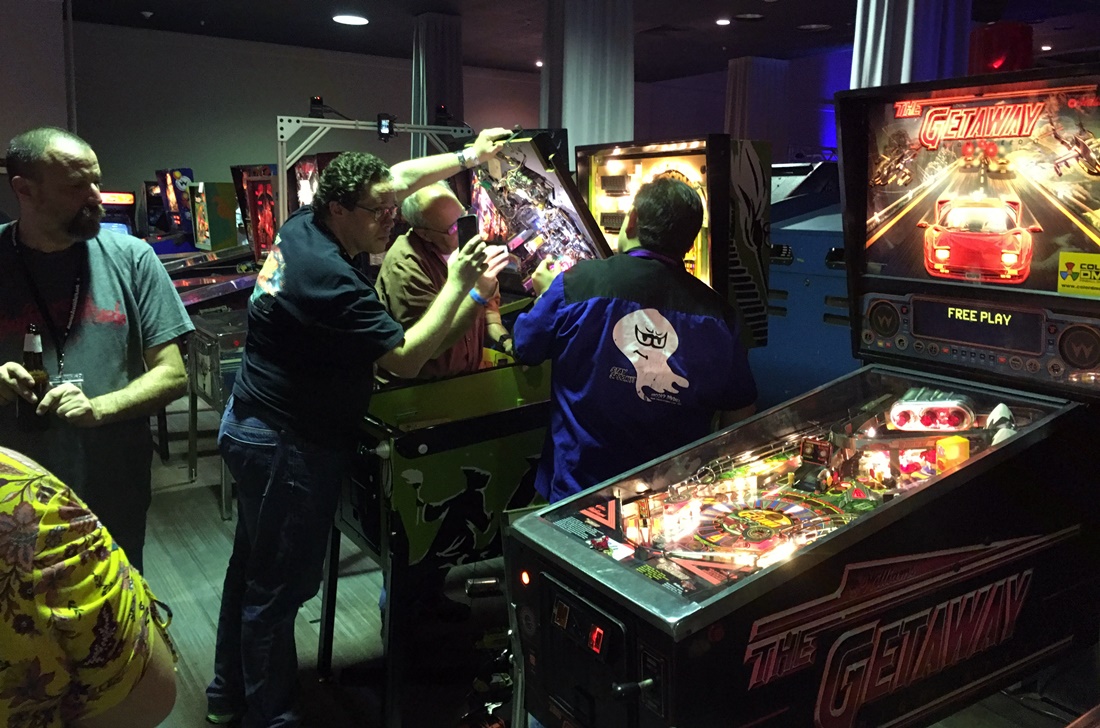 Edwin's Catacomb had some switch issues that were eventually fixed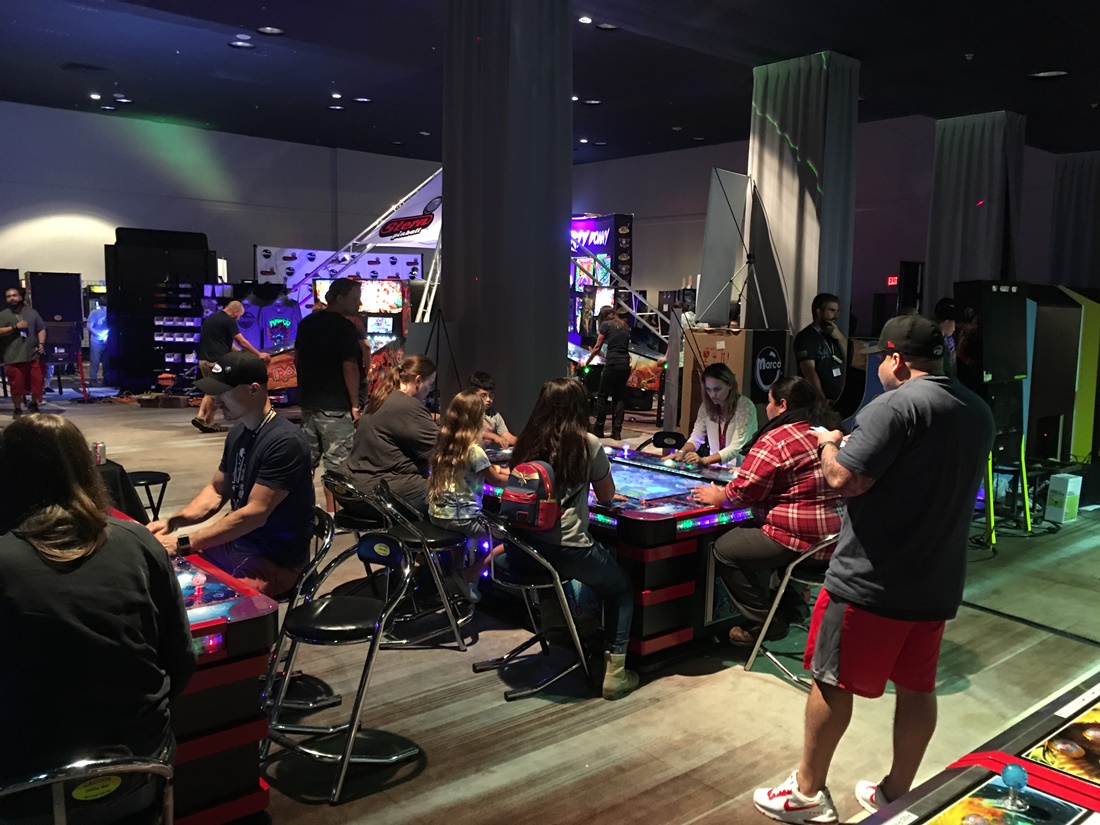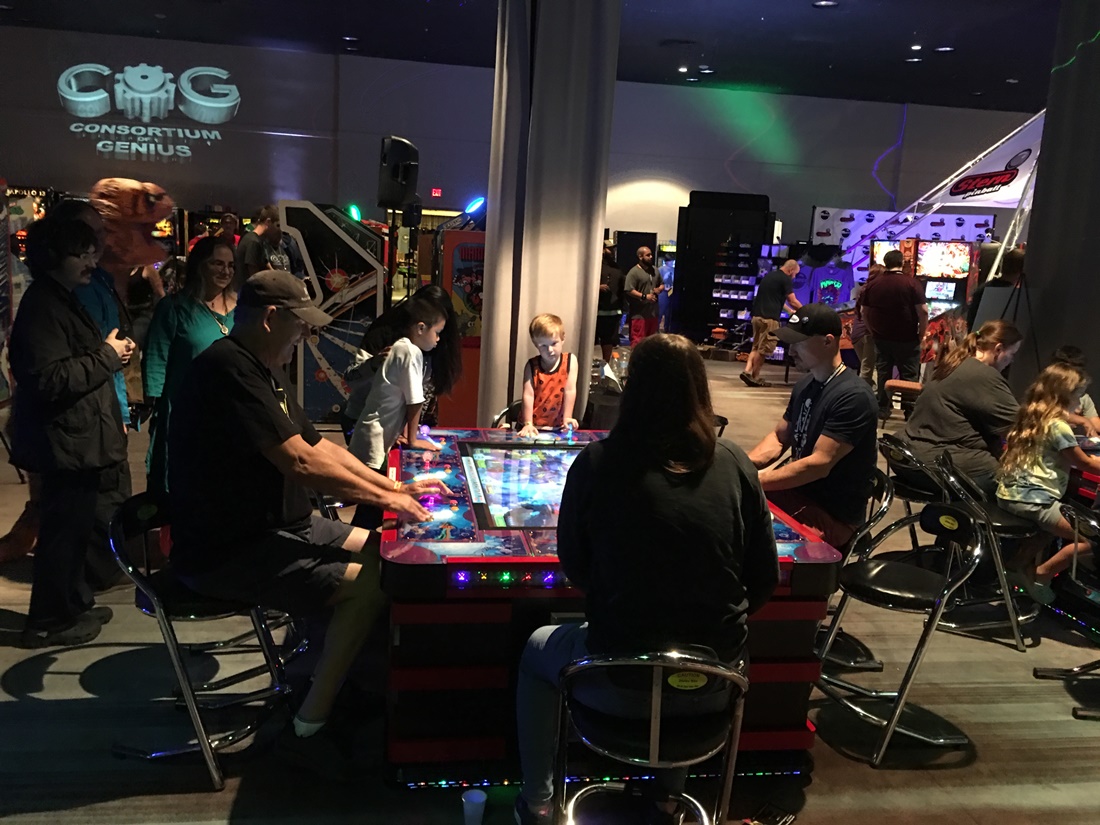 OK, so I took a lot of pictures Friday....I was having FUN!!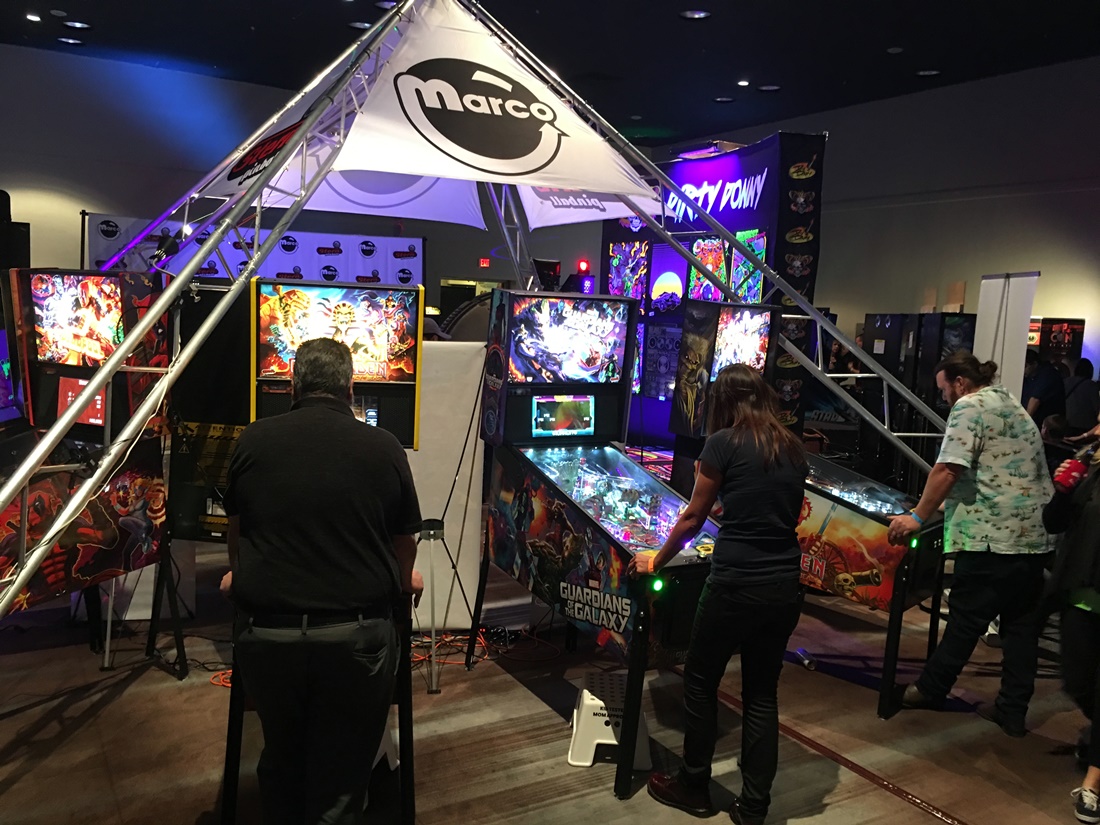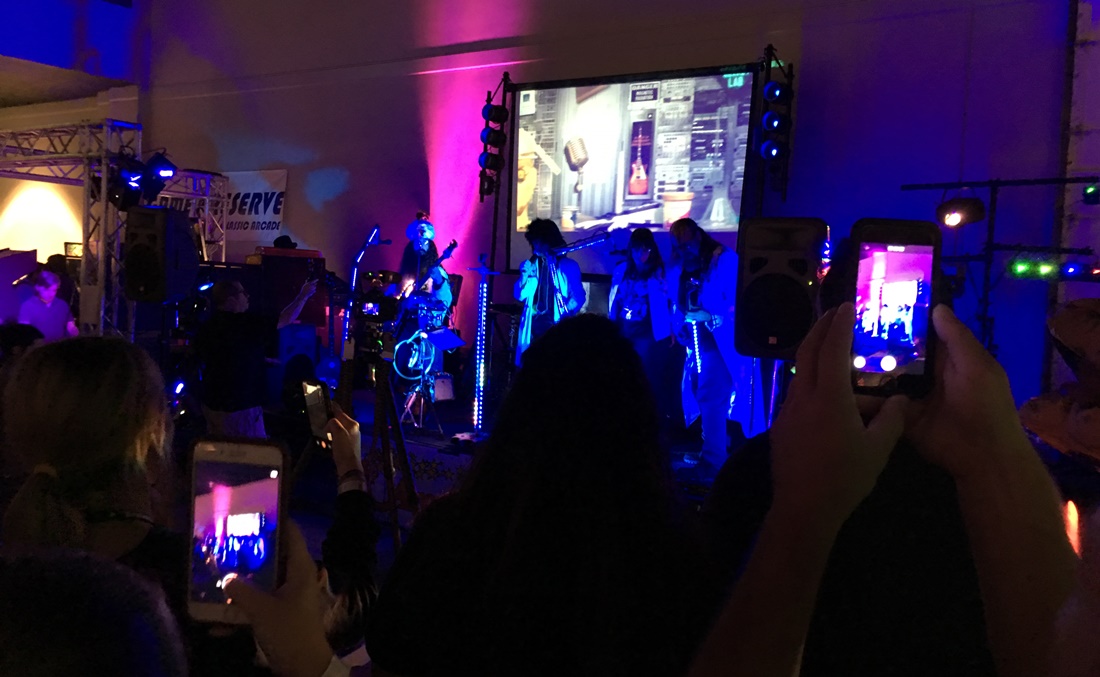 Consortium of Genius band rocks out your Brains!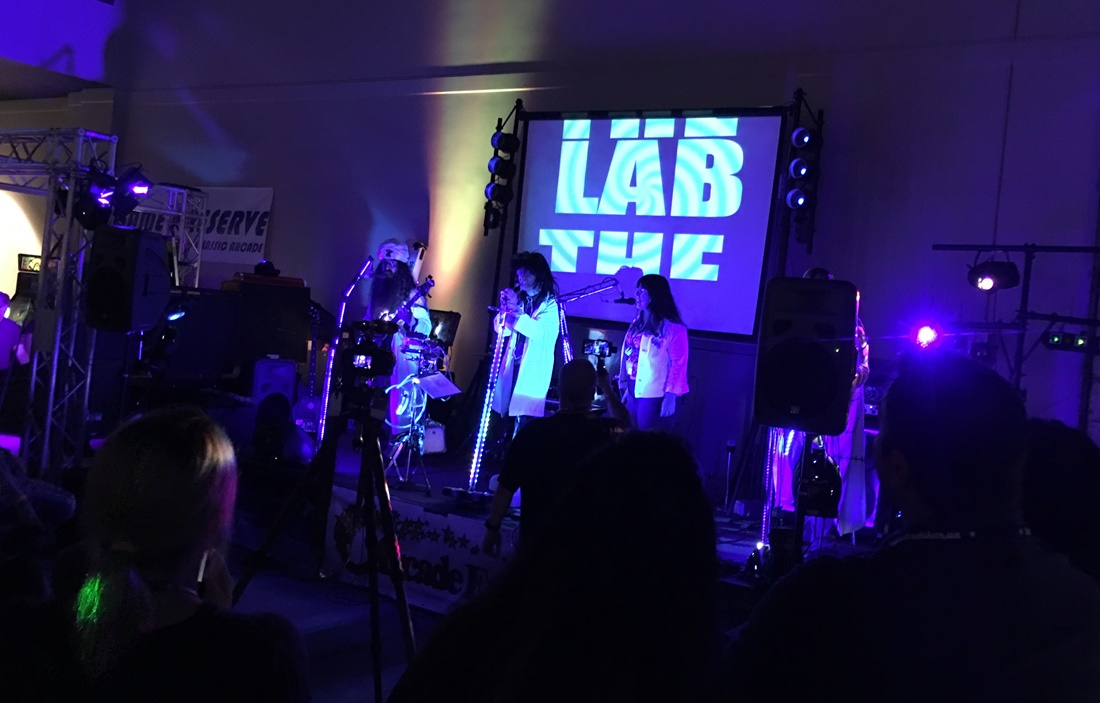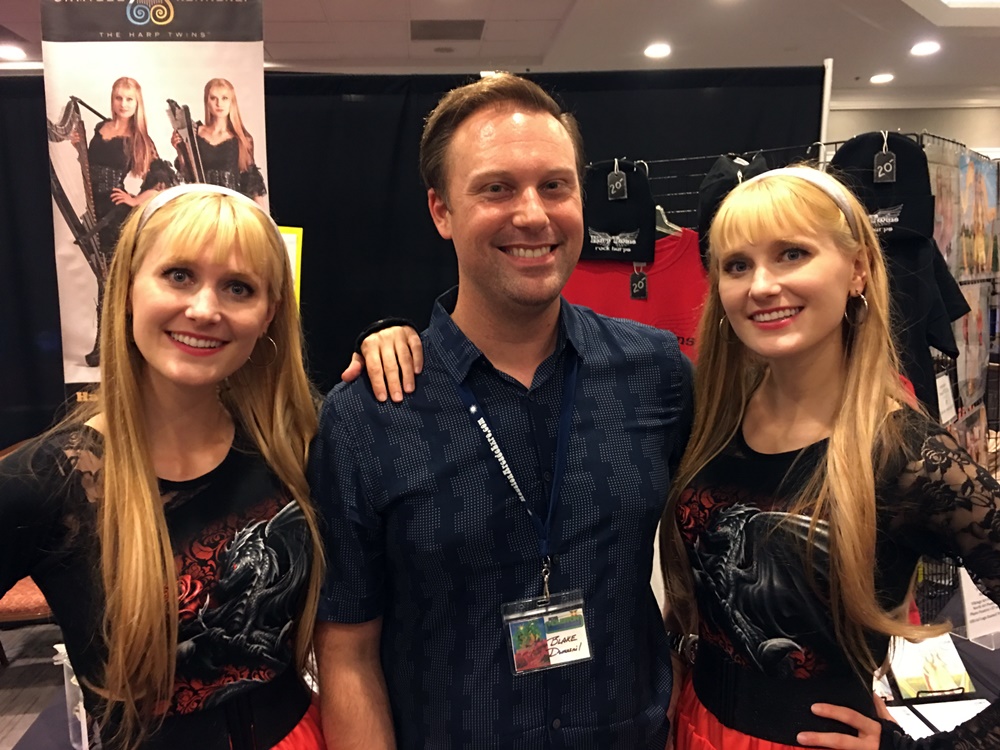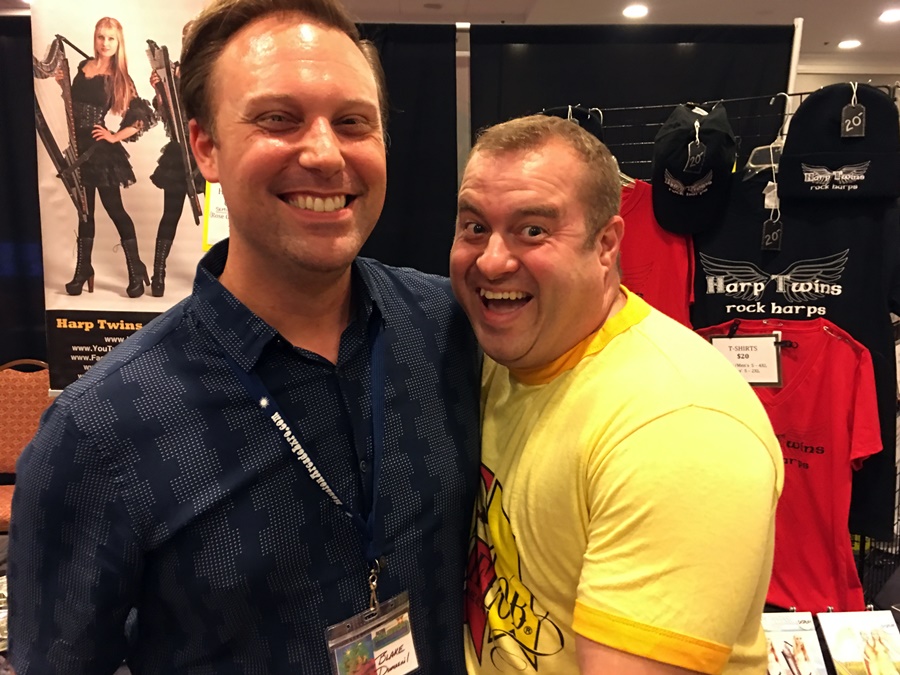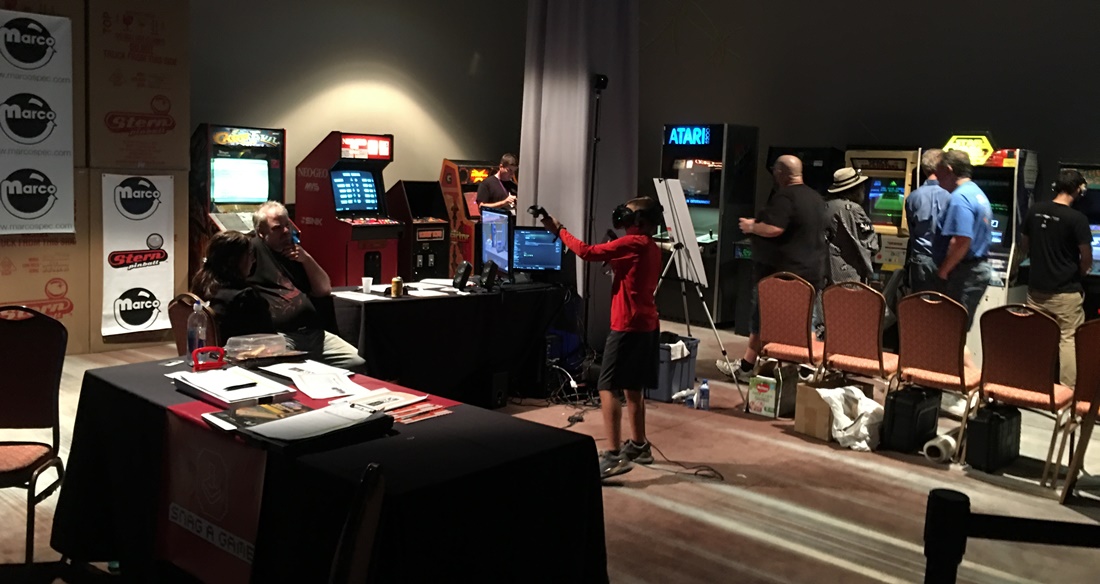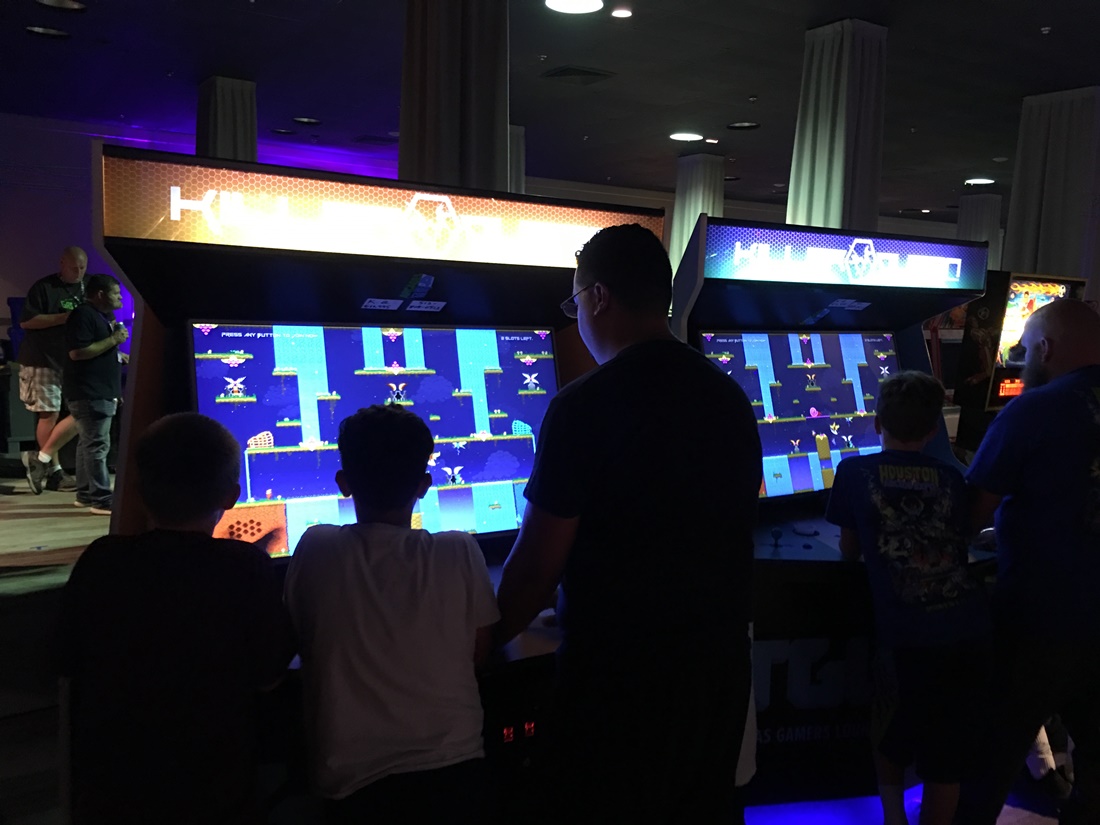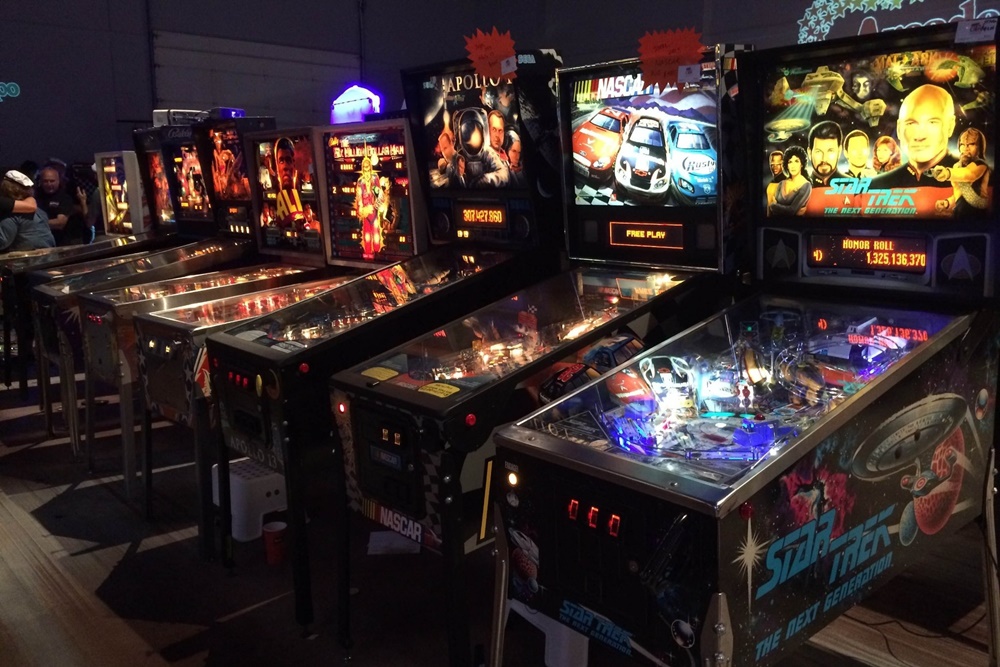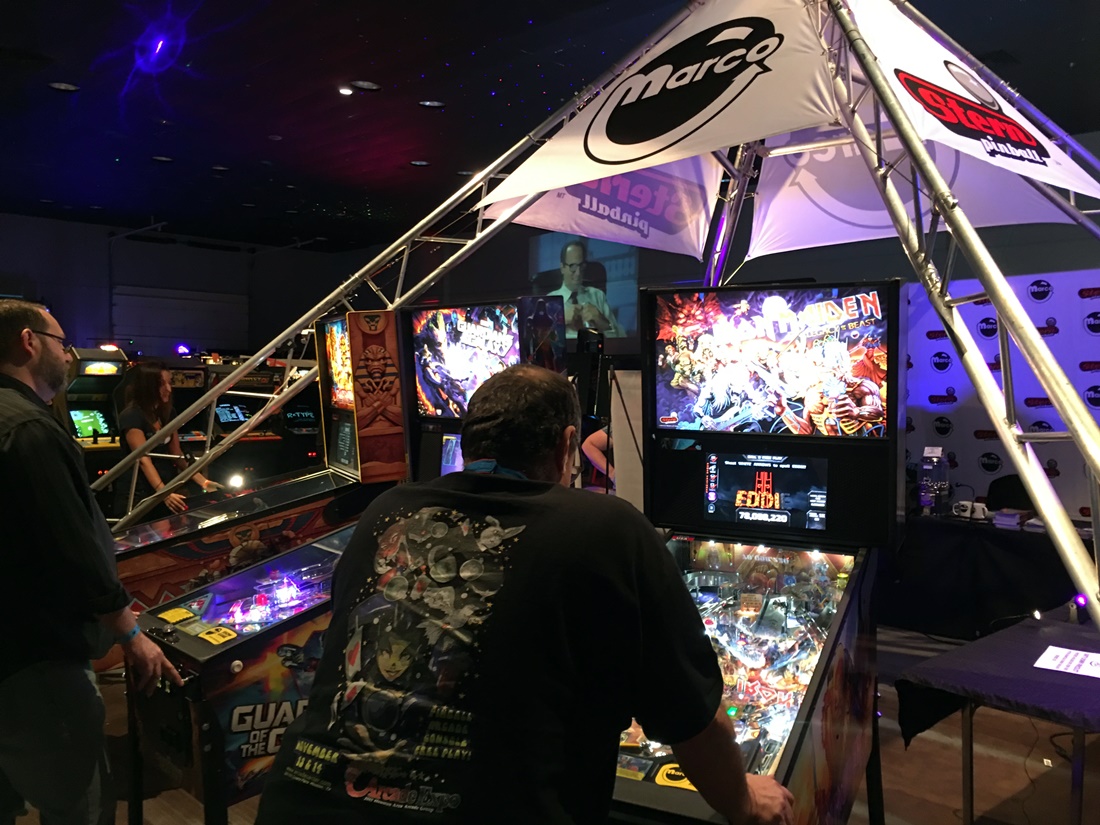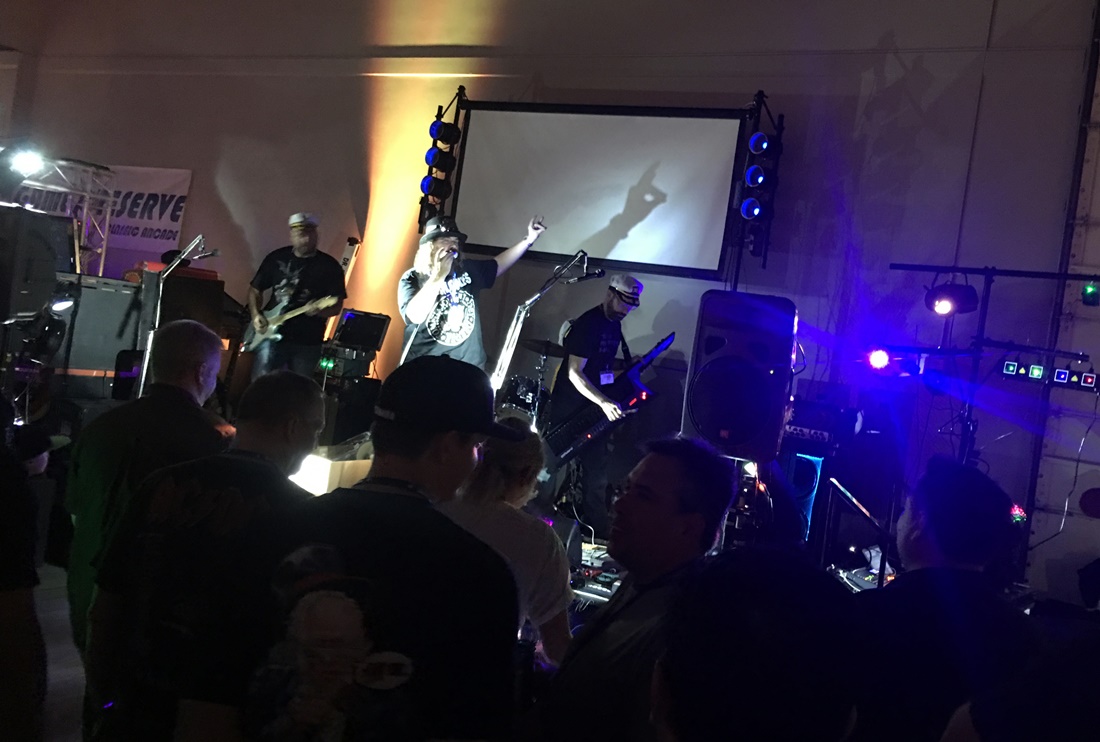 After a few hand puppet shadows....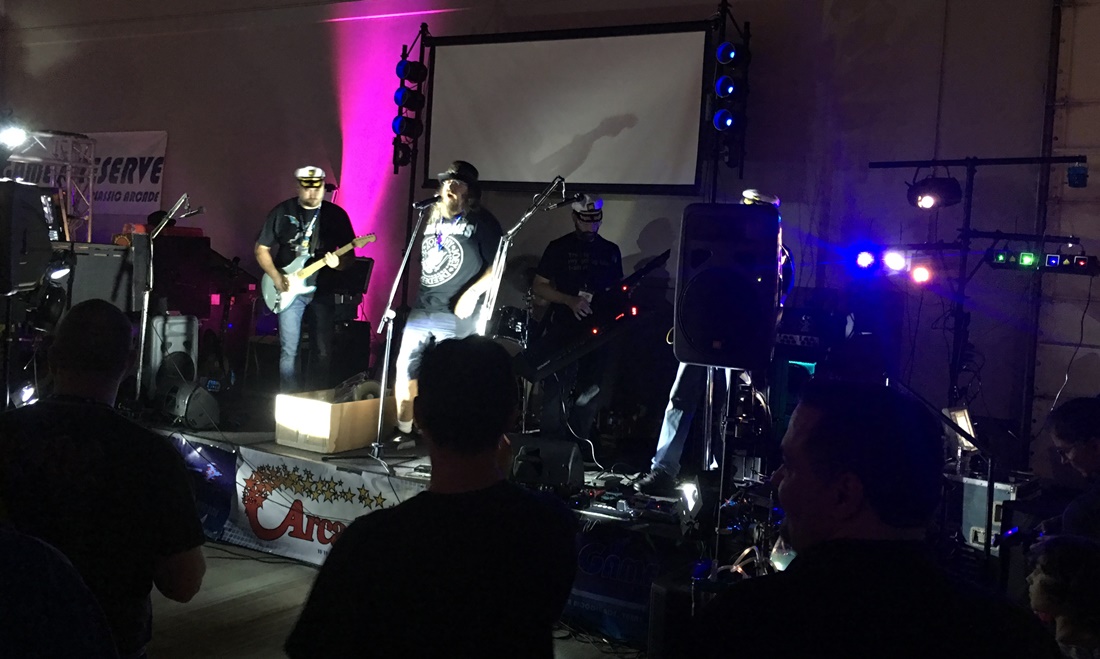 Loaded Popcorn jam band will rock you out!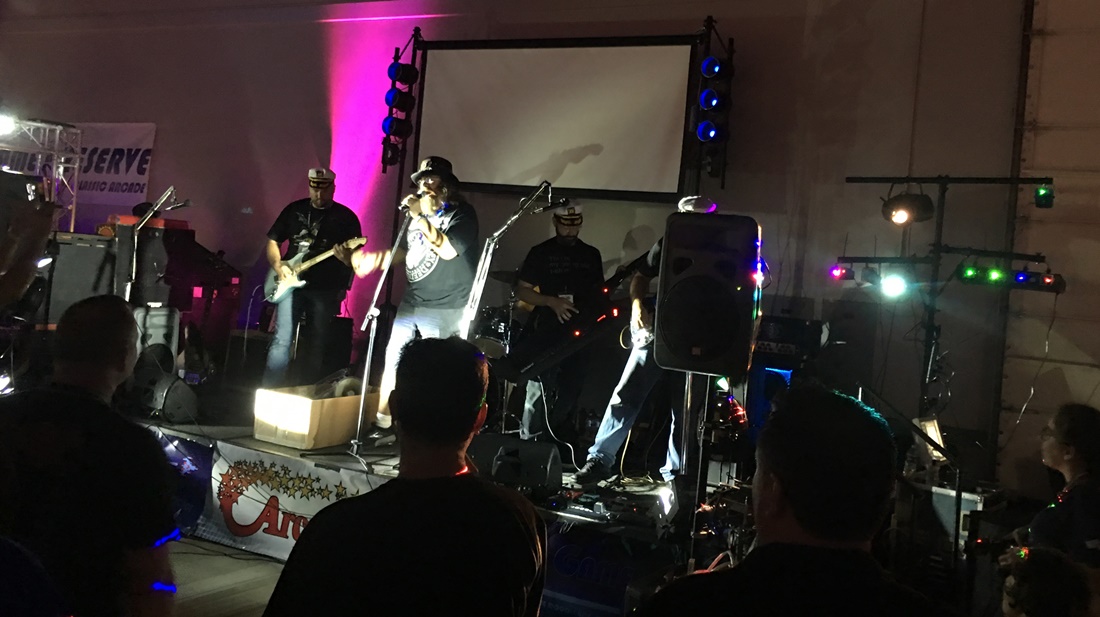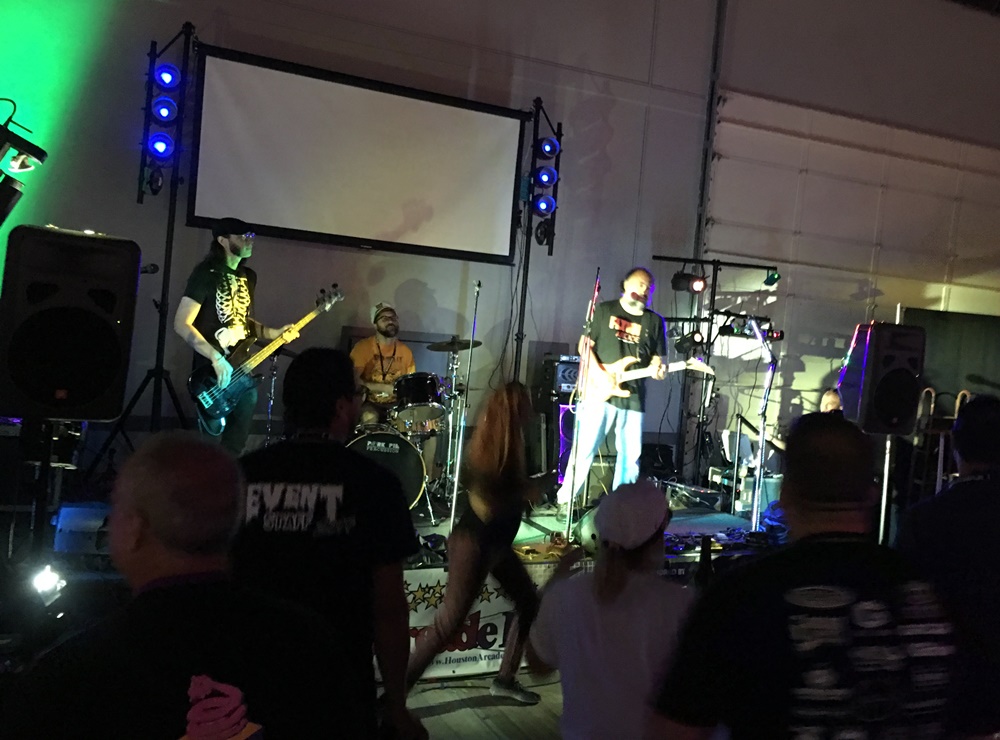 Sometime after midnight, the Radio Cult band kept things going with a few jams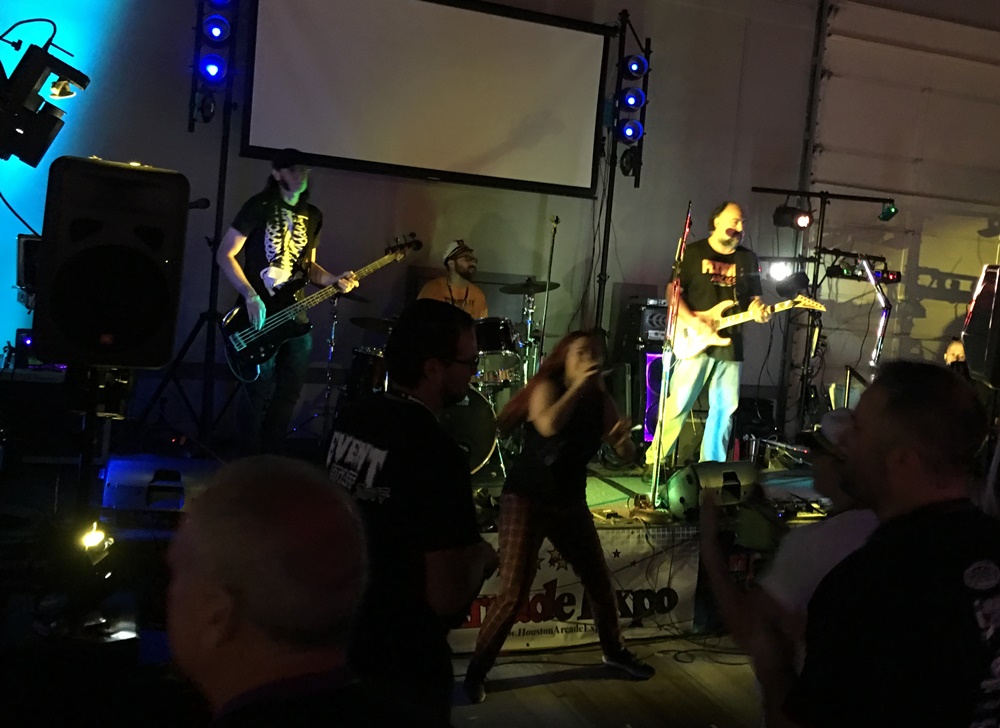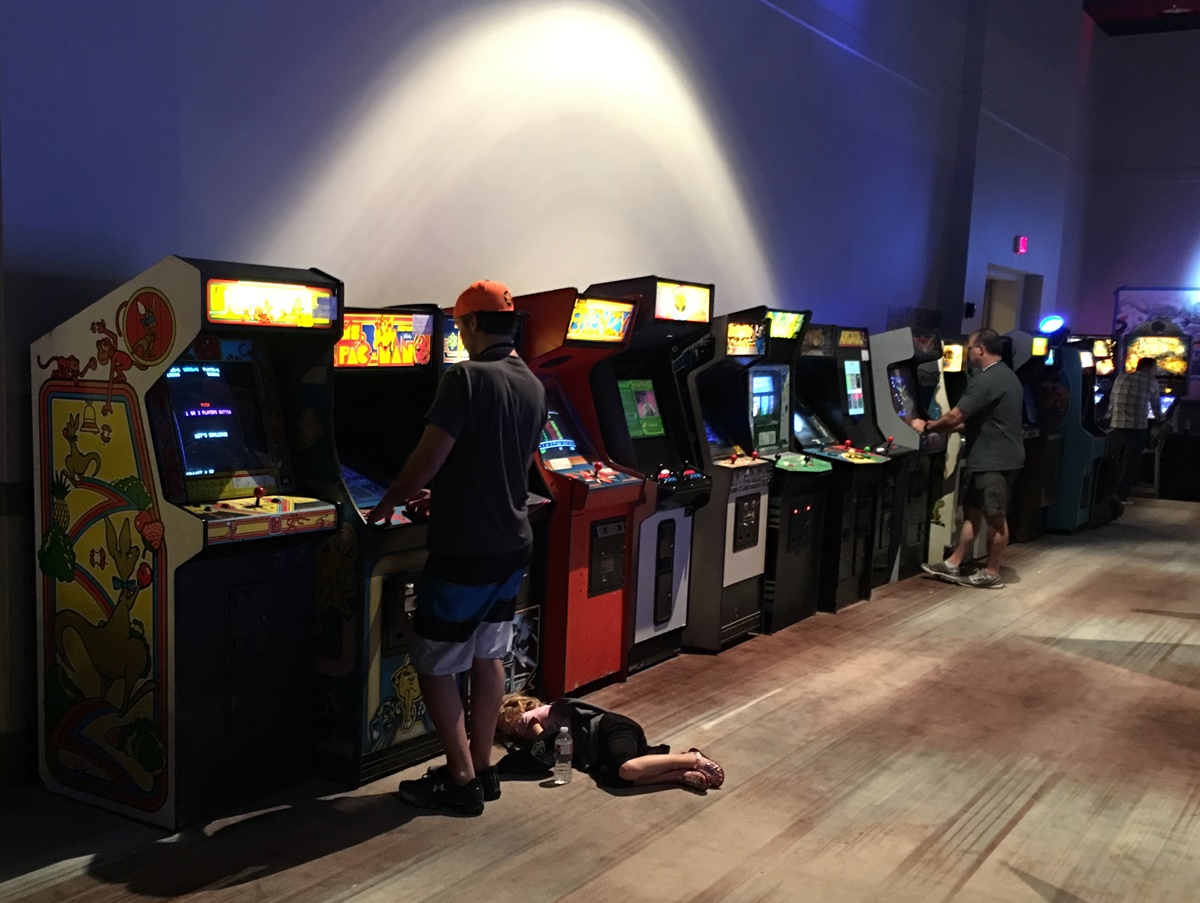 ...very late Friday.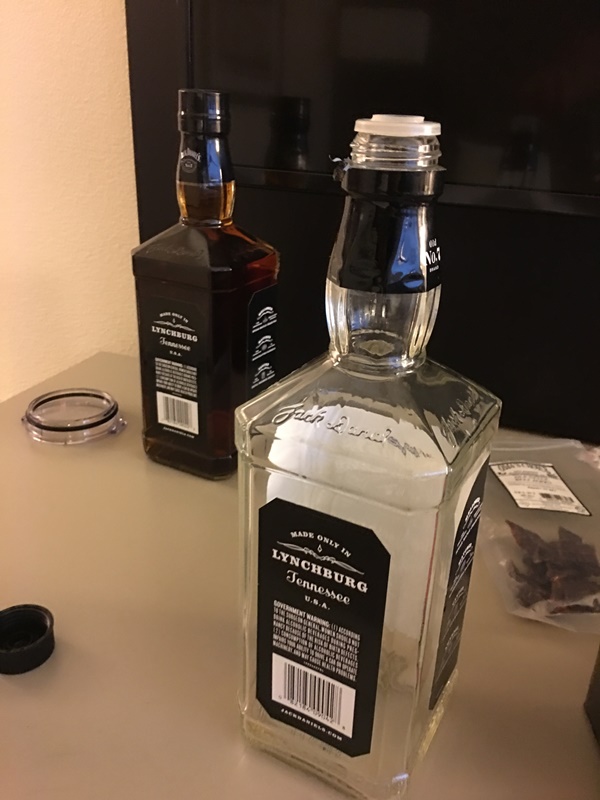 Two days, and one bottle down - one to go.
SATURDAY
I must confess, on Saturday I took advantage of the hotels close proximity to my house. After my usual big breakfast, instead of going back to my room for a nap like usual, I decided to make a quick drive home and visit with my family. It was my daughters senior year homecoming weekend, so it was nice to have some time with her. Anyway, by the time I got back to the Expo Saturday evening, the show was already in full swing.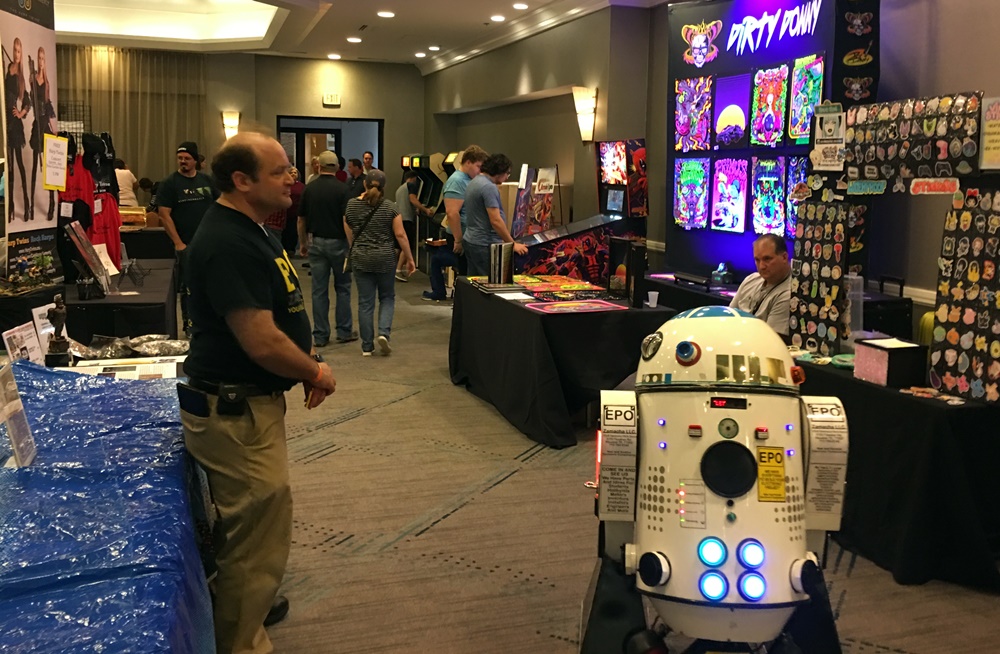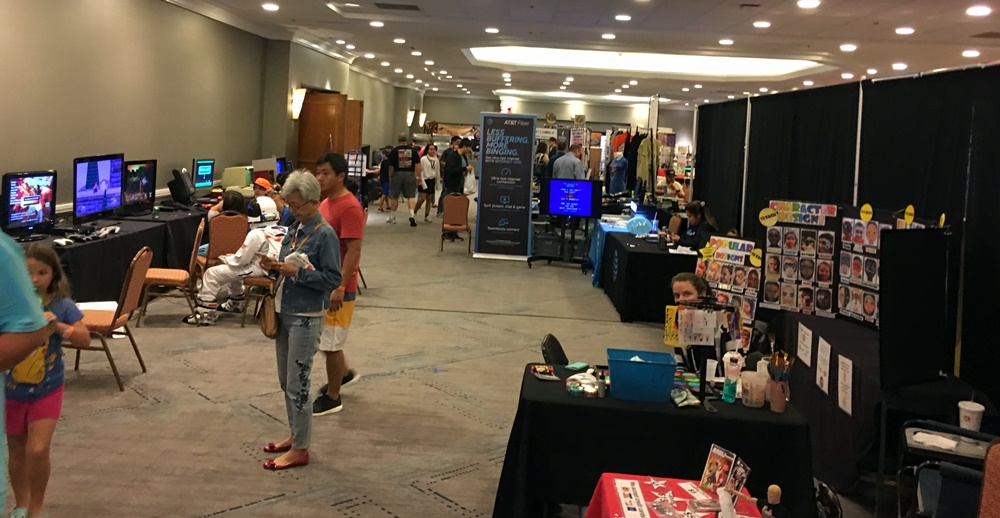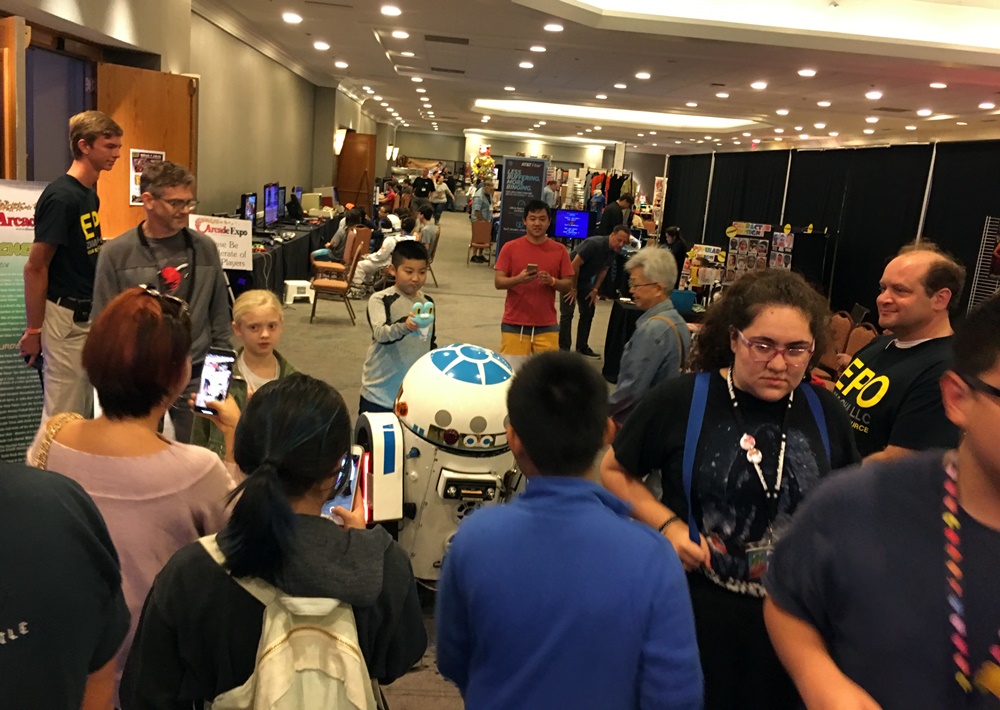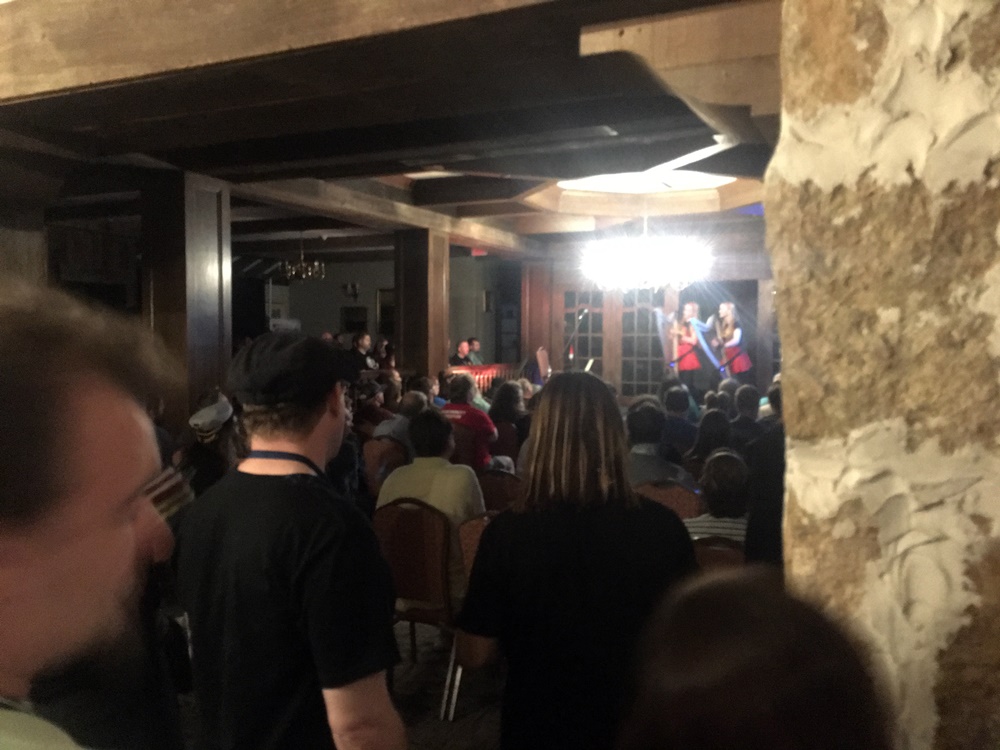 I was AMAZED at the line of folks waiting to see the Harp Twins on Saturday.
It was packed in there!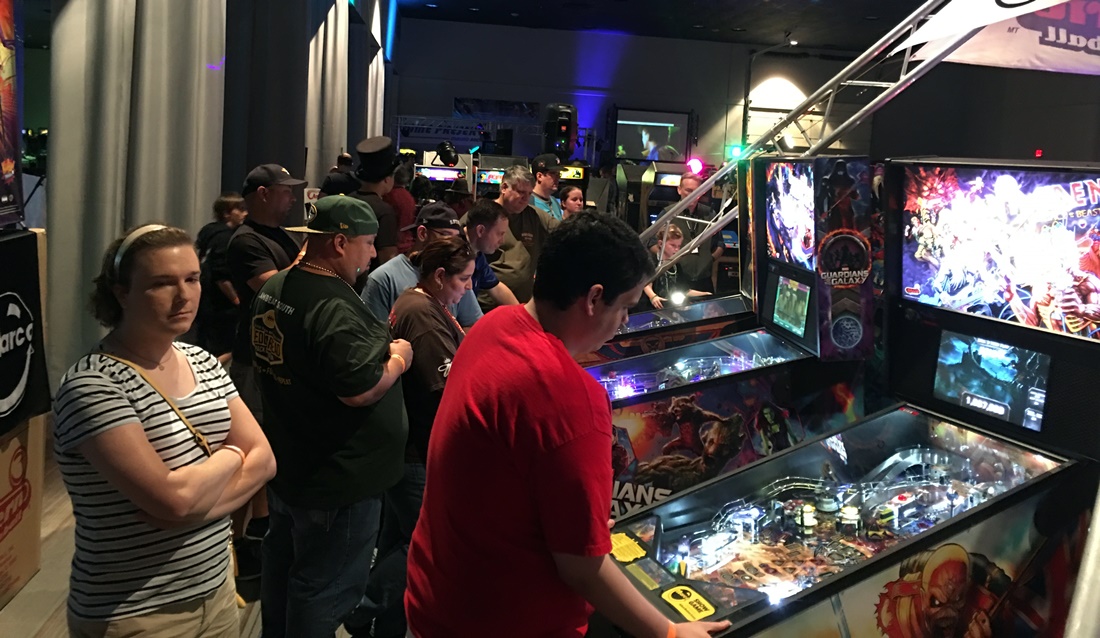 As expected, it was more crowded on Saturday night.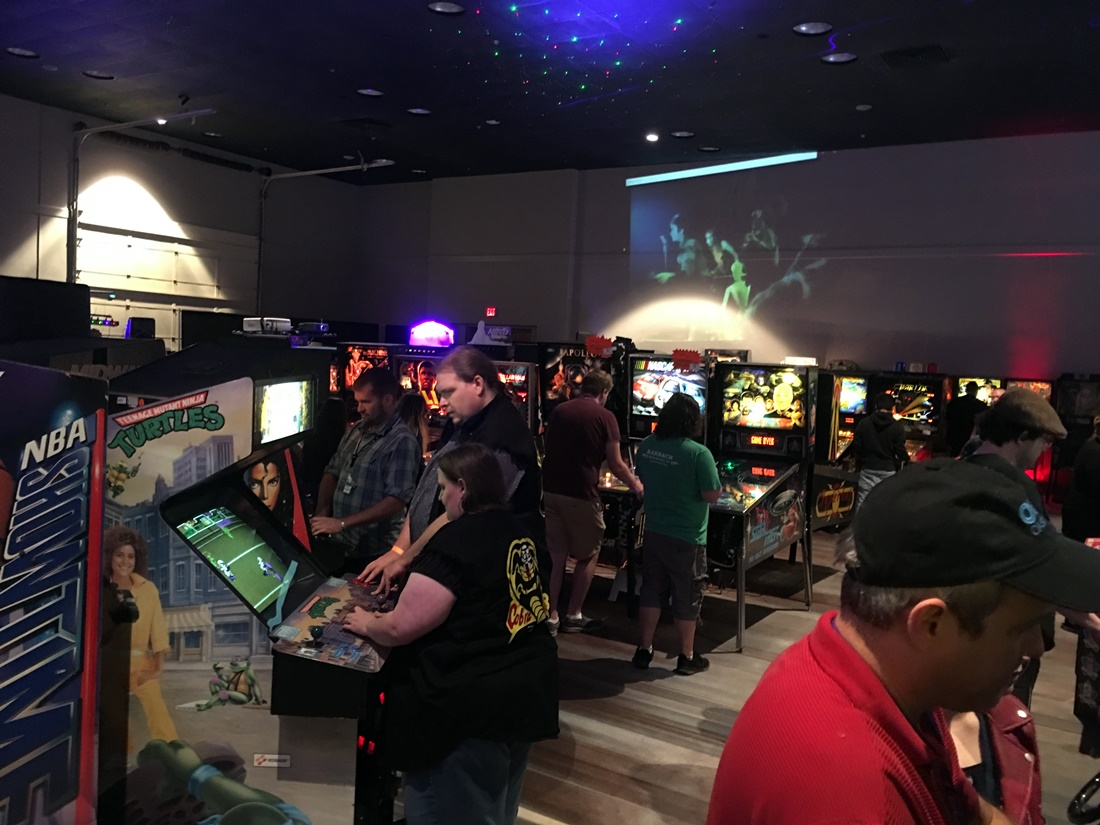 But with so many games - there was almost always something open to play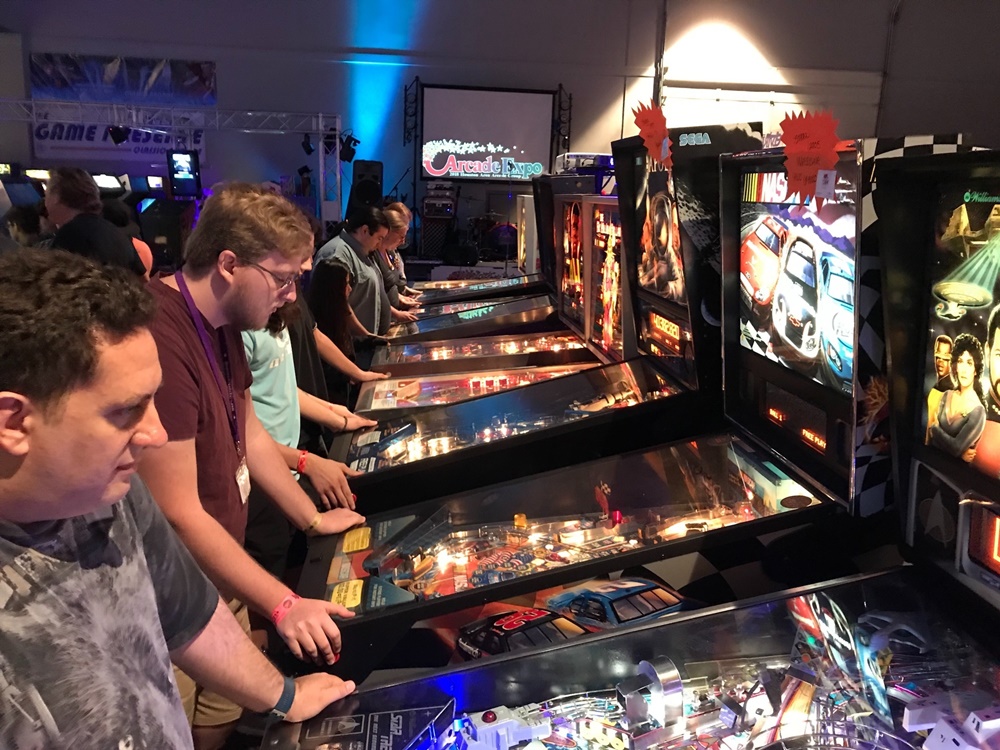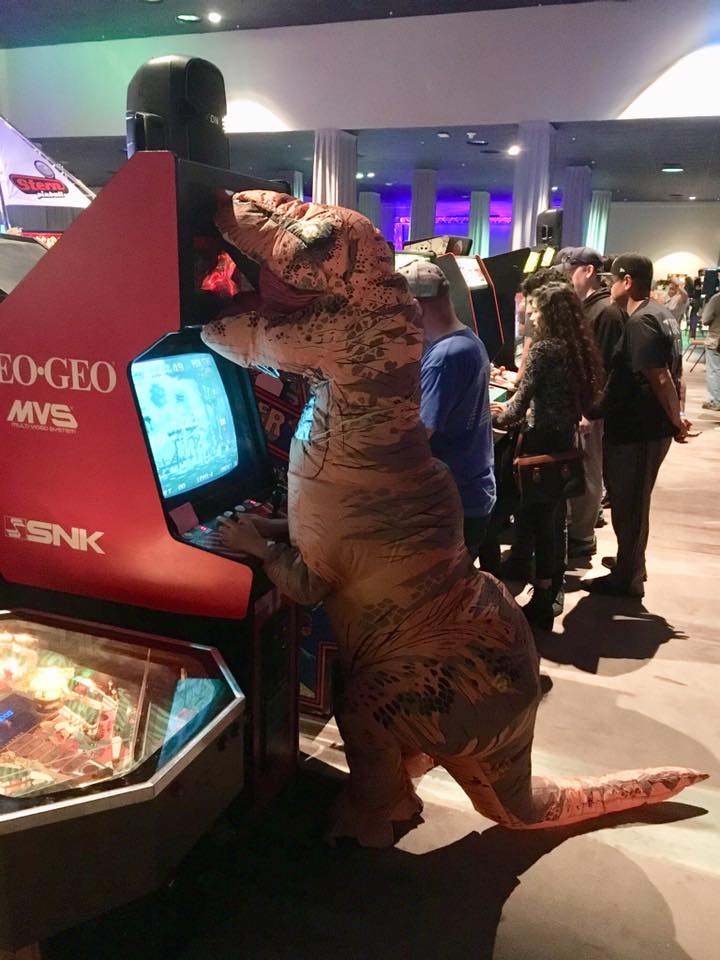 Is T-Rex eating that game?!?!?!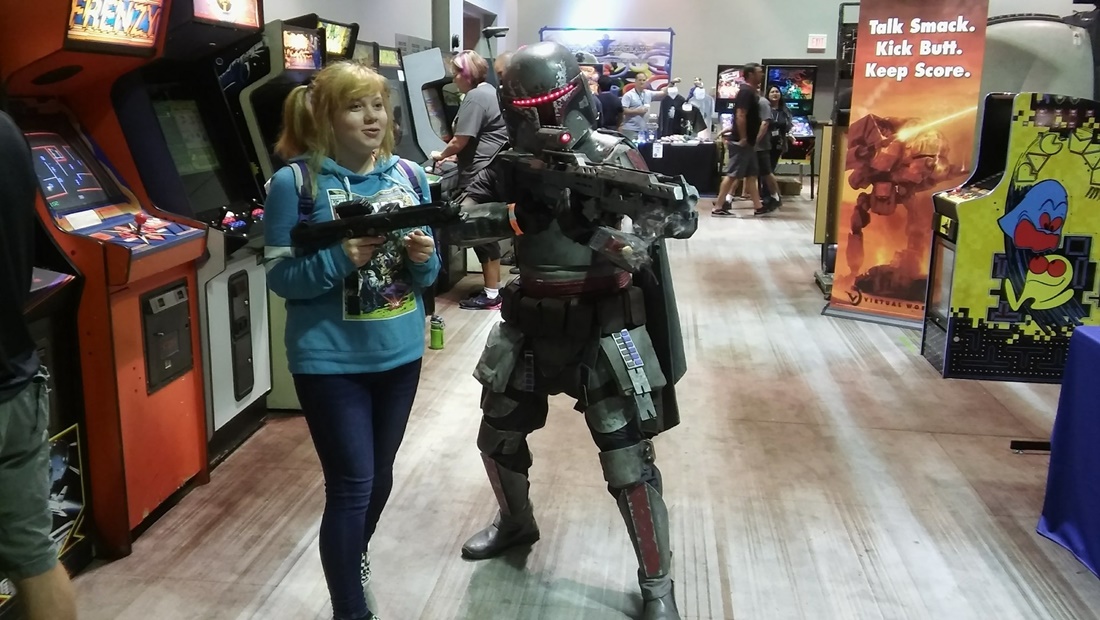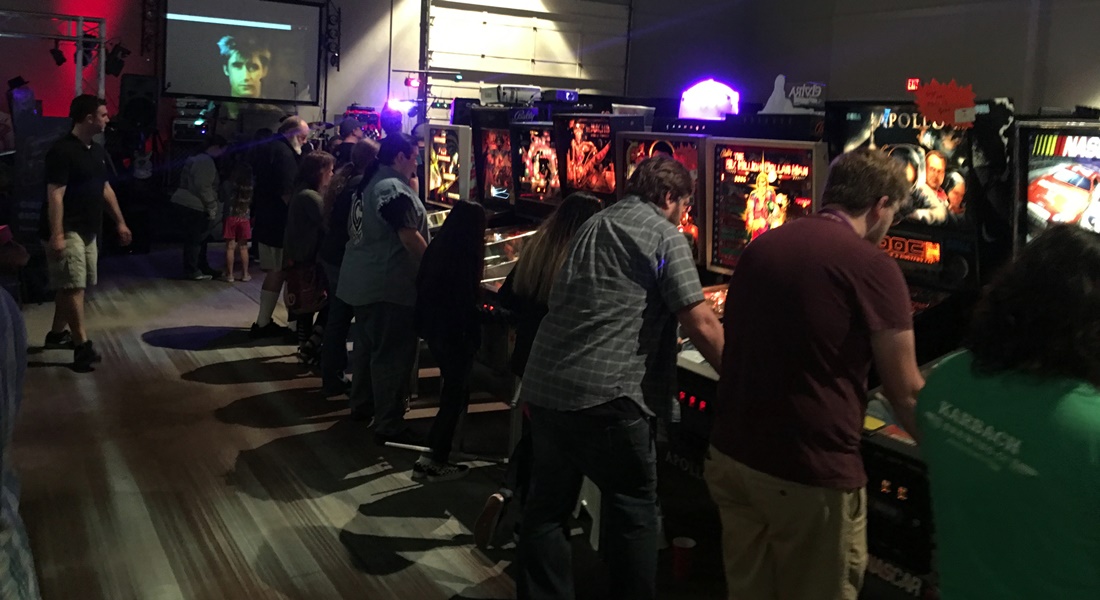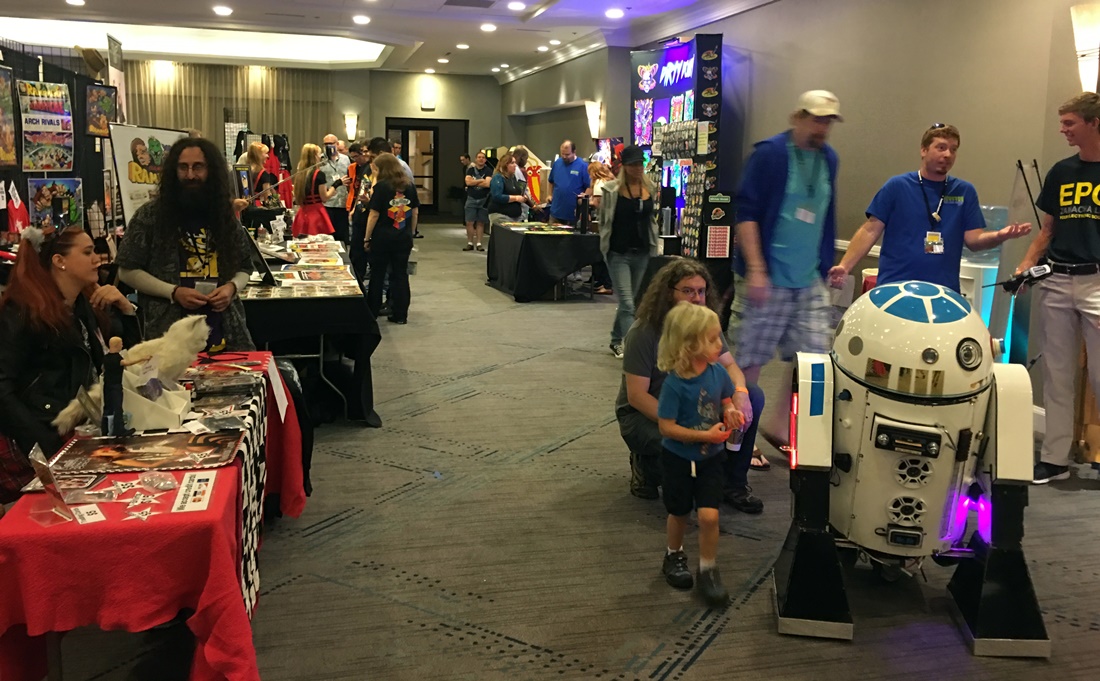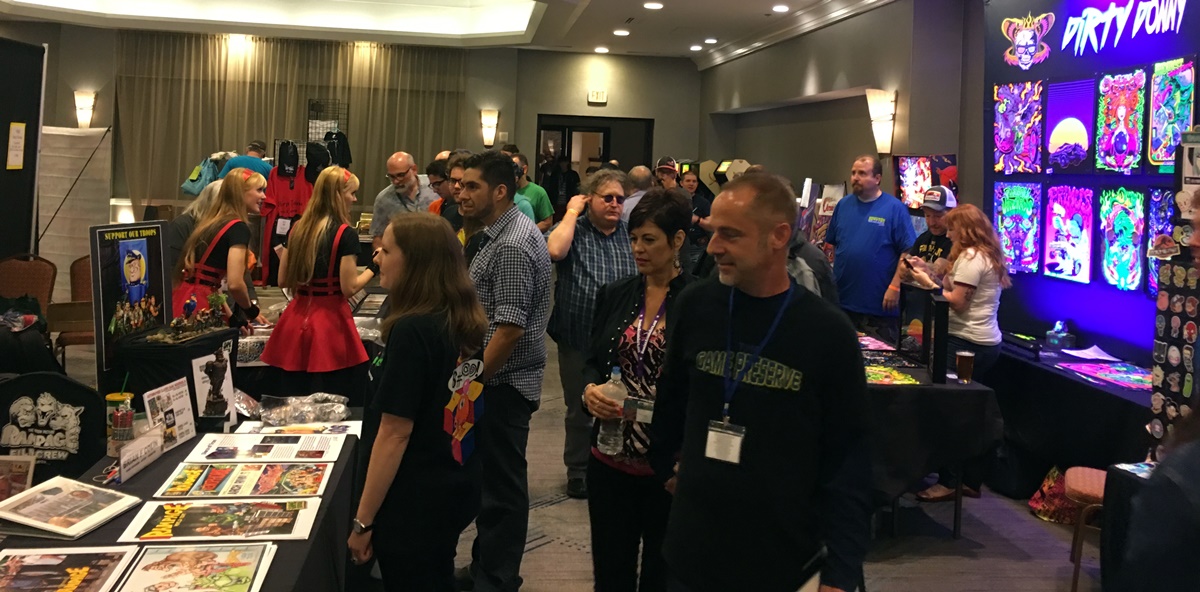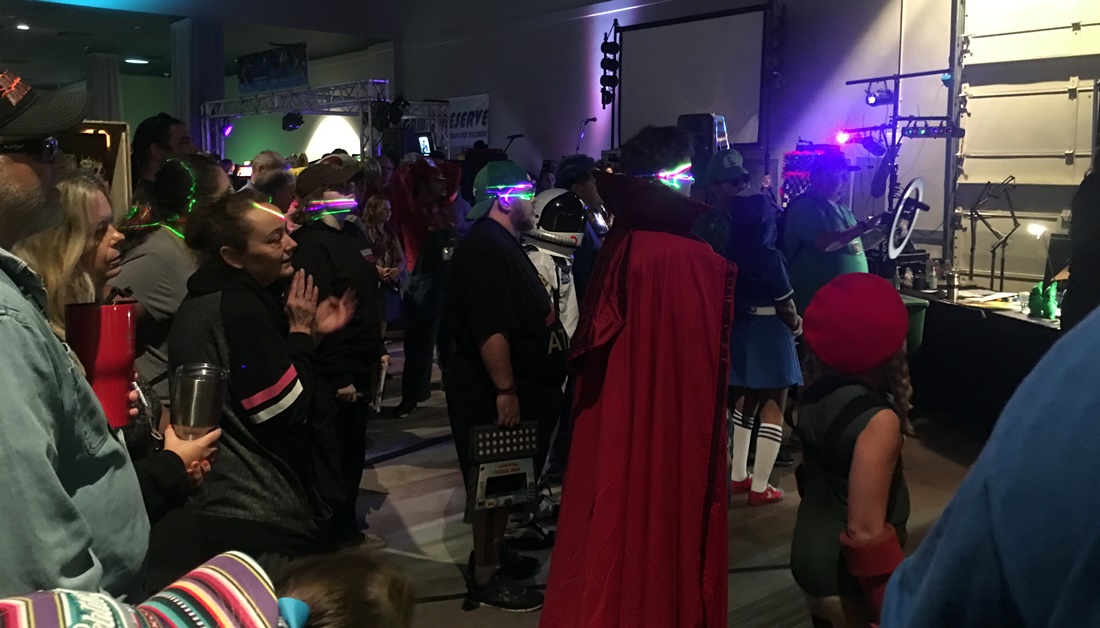 I heard something about a costume contest?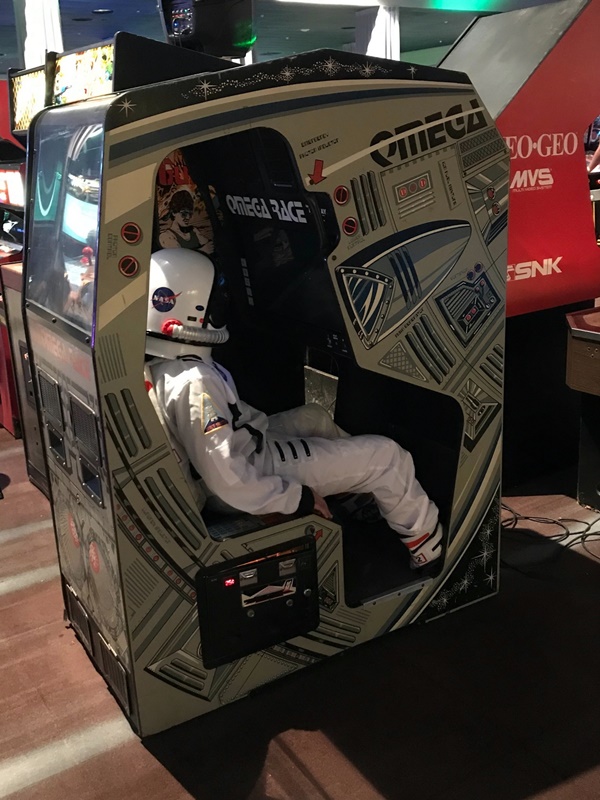 Seems appropriate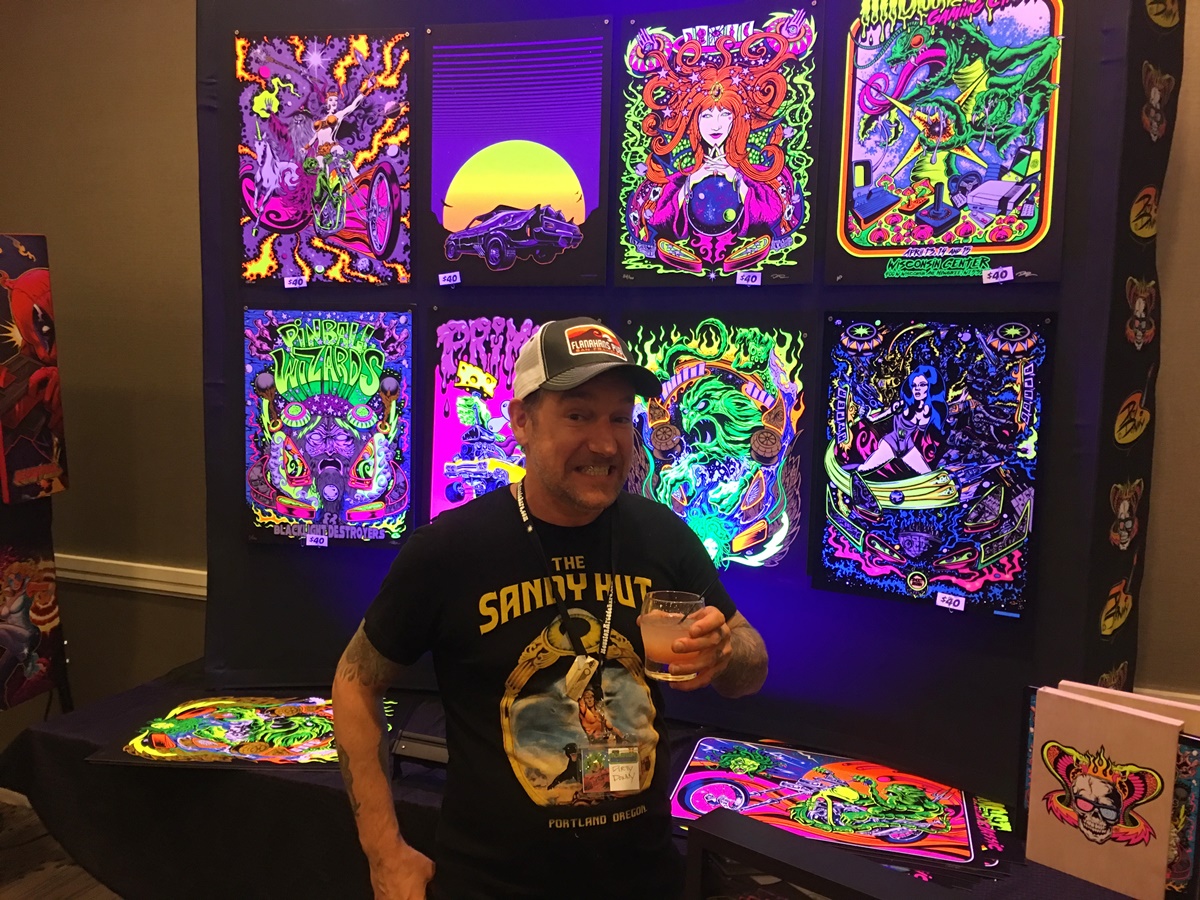 Dirty Donny is the man!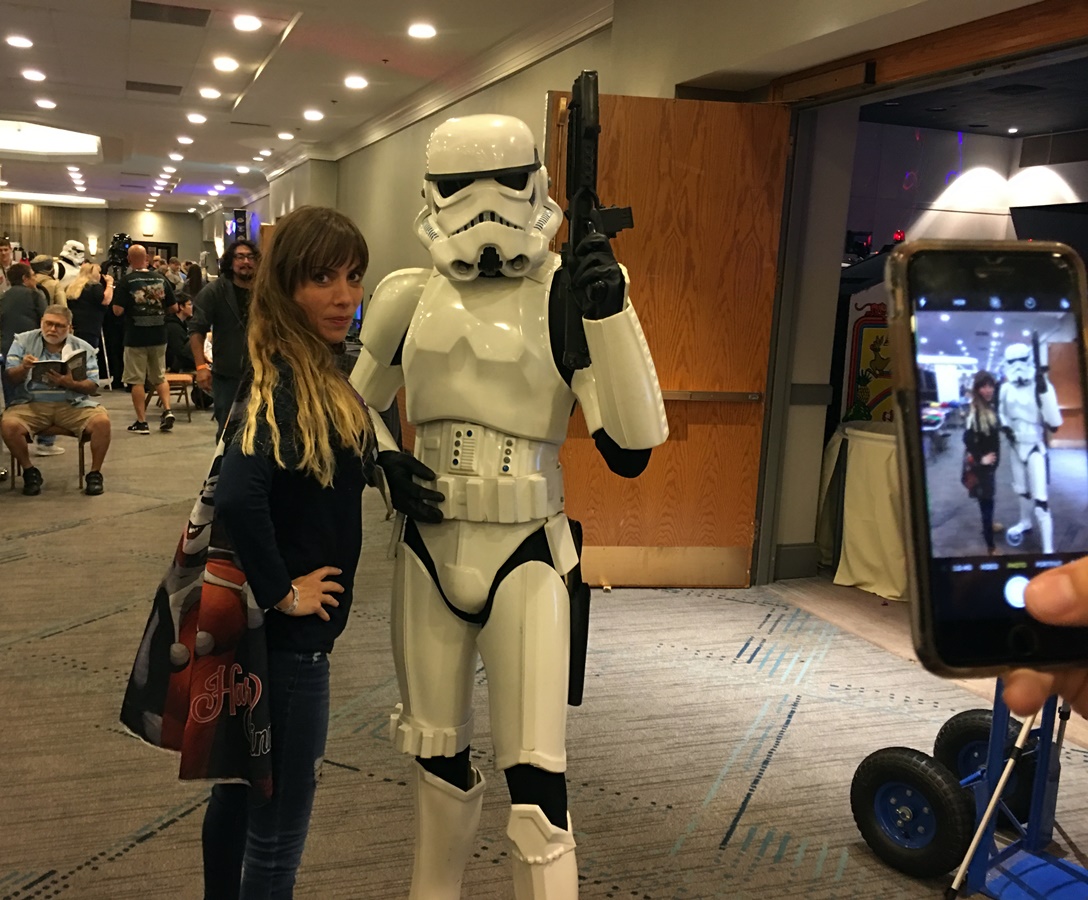 Pav poses with a Stormtrooper.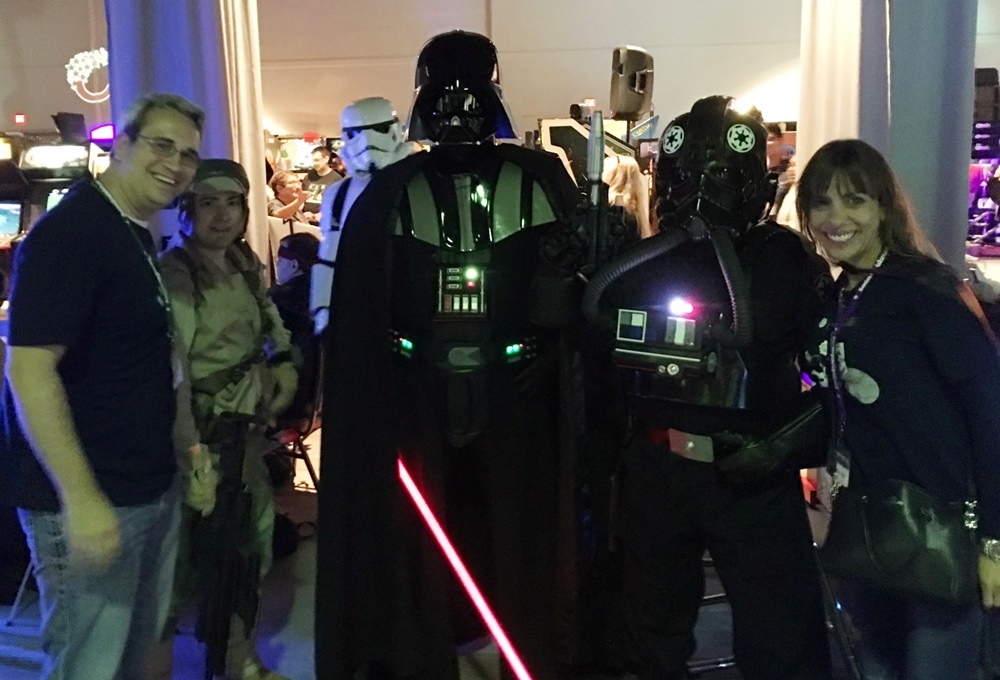 Group pic!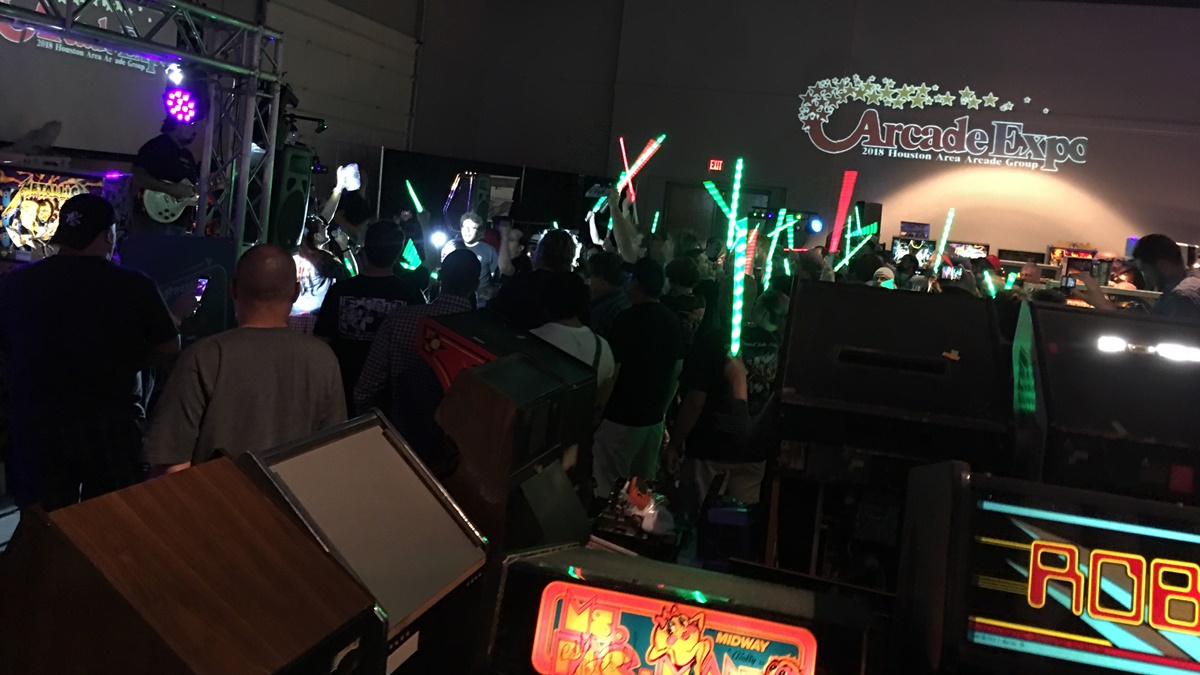 PARTY PARTY PARTY!!!!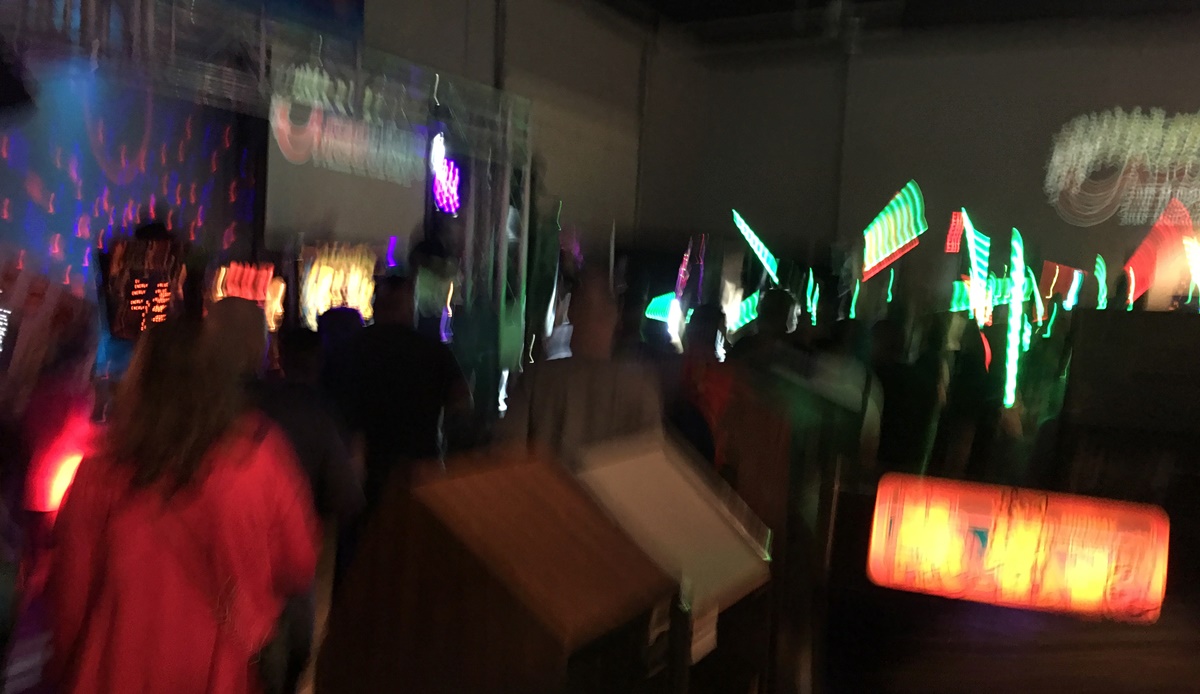 So yeah, this is what it looked like to me sometimes.....heheh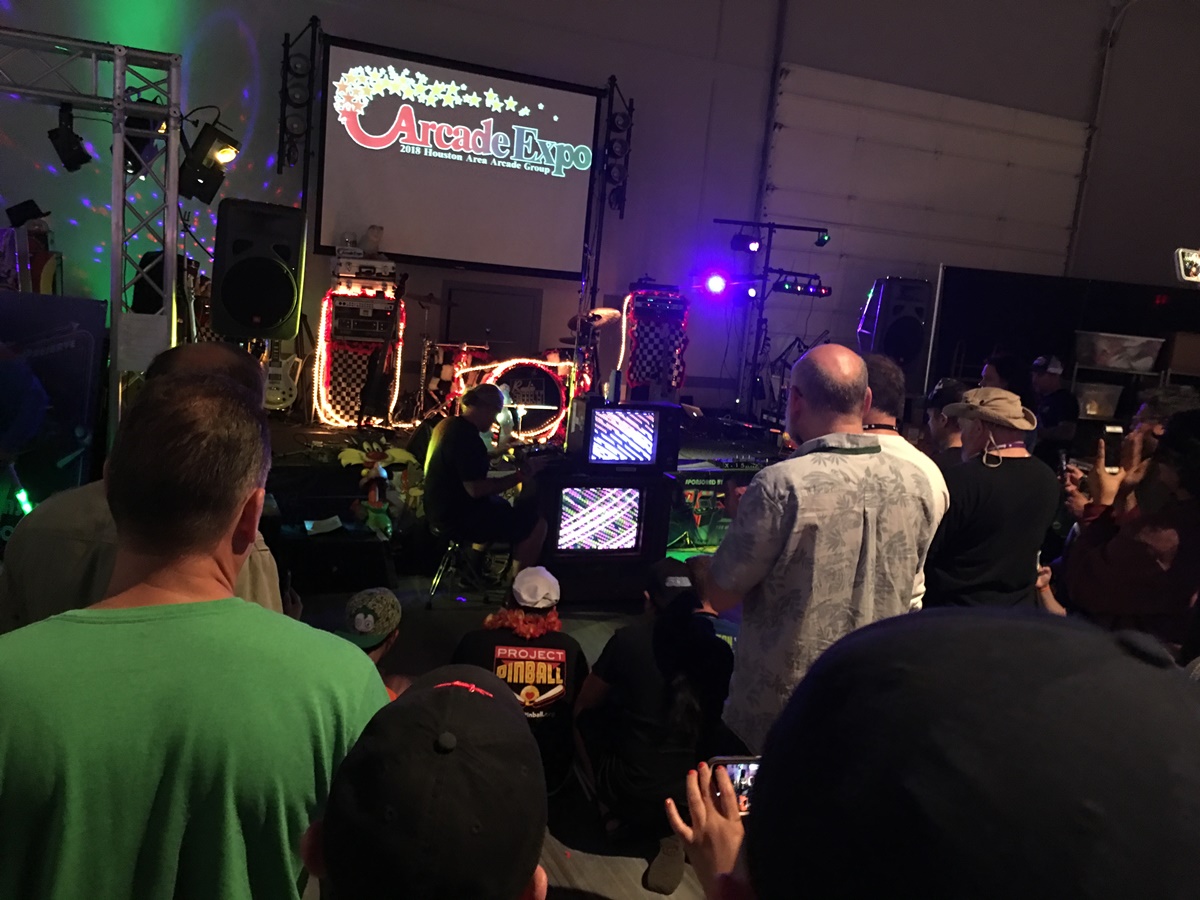 HELL YEAH - It's Atari Matt~!~!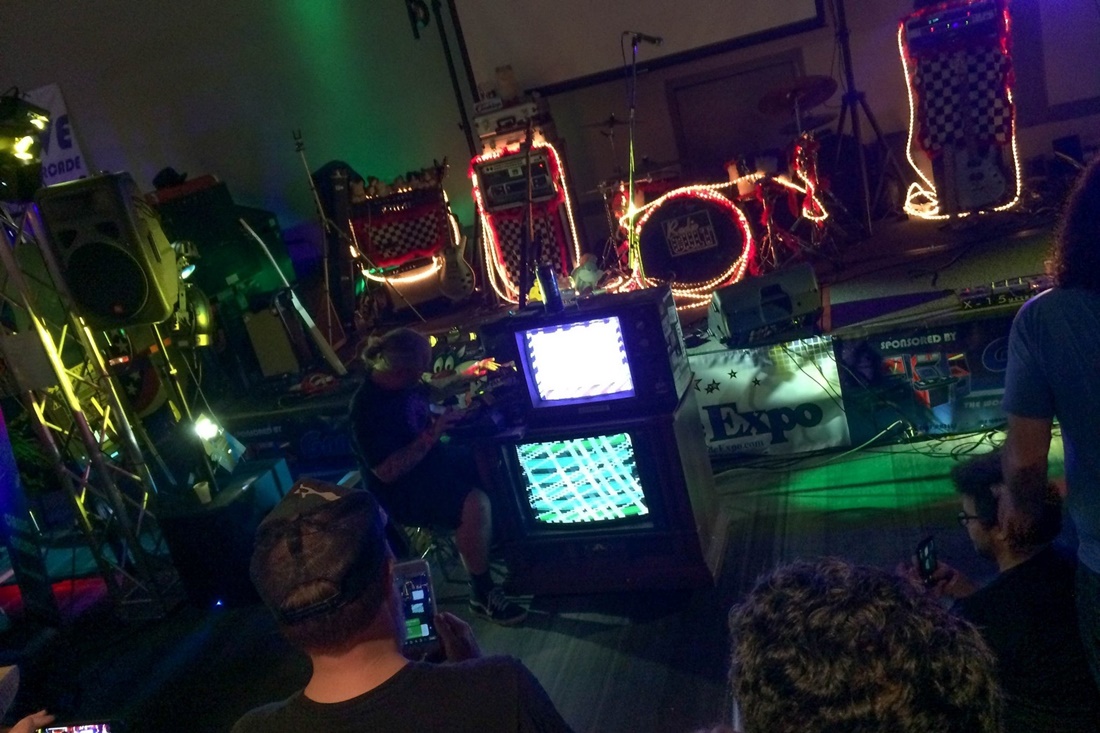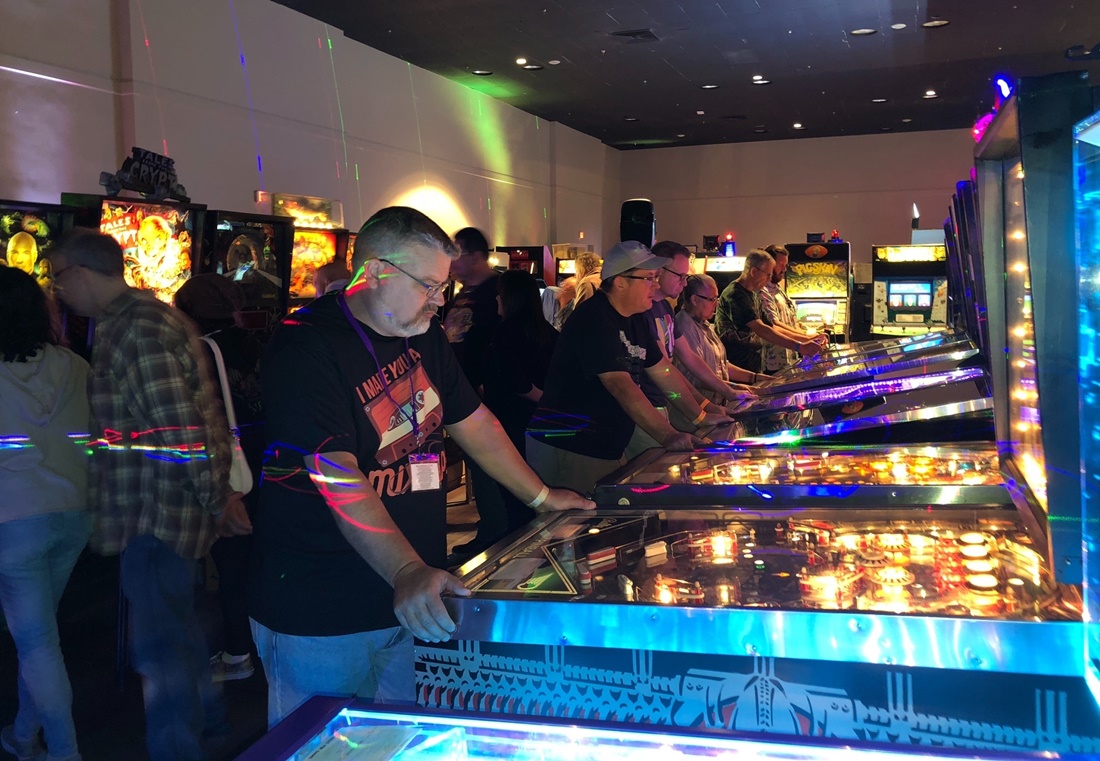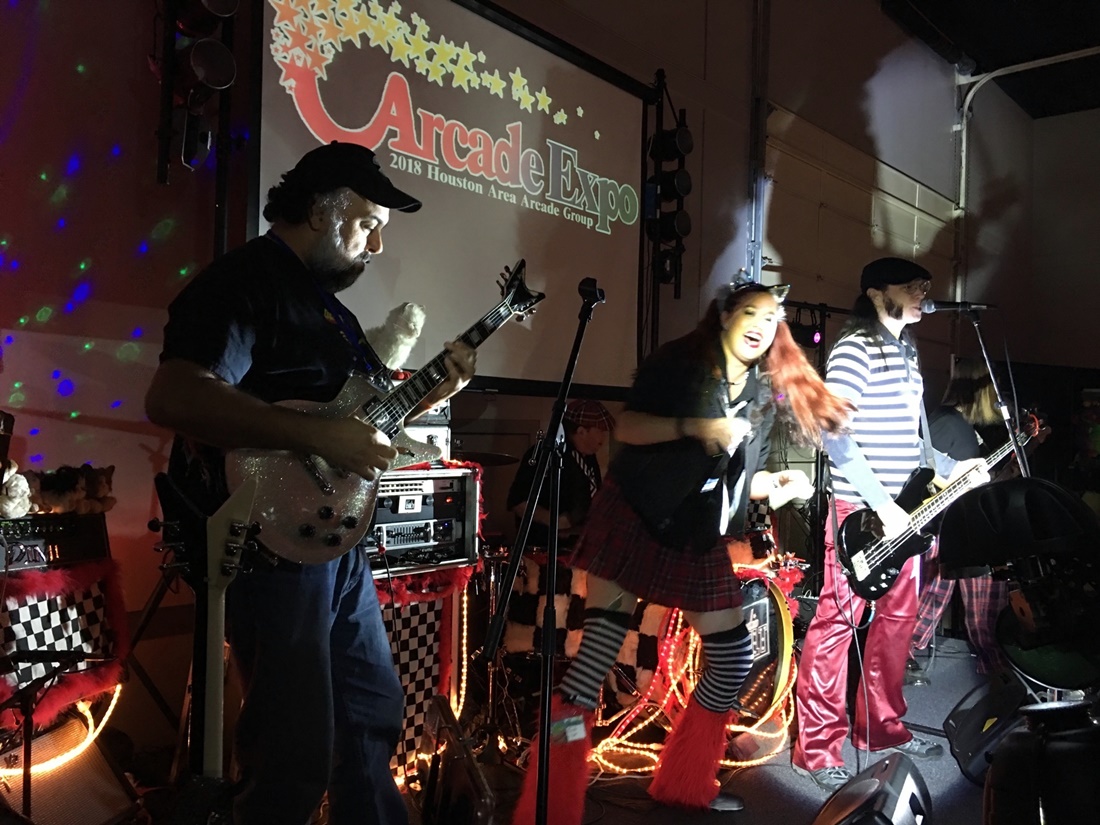 Radio Cult take the stage - part II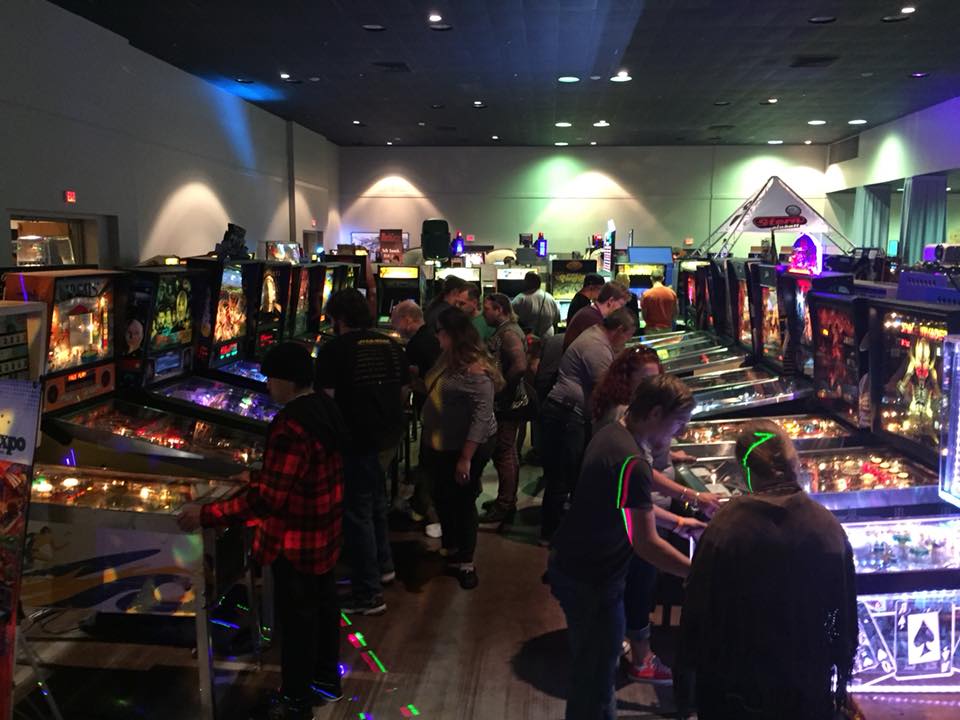 Starting to wind down a bit in the late hours...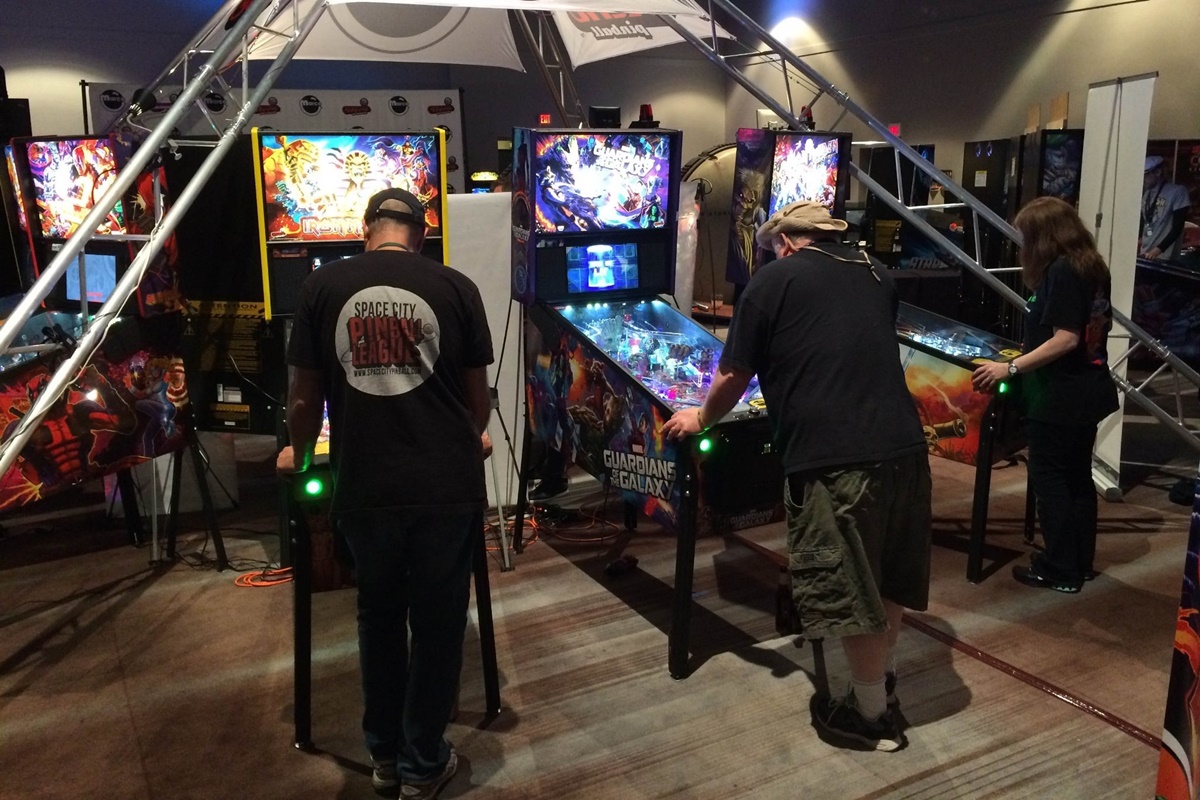 Hey - that's me in the Space City Pinball shirt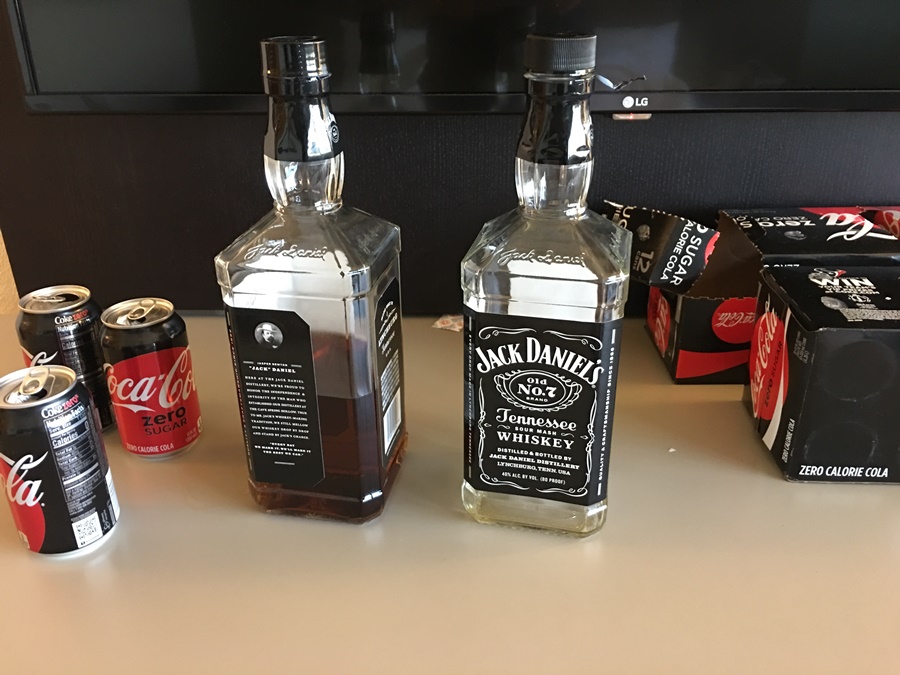 Put a decent dent in that 2nd bottle - and before you jump to any conclusions - I did have some help. :-)
SUNDAY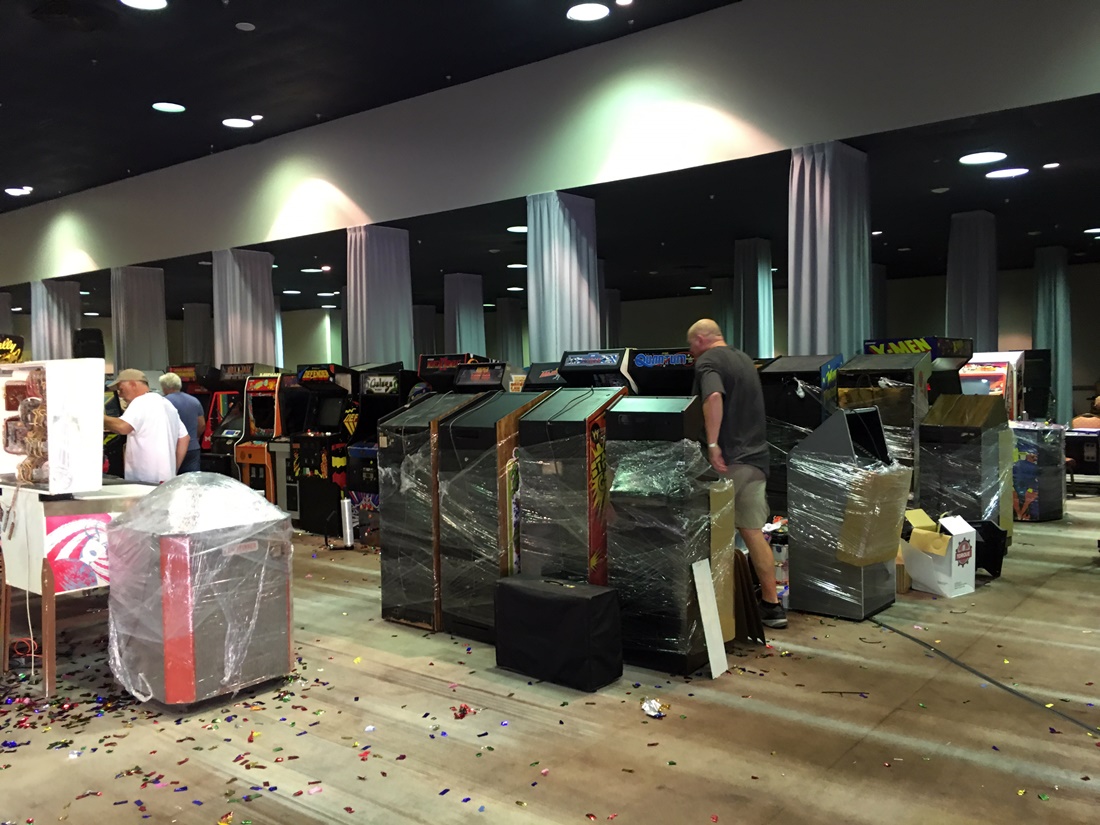 The load-out begins....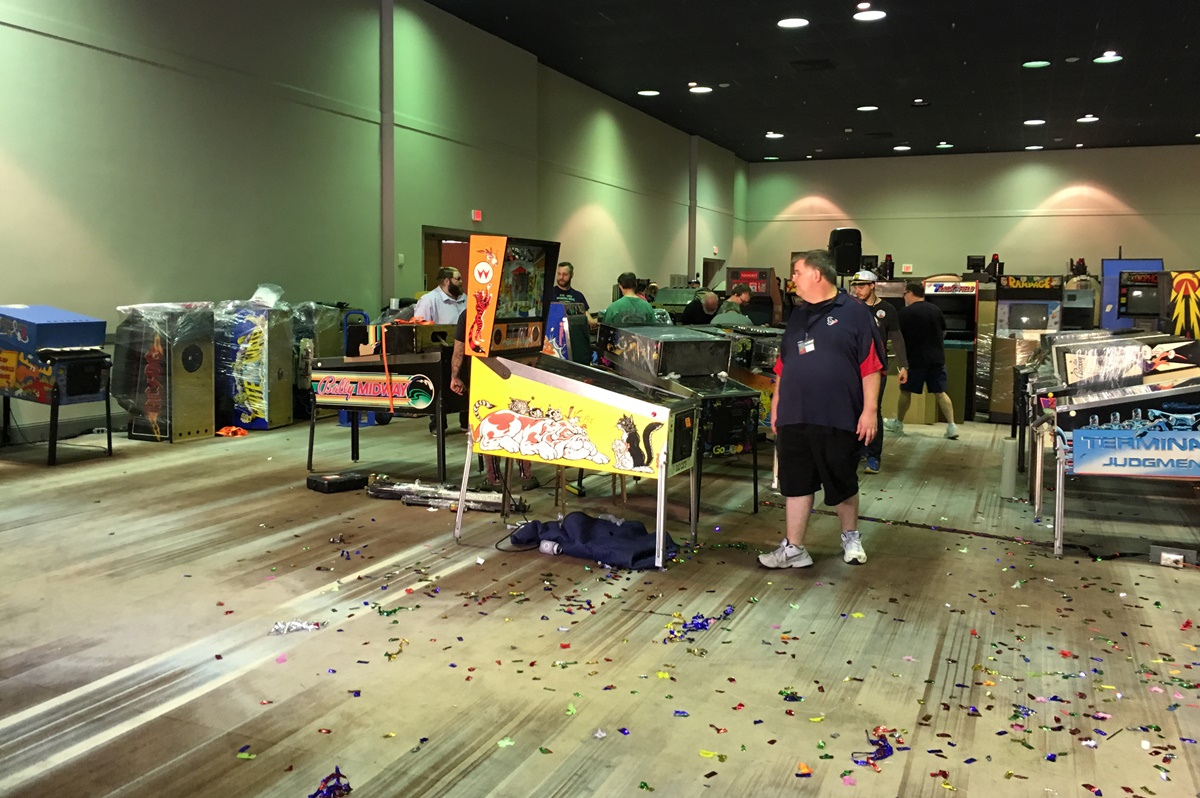 Man, someone made a mess.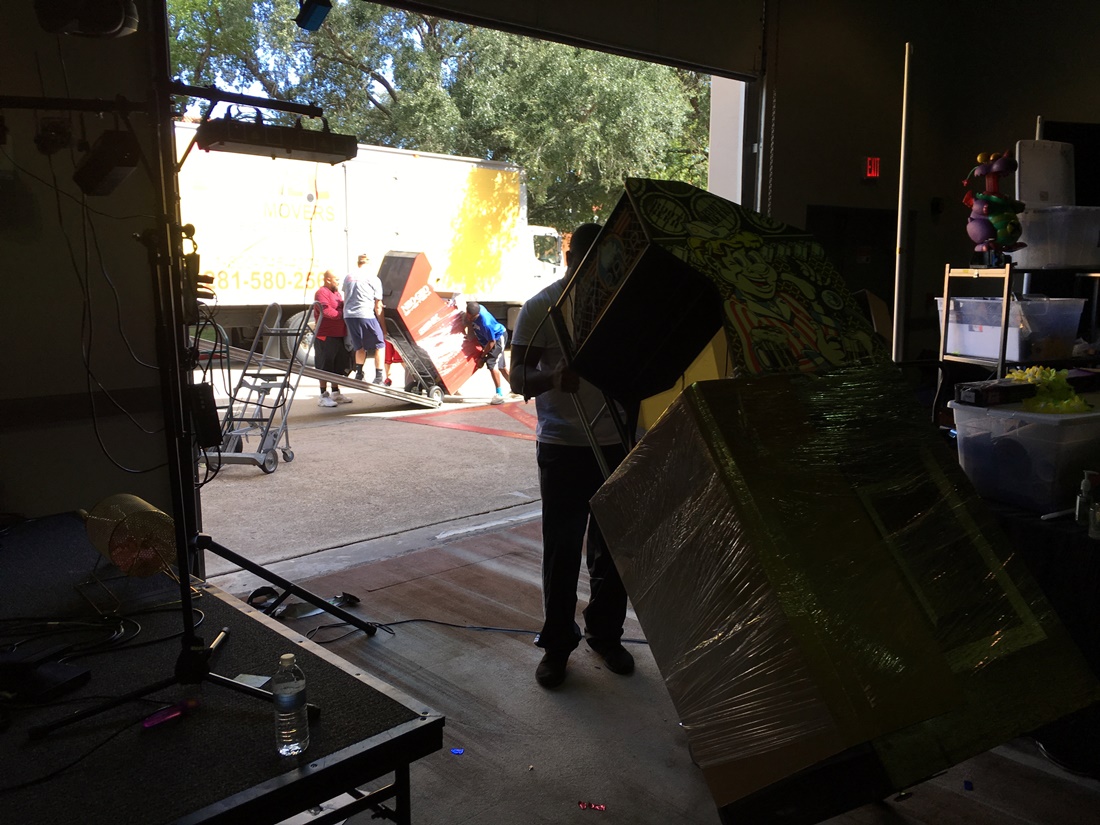 That's all folks - see ya again next yeatr!!
---